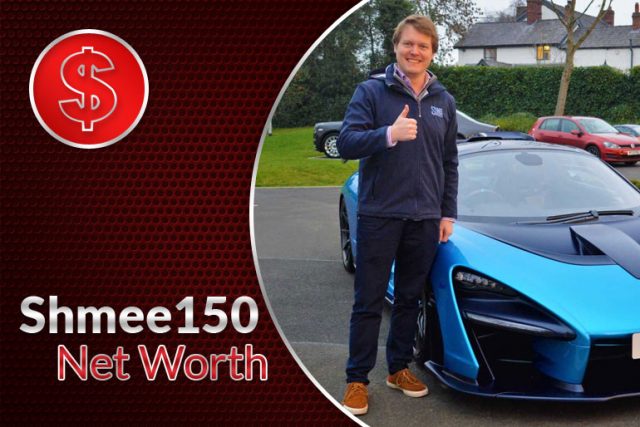 Tim Burton, professionally known as Shmee150 or Shmee, is a London-based British car vlogger and YouTuber. His YouTube channel has 2.4 million subscribers as of 2022. He reviews exotic cars on his YouTube channel while traveling. He also shares videos of maintaining and using his car collection.
Early Life
Burton left school at the age of 18 when he passed his A-Levels around 2005. Before car vlogging, he had an electronics web store. Later on, Burton sold the store to become a ski instructor in New Zealand. Then, after an injury, he returned back to the UK. Burton started to study again but stopped a few weeks later. Afterward, he got a job as a technology team member at an investment consultancy firm in London.
Professional Life
In 2008 as a hobby, he started posting pictures of exceptional cars that he spotted on Facebook and other online forums. In January 2010, Burton uploaded his first video on his YouTube channel, Shmee150. He made a video on two supercars at a Top Gear event. He did not appear in the video personally.
He started slowly but continued to grow over time. It caused him to leave his other job a few years later. In 2016, he wrote a book about his trips and experiences called Living the Supercar Dream, published by Blink Publishing. He also started his car collection. Renault Clio was the first car he has ever owned.
Aston Martin Vantage was his first sports car ever. He has owned many other cars such as McLarens, Aston Martin, a Ferrari FF, a Porsche 911 GT3, a classic Mini, and a Morgan 3-Wheeler. Currently, his car fleet consists of about ten cars; amongst them are a Ford GT, McLarenSenna, an Aston Martin Vantage GT8, a Mercedes-Benz SLS AMG Black Series, a Porsche Taycan Turbo S, and a McLaren 675LT Spider.
Burton's YouTube channel has 2.28 million subscribers, with an around 95% male audience who are mainly between 25 and 45. Primarily he earns through ads on YouTube and from other social media platforms. He also makes profits through merchandise, sponsorships, and consultancy for car brands.
He uploads several videos per week about using and maintaining his car fleet, road trips, and travels. His road trips cover visits to press launches, unique and rare cars, and other car collections.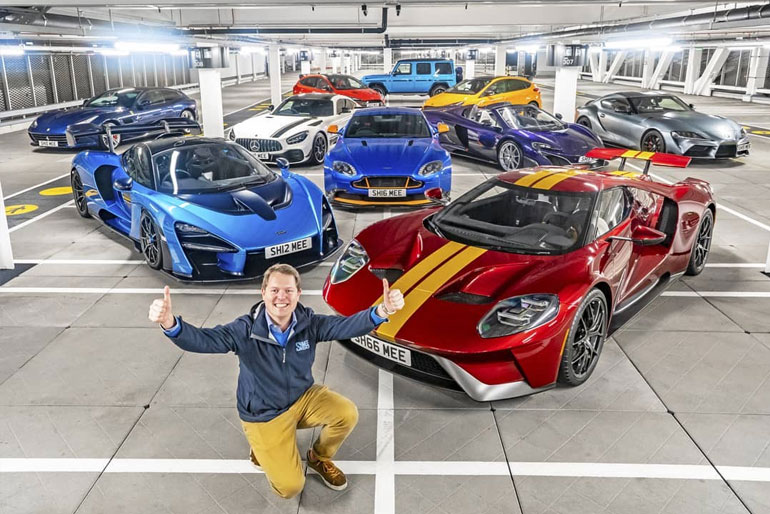 Personal life
Born on September 17, 1987, in London, UK, Burton is 33 years old male. He is a Virgo. He follows Christianity. He is 1.68 m tall (5ft 6in; 168cm). His weight is around 165 pounds. (75kg). His hair is straight and brown. His eye color is also brown.
Burton has a girlfriend name is puppi150. He does not have any children. He lives mainly in London and part-time in Frankfurt, Germany.
Why The Name 'Shmee150'?
Back in the days when the internet dial-up speed was merely 28k, Tim Burton, at the age of 9-10 years only, started using Shmee for websites. Since then, the name Shmee has stuck and has stayed with him around websites, online computer games, and all sorts.
Later he added the 150 when he discovered that shmee was already in use. However, the name has not changed to date as it has become a signature of the Tim Burton brand.
Shmee150 Net Worth
With 2.5 million subscribers on YouTube, 2.6 million followers on Facebook, 1.5 million followers on Instagram, and 61.4 thousand followers on Twitter, Tim Burton earns a handsome fortune, worth a whopping $18 million.
With millions of followers and views on social media, he earns millions from AdSense, paid advertisements, sponsored vlogs, and tutorials, selling merch online, among many other sources. Tim Burton's net worth is estimated to be around $18 million. With such enthusiasm for cars and hard work, he deserves to be a millionaire.
Partners Of Shmee150
Shmee150 is sponsored by several key partners, brands, and sponsors. These partners help shmee150 to reach its audience, which otherwise may not be possible. Shmee150 works together or creates content with them. These partners includeApprovedMF, Best of the Best, Cars & Coffee, Dub Customs, Formula E, Gameloft, Global Telemetrics, Jemtx, Keylessprotector, Jemtx, Mountune, Omaze, Sparco, Tollgate Private Clients, Topaz Detailing, Top Marques Monaco, Turbo Transport, and YouTube.
Shmeemobiles
The "Shmeemobile" is a credible and well-known name in the automotive world. It is recognized as the personal form of transportation of Tim Burton across Europe and to all the events he attends. The shmeemobile cars are the backbone of the brand. These cars are a regular feature in Shmee150 videos.
Below are Burton's cars that he has owned in his life from his first car, aged 17, a Renault Clio 1.2 till date. The ShmeeFleet also has long-term loan cars from manufacturers that Burton does not officially own.
Current Cars
The current ShmeeFleet consists of BMW M3 Competition, Porsche 718 Cayman GT4, Ford Mustang Shelby GT500, Toyota GR Yaris, Porsche Taycan Turbo S, Mercedes-AMG GT R Roadster, Mercedes-Benz SLS AMG Black Series, Mercedes-AMG GT R Pro, Mercedes-AMG G63McLaren Senna, Ford GT, Ford Focus RS Heritage, Aston Martin Vantage GT8, and McLaren 675LT Spider.
Previous Cars
Previously he owned Toyota GR Supra, Ferrari GTC4Lusso, Ford Focus RS Red Edition, BMW M8 Competition, Mercedes-AMG GT R, Suzuki Jimmy, Porsche 911 GT3, Ford Focus RS, Ferrari FF, Aston Martin Vanquish Volante, Classic Rover Mini Cooper Sport, Porsche Cayman GT4, McLaren 675LT Coupe, McLaren 650S Spider, Abarth 595CTurisme Convertible, McLaren 12C Coupe, Morgan 3 Wheeler, Audi R8 V10 Spyder, BMW Z4 sDrive 301, Mini Cooper Countryman S ALL4, Aston Martin V8 Vantage Roadster, Audi S5 Convertible, BMW123d, Subaru Loone 1.8T Stationwagon, and Renault Clio 1.2.
Previous ShmeeFleet Long-Term Loan Cars
The previous long-term ShmeeFleet loan cars were BMW M5, ABT RS6 Performance, BMW X6 M50d, BMW M4, and Bentley Continental Supersport.
Fun Facts
Tim Burton cannot use plates such as 'SH17 MEE' or 'SH69 MEE' because the DVLA, the UK road authorities, does not issue these plates.
The number plate on Burton's car is 87 TB for obvious reasons, such as not only the plate looks symmetrical and fashionable on the car, but it is also his initials (TB for Tim Burton), and unsurprisingly 87 is his year of birth.
Tim Burton never lists the pricing of the cars in his videos. It is because shmee150 caters to an international audience. The prices change with different regions and over time while the videos last for an unlimited timescale. That is why he suggests his viewers search online and find local pricing on car sales platforms and manufacturers' websites.
The top speed at which Burton has ever driven was 203 mph in a Lamborghini Aventador at The 200 mph Challenge by Best of the Best.
Tim Burton got into cars because of his grandfather, who has always been a car enthusiast and a rally co-driver.
Burton's favorite racing car driver is Lewis Hamilton.
Summing Up
Tim Burton is a car-enthusiast. His work covers supercar lifestyle, vlogs, and shoots about his travels, car events, car showcases, motor shows, and international rallies. With a massive fan following, Burton has become well-known and a great name.
In addition, his honest reviews about automobiles and cars have earned him a great fortune. And this is just the beginning for Tim Burton.