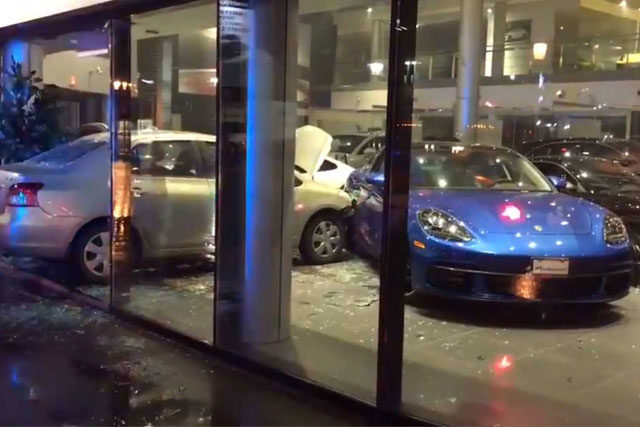 Admit it, people! We all have bad days. But some days are just worse than others, but we all go through it. We, however, get over them in one or another without hurting anybody or disturbing anything.
But this formula did not help a man who was, supposedly, having a bad day. The latest incident includes a man who ran into the Porsche dealership in Toronto.
It happened on Monday night when a Toyota driver crashed into the Porsche showroom in Toronto. Due to his car crash, two of the Porsche who was parked in front of the glass wall were severely damaged. The driver got out of his car and walked towards Yellow 718 Cayman and wrote EVE with black marker.
He did not think this act fully otherwise he would have known that a police station was located just across the street of this showroom.
Police Report:
As the police caught the man, who is reported to be of 20 years of age and was not at under any influence. Yes, you read it right. He did all of this on purpose, and supposedly, this was an act of a jilted lover.
This whole incident is reported by the two workers who were present at the time of the crash, and one of them was a security guard. They contacted the police immediately, and since the police were across the street, they were present right on time.
A man drove his car into a Porsche dealership damaging at least two cars, then filling the dealership with smoke from his revving tires and finally writing with marker on another car. Witnesses inside the dealership tell @CityNews the man stated he was "having a bad day." pic.twitter.com/XcQgiqqaVG

— DanielB (@focusthatcamera) January 8, 2019
Why the driver did this act on purpose? Was he missing his alleged girlfriend? Why he wrote the name on the car? These are those questions which are coming in our minds for sure, but these are not as relevant as might think.
The real question here is the damage done by this foolish person. Police have estimated that the building might have damage of around $25000 while the cars which were Porsche Panamera suffered damage of worth $75,000.
And finally, please don't act out if the day is not on your side. Such incidents could have resulted in much worse scenarios.
Source: CityNews Toronto, DanielB via Twitter