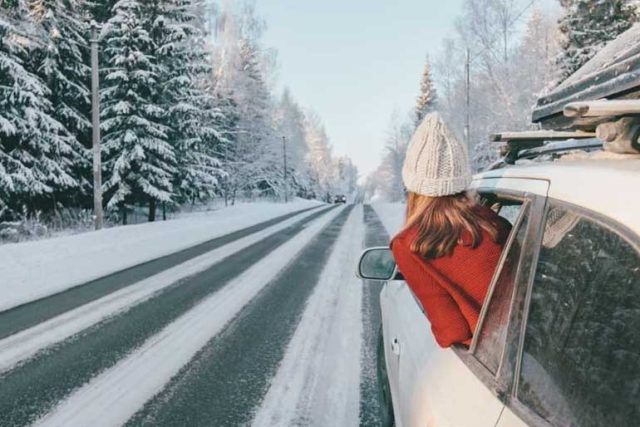 As we enter the winter holiday season, we can begin looking forward to chilly weather, good food, and quality time spent with family and friends. At the same time, it's a great time to begin planning out the logistics of any necessary holiday travel. With countless vehicles on the road and an increased sense of urgency in drivers across the country, it's no wonder that holidays such as Thanksgiving and New Year's bring an extra level of danger for travelers.
To help you enjoy the most stress-free and safe travel period possible this winter, we put together some tips on ways you can prepare your vehicle for cold weather. Read on to learn more about winter-proofing your car.
1. Have Your Vehicle Serviced for Cold-Weather Conditions
If you know that you will be traveling or staying in a cold-weather region for some time, it is a good idea to get your car serviced before your trip. Take your vehicle to a professional auto shop to have them prepare it for the upcoming adventure. Some of the things they should inspect include the:
Battery: As the temperature goes down, your car's battery power decreases. During the winter months, it takes more power to start your car. Particularly if you have an older battery or have been having problems, your chances of breaking down increase.
Cooling system: Most cars run best with a ratio of antifreeze-to-water between 50/50 and 70/30. Confirm with your repair shop technician what the appropriate ratio of your vehicle is and what antifreeze is best for your car.
Wires, hoses, cables, spark plugs, and belts: These internal components can fail at any time for a multitude of reasons, but you really do not want them to give out on a winter road trip. Have your technician thoroughly inspect the inner workings of your vehicle and replace any problem components.
Brakes: Winter weather should not have an adverse effect on functional brakes, but you should have them checked to make sure they are working correctly.
2. Change to Winter Tires
Many vehicles come with all-season tires when they roll off the factory line. All-season tires are designed to provide a well-rounded performance, extended tread life, and quiet ride, which makes them appealing to many car owners. However, they do sacrifice some level of performance in extreme heat or cold.
Winter tires are carefully designed to provide a dependable, efficient grip on road surfaces during even the worst seasonal weather. They are designed to help you control your car despite freezing temperatures, snow, sleet, or even ice. Consult with your car technician to see whether they recommend winter tires for your travel destination, or whether you should be able to safely drive with all-season tires.
3. Check Tire Pressure More Often than Normal
Your tire pressure can actually change substantially depending on the outside temperature. As the air within a tire heats up, it starts to expand. When the air cools significantly, it begins to compress. In general, a 10° temperature change translates to either a loss or gain of 1 pound per square inch (PSI). Although this may not sound significant, it can translate to a tire losing multiple PSIs of pressure over the course of the day, as the temperature fluctuates. During the winter months, it's essential to check your tire pressure frequently. Your owner's manual should note the correct tire pressure for your vehicle.
4. Check Your Defrosters
In order to safely operate your vehicle, you need to be able to see out of your front and rear windows. As you prepare for a winter trip, confirm that both your front and rear defrosters are working properly. If one of your defrosters is not functional, you may find that your view becomes blocked by condensation or frost during cold weather.
5. Pack a Winter Safety Kit & Review Emergency Survival Skills
You do not want to be stranded in winter conditions without some emergency survival items and skills. You should always keep a well-stocked winter safety kit in your car that includes:
Battery booster cables
An ice scraper
A portable shovel
Flares, a flashlight, and signaling cones
A first-aid kit
A portable cell phone charger
Gloves, a blanket, and warm clothes
Non-perishable food and drinks
A flat tire kit
A tow strap
It's also important to understand the basics of winter survival in the event that you become stranded. You should always stay with your car, because it can be easy to lose sight of it in heavy snow or poor weather conditions. Do not run your car for an extended period of time, as doing so can cause carbon monoxide poisoning. Instead, turn it on for long enough to get warm, then shut the engine off again. You can use your dome lights to make yourself visible to rescuers. Finally, it goes without saying, but the Rosenstein Law Group emphasizes the importance of not drinking and driving around the holidays. Doing so can substantially increase your risk of getting into a serious crash.
Enjoy Safe Holiday Travels This Year
We hope that this list of winter safety tips helps you enjoy a safe, enjoyable holiday season with your loved ones. Remember to have your car inspected before going on any long road trips and stay safe!