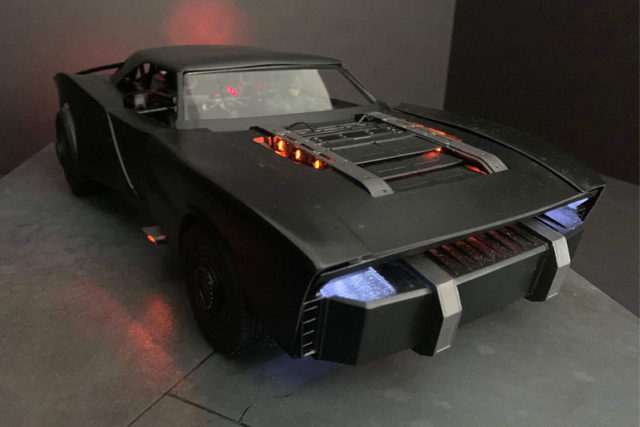 If you are a fan of The Batman then news about the new "Batmobile" must have crossed your ears. The Batman upcoming movie is reported to be released on June 25, 2021, and DC fans are eager to witness Batmobile's first glimpse. Recently, Director Matt Reeves posted three photos that have left the fans on their toes.
Alongside the Batmobile images, teaser images of Batman, Robbert Pattison in his full suit have been made public, and there can be no doubt regarding the fact how the Batmobile is gaining more attention than Batman itself.
The pictures are said to have released from Hollywood famous designer Jeff Frost who made the photos private a while later.
This year Batman series is regarded to be different than last time, Dark Knight Trilogy.
Concept Model Maker Jeff Frost posted some pictures of a model of #TheBatman's Batmobile on his website! pic.twitter.com/xHNkj6WYtv

— The Batman (2021) dir. Matt Reeves 🦇 (@TheBatRobert) May 31, 2020
We did hear a thing or two from the director and producers that the upcoming Batman movie would be different. The Batmobile just further proves the statement. The latest pictures reveal how the Batmobile takes its major design elements from the mid-engine V-8 muscle car.
The car is also taking impressions from the late 60s power vehicles. The front of the car seems heavy and massive, which highlights the engine power of the Batmobile. Moreover, the color remains black, which is the exact Batman iconic theme.
Every element of the Batmobile is always given a lot of attention, and it can be witnessed in the images too. The lights remain minimum but sharp, and the mirror quality is more towards a matt end.
There remains confusion as to what is the soul genre of the car. Whether it is designed based on vintage muscle cars in the 60s or does the sharp ends promote a more futuristic and tech kind of appeal, well, we can only guess until the movie is officially released next year.