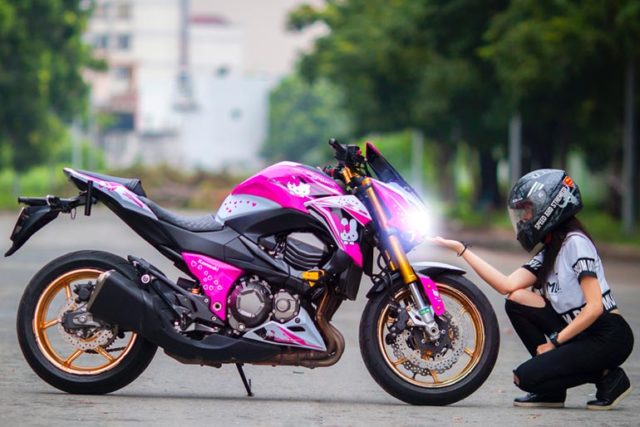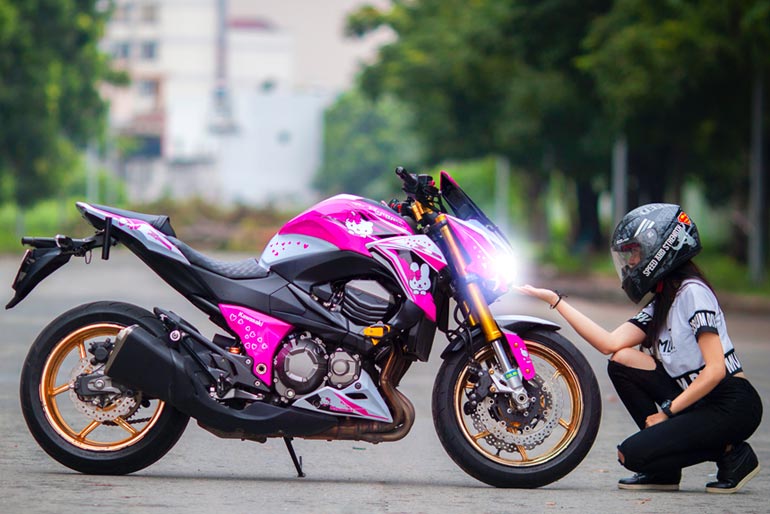 Are you a woman? If yes, then you are already pretty cool. Are you one of the 20% motorcycle riders who are women? Well, then you are even cooler. The number of women motorcycle riders has doubled over this last decade.
It is exciting to know that more strong women are taking onto the roads with their motorcycles riding over all those stereotypes that women cannot do it right. You go, girl!
Motorcycles: these vehicles are unisex in general. However, it is a fact that several designs would suit more to a woman's demeanor, making bike riding more comfortable and simpler for them.
So, if you have come looking for the perfect bike to buy, wait no more because below is a list of the top motorcycles for women. But before that, let's highlight some features that you can consider while buying a bike.
Specifications to Consider:
1. Weight
Your riding experience depends a lot on how heavy your bike is. If you are a beginner, you would prefer buying a bike that is not too heavy. Being lightweight makes it easy to navigate the bike, especially on wet roads or around sharp corners.
➢ Dry weight vs. wet weight
Dry weight is the weight of your new bike. Add petrol, water, and coolant in it, and it becomes a wet weight. Therefore, when checking the weight of a new bike, remember that it is the dry weight only, and the bike will be heavier when you ride it.
2. Seat Height
The second most important feature to be careful about is the height of your bike and its seat. Remember, when you sit on the bike, your feet should lay flat on the ground.
This posture is essential for you to have control over the motorcycle. Also, if you like a bike a lot, you can ask the manufacturer if a lowering kit is available to adjust seat height.
3. Engine Size and Horsepower
You should always try different engine sizes to know what horsepower you can handle best. If you are a beginner, a 250cc to 500cc engine is ideal for you.
If you have learned the skill now, go for a 600cc to 750cc bike, and if you consider riding a cruiser, you can go up to 1000cc.
4. Price
When you are buying, a significant feature to consider is whether the bike's price fits your budget or not. It is best always to start looking for bikes that cost within your budget and then go looking for those a little higher in cost. You never know, there may be a great offer waiting for you.
5. Design
Design is always the first thing that attracts the eye. However, be careful. Do not let a pretty design lure you away from more important features. At the same time, do pick a bike that you like, so you enjoy riding it.
Ask yourself, what do I plan to do with the bike? Decide if you will use the bike to commute to work. You may need it for occasional getaways only.
Bikes with advanced technology will be good for you if you are good with tools and maintenance. Finally, think about which brands you like, if any. Also, if that brand suits your budget or not. All these factors help you narrow down your bike options.
If you are already a biker, you can skip the next section, and if you are new to the game, the key will help you become aware of the standard motorcycle terms.
Key Features
● Cruiser
A cruiser is low to the ground with an upright seat position and low center of gravity that increases balance and stability. Thus, it is great for commute and touring.
● Standard
Similar to the cruiser, the standard has a higher center of gravity and slightly higher reach. With simple design and technology, this one is simple to use.
● Sportbike
A sportbike is generally top-heavy and feels lightweight due to a higher center of gravity. Designed with race technology, this one has an adjustable seat and a snappy performance with fantastic braking.
● Dual-Purpose
The Dual-purpose suits both on and off-road and is often more massive with a higher center of gravity. It is easy to navigate and is generally taller.
● Sport Touring
This one comes in the cruiser, dual-purpose, and sports designs and is specially designed for tours and long distances. For this, it has a larger engine, more storage space, and comfort features; therefore, it is heavier too.
● Motocross
The off-road/motocross is not ideal for the road. Lightweight, this one has tires specialized for dirt riding and are not suited to roads.
● Scooter
A scooter's engine size can vary from 50 cc to 800 cc, which makes it great for both tours and commutes. With a step-through style, this one has an automatic transmission and can come in either big or small tires.
Now that you know what type of bike will suit you best and what should you check before you bring it home, let's dig into our filtered list of the top motorcycles for women:
1. Honda Shadow Spirit 750 C2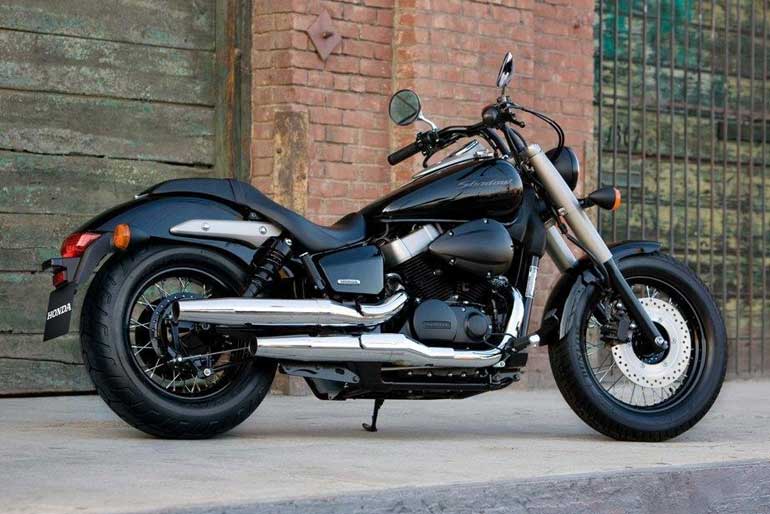 This bike comes with a comfortable cruiser style, and it is suitable for all, no matter how much experience you have in riding. This is because of its low seat height of 25.8 inches, which makes it very accessible and easy to control by both short and tall people.
These features are why the bike is often called the beginners' bike because not much can go wrong with it. So if you are a newbie and want to develop your confidence on the road, get the Honda Shadow Spirit 750 C2.
Specifications:
Weight: 549 pounds
Engine size: 745 cc
Seat Height: 25.8 inches
Pros:
Low seat height
Easy to handle
Cons:
Outward handlebars may fatigue arms
2. Kawasaki Ninja 250/300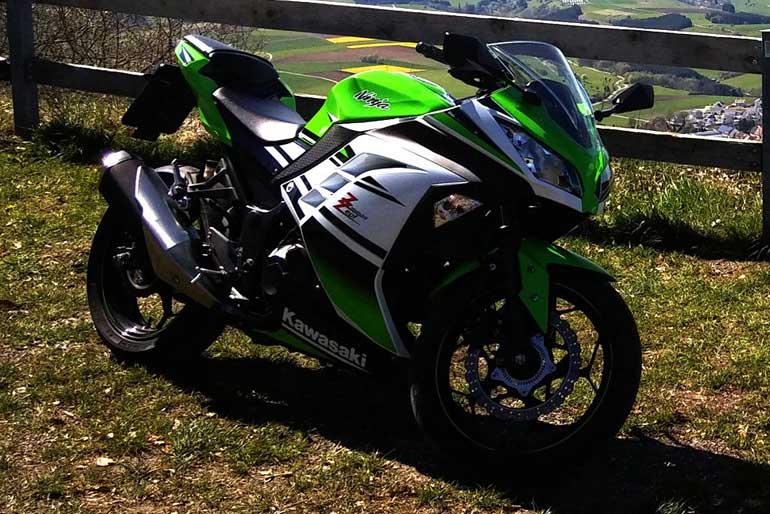 The Kawasaki Ninja is a race-inspired bike with a sporty look. But it is only technical in its looks. These 250cc and 300cc bikes are straightforward and would suit well to beginners. You have a big bike without added power and weight.
So, if you like to make an entrance on a motorcycle with colors that accent your personality and that is also affordable, lightweight, low to the ground, and versatile, this one is for you. Terrific on the tracks and great for both in-city travel and highway rides, this bike is a great pick.
Specifications:
Weight: 366 pounds
Engine size: 250/300 cc
Seat Height: 30.9 inches
Pros:
Easy to control
Fantastic handling
Cons:
3. Harley-Davidson Street Glide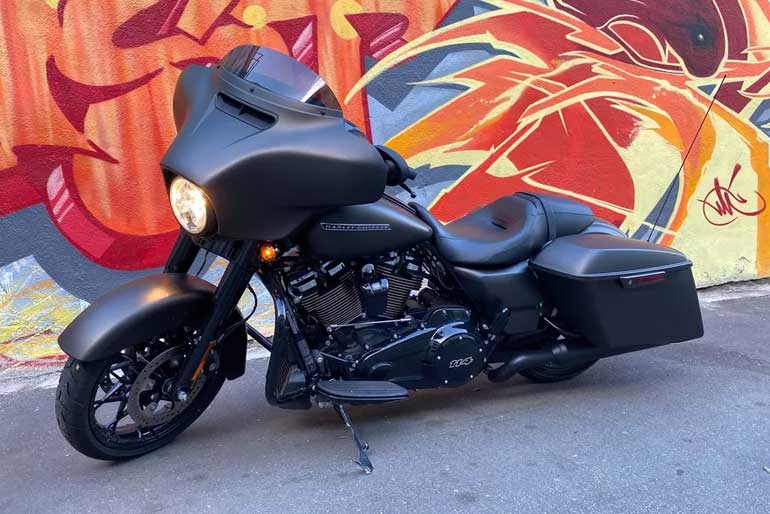 Harley-Davidson is a brand favored by many. While many of its bikes are heavy, the street glide is an excellent choice for women because it is a middleweight with low seat height and upright handlebars.
These features allow the rider to be very comfortable while driving. Also, your feet are placed in a comfortable position and are not too far from you, which can be problematic in many bikes.
Finally, the bike is modern and chic and does not require much maintenance. With many customizations and accessories available to you, this one will be fit for you.
Specifications:
Weight: 569 pounds
Engine size: 883 cc
Seat Height: 26.1 inches
Pros:
Low maintenance requirements
Balanced weight
Cons:
Not the best for long-distance touring
4. Triumph Street Triple 675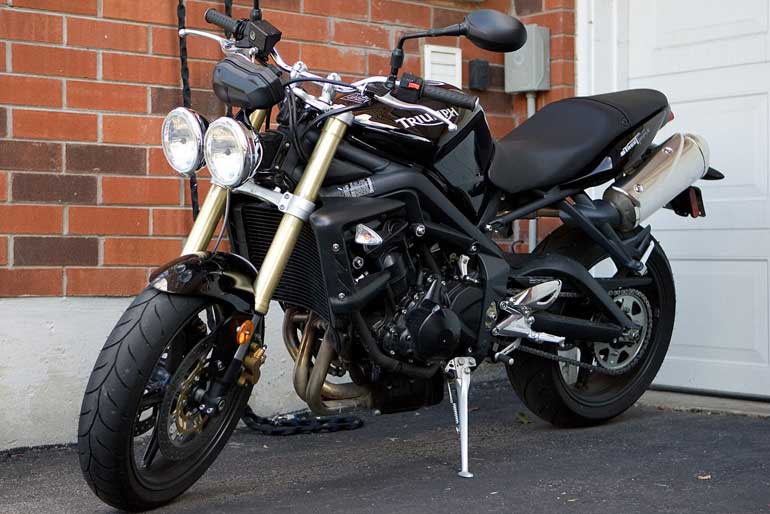 Do you enjoy long bike rides around the city or trips to the countryside? Do you also love to look sleek and stylish on your motorbike? Well, the Triumph Street Triple is the best match to fill all your wishes.
A perfect balance between a classic look and a race bike, this motorcycle comes with a scooped-up seat for the medium to short-heightened females. This one is easy to run, maintain, and has excellent performance features such as ABS. The naked style motorcycle is an ideal pick.
Specifications:
Weight: 368 pounds
Engine size: 675 cc
Seat Height: 31.5 inches
Pros:
Performance features such as ABS
Easy to maneuver
Cons:
5. Triumph Daytona 955i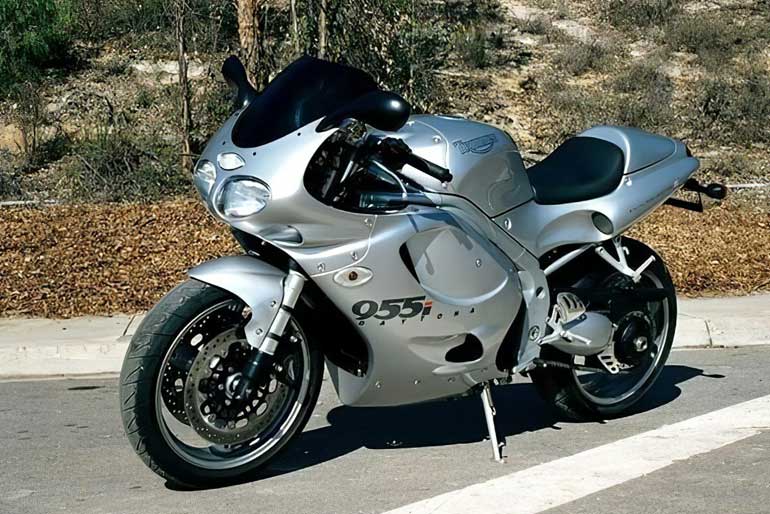 Being a woman does not mean you ride low power bikes only. If you are looking for power, then the Triumph Daytona with its 955-cc engine will give that to you.
Moreover, this cool ride also has plenty of room for a passenger so you can go on adventurous late-night adventures with your favorite travel partner. Zoom around on roads or highways, compromising neither comfort nor safety.
Daytona is known to be very high-quality. Take care of this one well, and it will last you for ages. Another specialty is that you can carry many extras such as grab rail and luggage rack with you on it. It is very stable and has superb brakes for safety. So, high power is nothing to fear.
Specifications:
Weight: 482 pounds
Engine size: 955 cc
Seat Height: 32.1inches
Pros:
Roomy
High-quality brakes
Cons:
6. Yamaha R6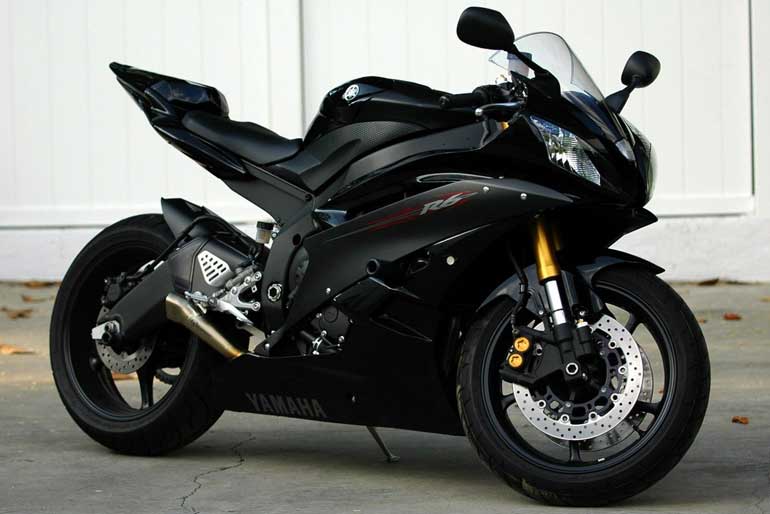 This one is great for taller women who often struggle with knee pain if the seat height is too low. With this, their feet can easily be placed flat on the ground without any discomfort, making it very easy to handle their ride.
Moreover, it has an aerodynamic design that allows the rider to maintain balance and an ergonomic riding position. Not only does it have stability but also a very smooth gear and effortless steering.
These features are why the Yamaha R6 is popular in both expert riders as well as beginners. It truly is a complete package of high-level technology along with a gorgeous design.
Specifications:
Weight: 419 pounds
Engine size: 599 cc
Seat Height: 33.5 inches
Pros:
Versatile
Specialist features such as the aerodynamic design
Cons:
Not suitable for short riders
7. BMW F700 GS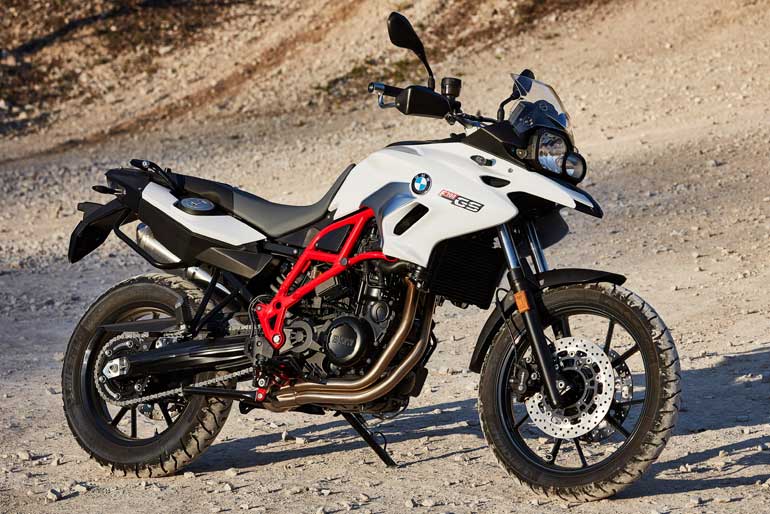 If you are a wanderer who loves to take long rides along rugged terrains, the BMW F700 GS is a fantastic pick for you.
This bike has a central tank and low center of gravity, giving superb stability on the road. This comfortable ride is ideal on tracks and can play the dual role of an adventure ride as well as your daily commuter.
It has a narrow sit, and it is lightweight, allowing it to squeeze through narrow lanes as well as dominate open roads. One great thing is that it has four seat styles and seat height options, so different people in your family can use it too.
Specifications:
Weight: 461 pounds
Engine size: 798 cc
Seat Height: 32.3 (adjustable)
Pros:
Highly stable
Adjustable seat height
Cons:
8. Kawasaki Z800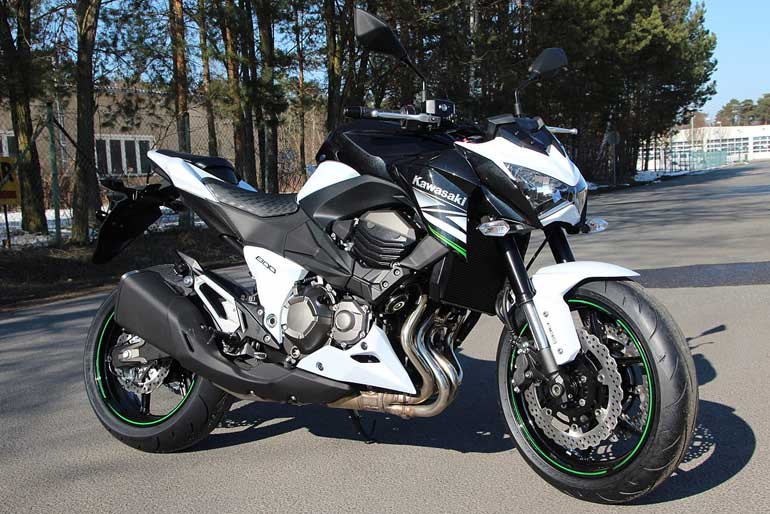 Have you promoted from the beginner level up to the 'I know how to ride a bike' level? If you are confident that you can maneuver a high-power, ride then Kawasaki Z800 is great for you.
This bike has excellent handling that gives you full control and is packed with power to provide you with that 'zooming' speed. Moreover, Kawasaki is well-known for its reliable technology and safe designs. If you are looking for a challenge while staying secure, you have come to the right place.
Specifications:
Weight: 509 pounds
Engine size: 806 cc
Seat Height: 32.8 inches
Pros:
Cons:
9. Honda 600 Hornet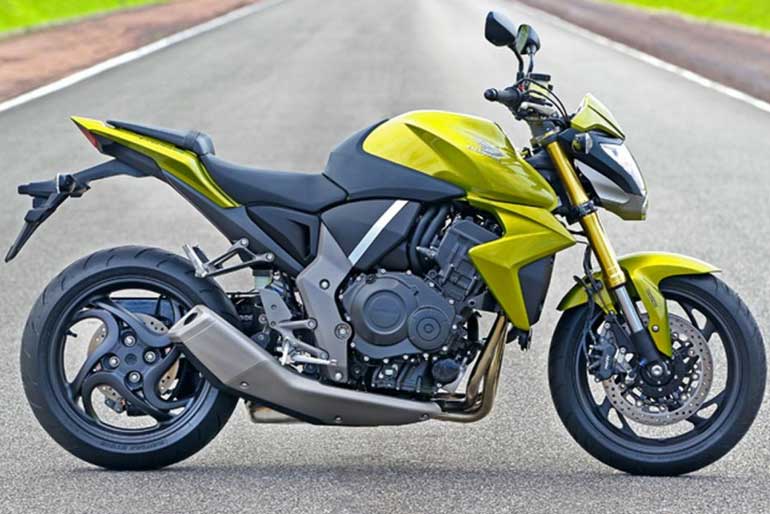 This one is great, especially for new riders. Light and agile, you can easily handle it, and with a 599cc engine, you have a range of options for the power you need. The bike is super-versatile.
Want to commute? Or want to go on a long tour? This one has got you covered. The roomy bike also allows you to comfortably fit another passenger on and enjoy rides with more company and without any discomfort.
Fun and practicality are both combined in this bike because of its secure handling, ample space, variable power, and agility alongside the beautiful and colorful designs.
Specifications:
Weight: 382 pounds
Engine size: 599 cc
Seat Height: 31.4 inches
Pros:
Versatile
Large seat room
Cons:
Requires regular maintenance
10. Ducati Monster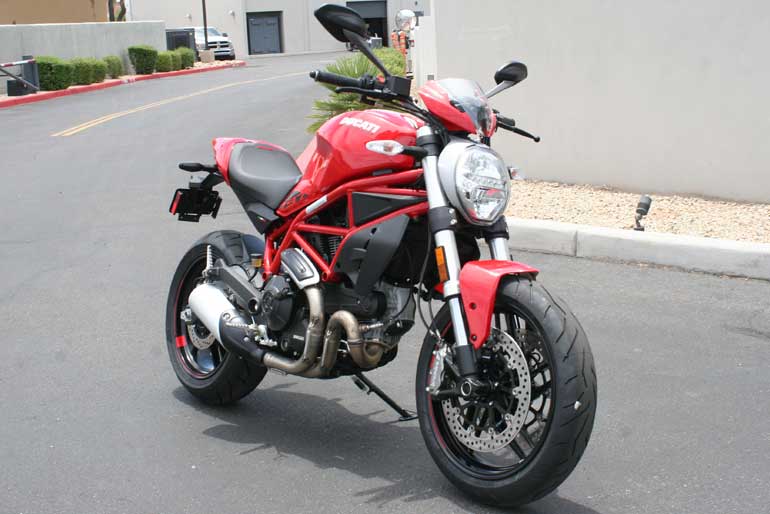 What can be better than a strong, feisty woman riding the gorgeous and fierce Ducati Monster? This naked style bike stands out on the road and, truthful to its title, really gives you the looks of a rebel.
Not only does it look distinctive with its exposed frame and vibrant colors, but it is also a very safe ride. It has wide handlebars to allow you to duck forward while turning around corners. Your feet stretch backward, not only providing a feeling of agility but also giving you the looks of a pro biker.
Ducati is well-known for its advanced technology. Your ride will be smoother due to the ABS brakes, LED lights, and the LCD instrument panel.
Specifications:
Weight: 355 pounds
Engine size: 696 cc
Seat Height: 30.3 inches
Pros:
Sportbike-ability
Advanced technology
Cons:
Relatively high cost and pricey maintenance
11. Victory Gunner
If you want a cruiser that is not as heavy as usual cruisers are, this one is right for you. It has a stripped-back style with black and suede titanium metallic two-tone paint with a blacked-out dual exhaust.
When you ride this bike, heads are bound to turn your way in awe of how gorgeous and badass you look on it. With versatile designs, this one is a trendy pick.
Specifications:
Weight: 652 pounds
Engine Size: 1731 cc
Seat Height: 25 inches
Pros:
Exclusive design
Lighter than most choppers
Cons:
12. Honda NC700S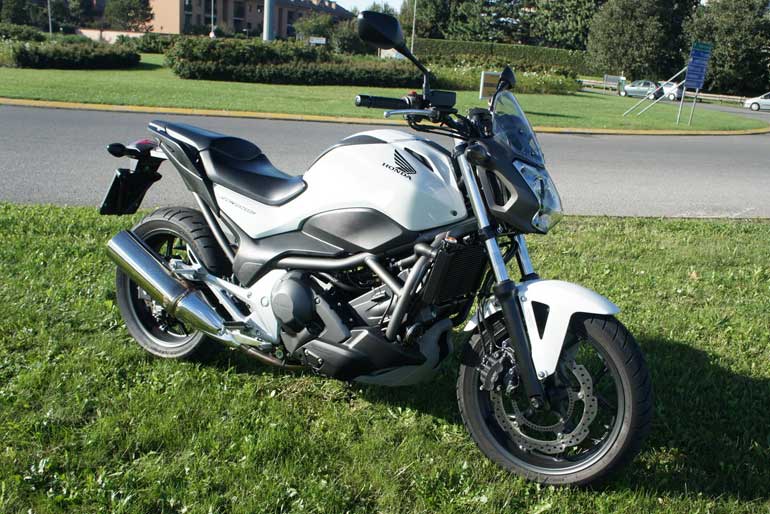 This one is an excellent mixture of stability, style, and ease. With a low center of gravity and relatively low weight, it is great for not only long rides but also for busy traffic-ridden areas.
It has some unique features that complement the high cost. For example, it has panels that seamlessly fit together and thick paintwork. The ABS gives it stability, while the ample bag space allows long rides to be comfortable and enjoyable.
Specifications:
Weight: 480 pounds
Engine Size: 700 cc
Seat Height: 31 inches
Pros:
Cons:
13. Kawasaki ER6N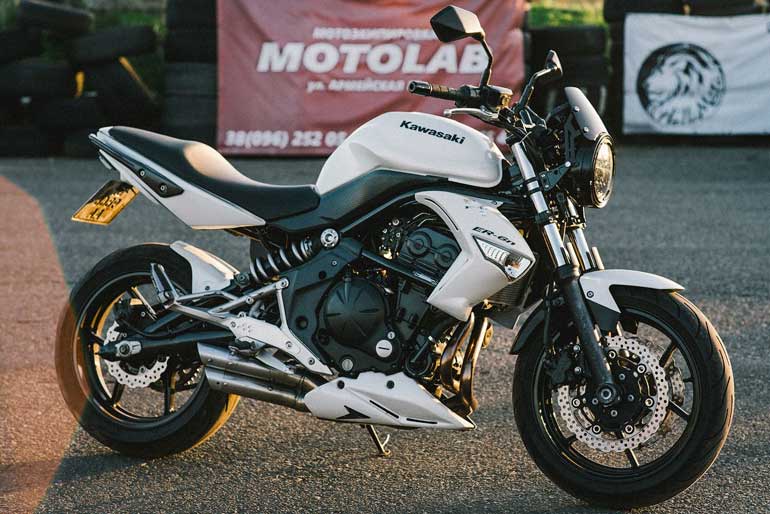 This bike is known to be the best middleweight bikes with low seat height, perfect for beginners. You can easily place your feet flat on the ground and have a solid grip that will develop your confidence in the early stages of learning.
Moreover, it has a 649-cc engine and is very agile and easy to ride. This one is a fantastic pick if you want to enhance riding skills and move onto sturdier bikes.
Specifications:
Weight: 449 pounds
Engine Size: 649 cc
Seat Height: 31 inches
Pros:
Easy to handle
Low seat height
Cons:
14. Yamaha V Star 250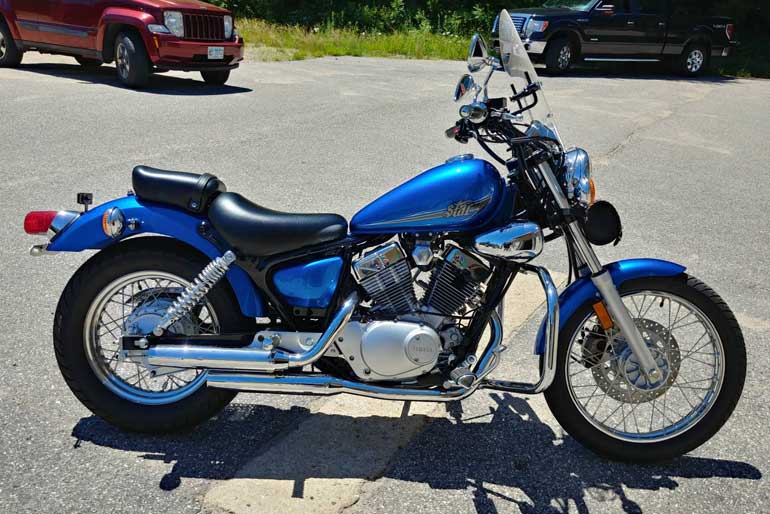 The Yamaha V Star 250 is an easy-to-ride with the looks of a massive, full-sized V twin. It has a low seat height and a slimmer and more compact fuel tank so that your rides are stable. Lightweight and sleek, this is an excellent choice for beginners.
Specifications:
Weight: 326 pounds
Engine Size: 249 cc
Seat Height: 27 inches
Pros:
Cons:
15. Indian Scout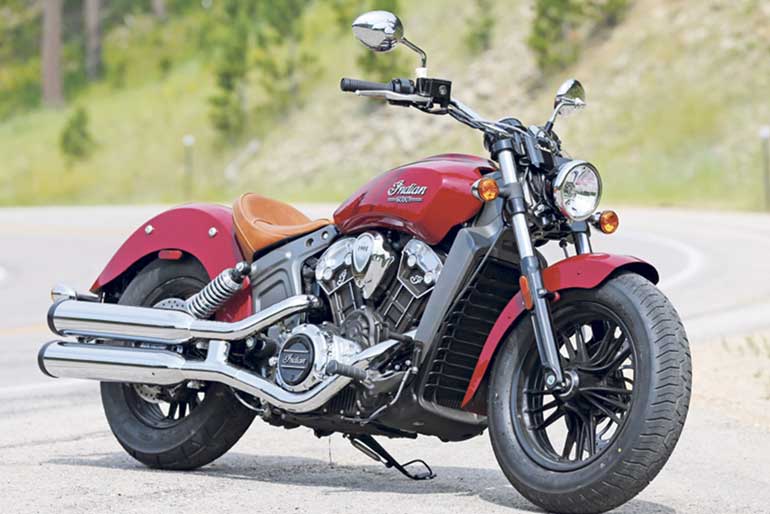 The Indian Scout is one of the most powerful bikes out there with a 1000 cc engine. Heavyweight as it is, it is made safer and more stable with low seat height and some advanced features such as ABS brakes, V-twin engine, and cartridge fork front suspension.
It has a modern retro style, which gives it a very new and stylish look paired with its traditional motorcycle design.
It truly is a perfect balance. Available in six different colors, this one has a large number of customizations for you to express your style. However, make sure you have a few years of experience before you try this one.
Specifications:
Weight: 560 pounds
Engine Size: 1000 cc
Seat Height: 25.6 inches
Pros:
Six colors
Advanced features such as ABS, V twin engine
Cons:
Only for very experienced riders
Conclusion
Hopefully, the selective list will provide you with insight into the world of motorcycles, especially ideal for females.
It can help you to decide not only what you want in your perfect bike, but also which brands/designs are your types. Then why are you waiting? Test your favorite ones now.
Latest Update: October 19, 2020