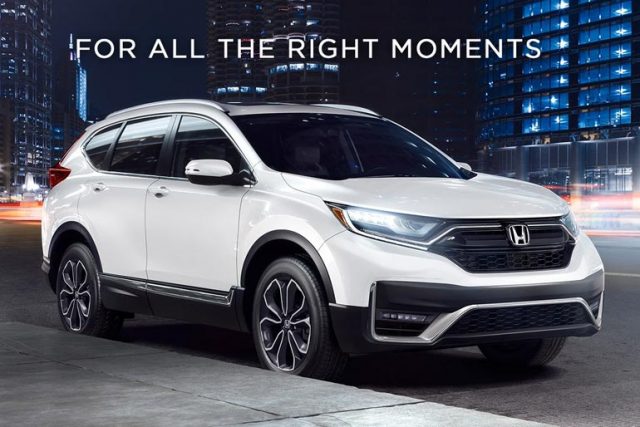 Honda CR-V is among the most sold-out SUVs in the compact category. It's easy to see why. The subcompact SUV is perfect for anyone who wants a vehicle with practicality, style, and space.
Competing with Toyota's rival — Honda CR-V is also offered in Hybrid powertrain to increase the fuel-efficiency. All trim levels of CR-V come with special equipment and commendable technology features.
Is There Any Change in Honda 2020 CRV?
After the changes Honda made to the CR-V, it has become quite popular among the compact SUV segments. Honda had made some tweaks in the overall design of the 2019 CR-V.
Now, Honda has added a hybrid powertrain to the CR-V line-up that features a 2.0-liter four-cylinder engine along with two electric motors. Previously, the automobile manufacturer was handling a 2.4-litre engine. Also, a 1.5-litre turbocharged engine, which was optional in the past, is now a standard in all trims (except hybrids).
CR-Vs are also equipped with driver-assistance features that include:
Automated emergency braking
Pedestrian detection
Lane-keeping assist
Adaptive cruise control
Engine, Transmission, and Performance
The new CR-V 2020 is equipped with a powerful four-cylinder 1.5-litre turbocharged engine that makes 190-horsepower, combined with continuously variable automatic transmission (CVT).
Being a compact crossover, it can come up to 1500 pounds, which we consider a lot for its category.
What makes Honda CR-V unique is its refined ride, strong steering, and robust braking system. The comfortable cabin assures a joyful commute.
The CR-V hybrid variant is equipped with a 2.0-litre four-cylinder engine and two electric motors which work together to produce 212-horsepower. It takes 7 seconds for the Hybrid trim to reach 0-60 mph.
Fuel Economy
If you want to buy CR-V for its practicality and affordability, then you should definitely opt for it because it is one of the most fuel-efficient SUVs in the world.
The Honda CR-V 1.5 litre turbocharged engine offers 28 mpg-city, 34 mpg-highway and 30 mpg-combined with FWD, while it offers 27 mpg-city, 32 mpg-highway and 29 mpg-combined on AWD
The Hybrid Honda CR-V with AWD offers 40 mpg-city, 35 mpg-highway, and 38 mpg-combined
The non-hybrid CRV can give you a 440 miles highway driving for the 14-gallon fuel tank.
Interior, Comfort, and Cargo
The elegant and picturesque interior adds to the over-all design of CR-V. Honda has used high-quality material all over the inner layout that enhances the contemporary feeling. The spacious cabin has a lot of headroom and legroom which makes the journey comfortable.
Cloth upholstery is standard on all trims. It also features a roomy cargo area. You will get 39.2 cubic feet of space in the cargo area without compromising a little bit of passenger space. After you fold down the rear seats, it extends to 75.8 cubic feet of space.
Honda CR-V Pricing and Trims
Honda is offering CR-V in the following trims:
LX: $26,170
EX: $28,680
LX Hybrid: $28,870
EX-L: $31,170
EX Hybrid: $31,380
EX-L Hybrid: $33,870
Touring: $34,370
Touring Hybrid: $37,070
Note: These prices mentioned above are for the United States. ForHonda CRV Price, you can contact your nearest car dealer.
All the variants are equally loved. The EX trim comes with quite a few features and is offered at an affordable price. It comes with large 7.0-inch touchscreen infotainment that is equipped with Apple CarPlay and Android Auto.
Other popular highlights include:
Heated front seats
Dual-zone automatic climate
Sunroof
12-way power-adjustable driver's seat
Push-button start
Front-wheel drive comes standard across all trims. If you want an all-wheel-drive, you will have to pay a small additional amount.
Infotainment and Connectivity
Initially, the infotainment system can be difficult to operate for people who are not familiar with the technology but once you get used to it, it will seem simple and easy.
The base LX trim features a 5-inch colour radio screen
All upper trims come with a 7-inch touchscreen that features Apple CarPlay, Android Auto, Navigation (Optional), SiriusXM satellite radio, and a nine-speaker audio system (optional).