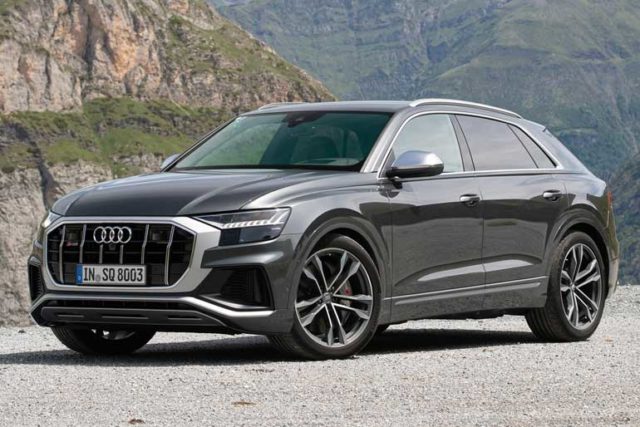 Audi is a German luxurious car manufacturer company unveiled its new Audi SQ8 TDI, a new addition in luxurious SUVs. This car comes with a powerful 4.0-liter V8 diesel engine, making a horsepower of 429 and 664-pound ft torque. This car is expecting to hold the flagship of Audi.
This car comes with a bunch of technological advancements also offer a 48-volt electrical system that boosts it up with low rpm. This system comes from the previous model of Audi SQ7 except for the belt alternator starter and lithium-ion batteries. This will move in a range of 34 mph to 99 mph.
This car's bumper comes with modification for air ducts that are large and more prominent in this model. It is equipped with LED headlight and an aluminum effect on exterior mirror cover. Collectively all these components provide an elegant look of the exterior.
The interior of this car looks similar to that of A6, A7 and Q7 give the expensive look of leathers, metals, and plastics. The latest infotainment system is installed with three high-resolution screens.
Audi SQ8 TDI offers 21 inches wheels as standard, but they can switch these to 22 inches on request. These wheels absorb the condition easily, and you can feel any disturbance inside only when there are huge bumps on theroad. Audi drive select system provides different levels of firmness, but it can provide firmness almost in all conditions.
Now, have a look at different features of this car deeply.
Engine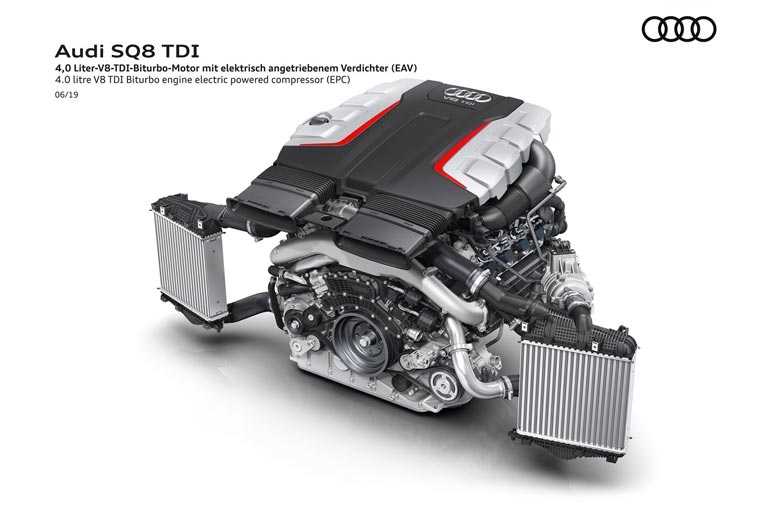 Audi SQ8 TDI is a powertrain with 4.0-liter V8 dual-turbo diesel engine, considered as the most powerful engine available in the European market. This engine provides 429 horsepower and generates the torque of 900 Nm with the rpm range of 1,250 to 3,250.
This will make this monster to move like a sports car. Audi claims that it can attain the speed from 0 to 100 km in just 4.8 seconds with a maximum speed of 250 km/hr.
This car produces low emission with the help of electric-powered compressor enhance the efficiency of both turbocharges during start and move with low speed.
This system is powered with a 48-V electrical system, which is considered as the backbone of mild hybrid systems. An alternate belt system installs in it. The electric system is powered with lithium-ion batteries. This car offers an 8-speed automatic transmission system.
Technology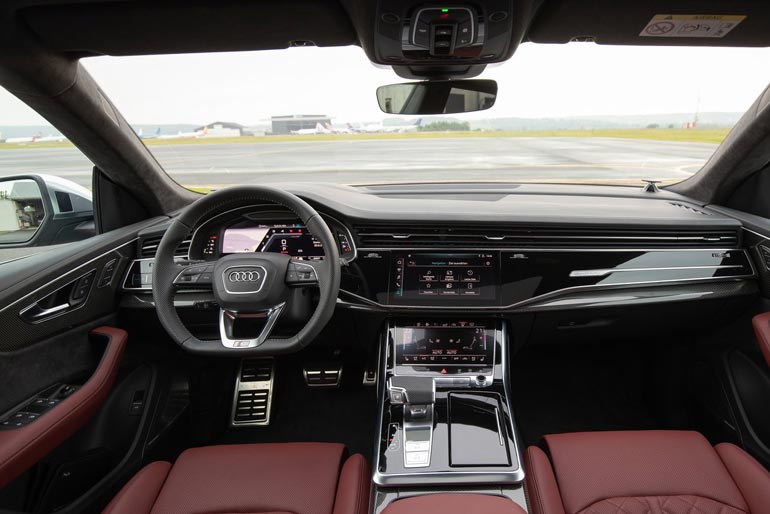 Audi SQ8 TDI offers two trim levels, i.e. standard and Vorsprung. The Vorsprung level offers a variety of improvements in the car's technology like all-wheel steering, active roll stabilization, and Audi sport differentials. This level is a little expensive, but the other trim level does not have these features.
This car also offers carbon-ceramic brakes that are normally not available for UK cars with any specifications. This car featured with air suspension system specifically designed for S model and additionally Quattro four-wheel drive with a torque split ration of 40:60 in all conditions.
This car allows you to add different features but only allow doing this in the form of packs that include a certain type of instruments. You have to bear all the things in the pack irrespective of that you like them or not.
Suspension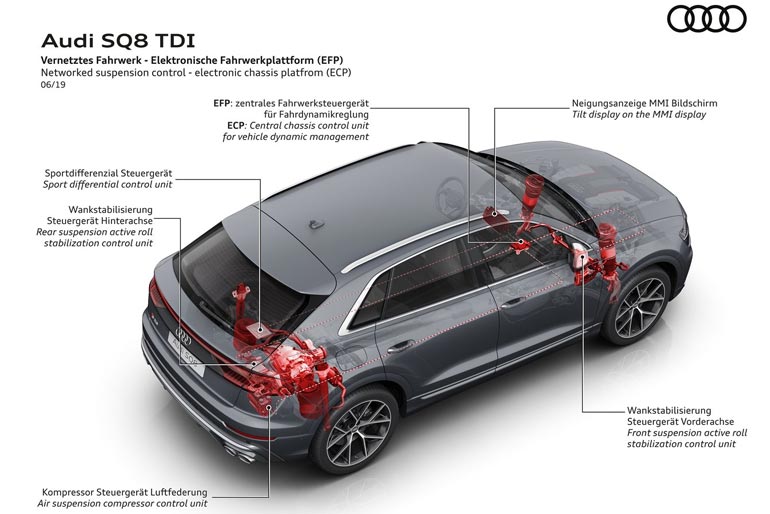 Audi SQ8 TDI uses Audi drive select dynamic handling system as standard and the adaptive air suspension sport with regulated damping. The air suspension system supports the level of the car's body up to 90mm. This will allow the car to move to a different environment.
Three different technologies are installed in this car, i.e. sport differential, alternative and electromechanical active roll stabilization.
Design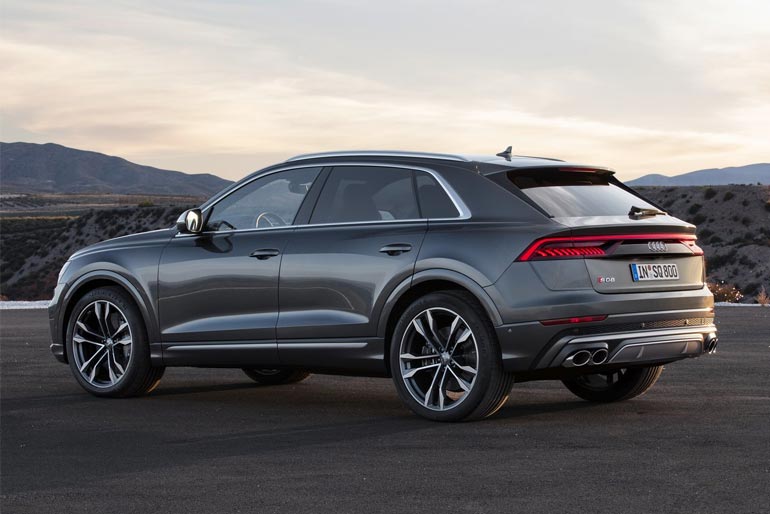 The design of SQ8 is described as an inspiring, robust, and sporty. Different elements of exterior collectively highlight the status of the top model. A single piece octagonal shape is provided by double louvers that are bordered with matt silver frame.
Interior color is dark suppose as a typical for S model. The sports seats include the embroidery of S with contrast stitching. Climate control and massage systems are available upon special request. Sports seats with head restraints and high side bolsters will provide you with massage during the ride.
Matt brushed aluminum uses in the inlays while the carbon or oak is here as an alternative.