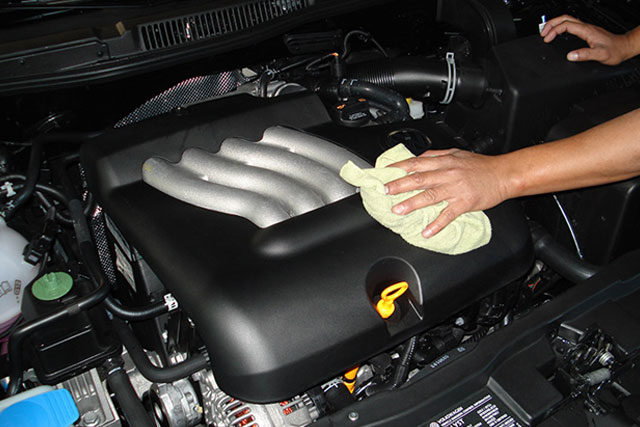 Clean Car Engine
We all love a clean engine, right? Like everything around us, the car's engine and its compartment need cleaning from time to time. The real problem with vehicles is that their powertrains have many electronic control modules, actuators, switches and a vast number of connectors. And none of those components like water. Spraying these delicate electric components with jets of H2O or steam will most likely result in a non-starting engine at best and, in a worst-case scenario, expensive repairs. But what is a healthy cleaning for the engine? Here are some tips to follow on how to clean your car's engine safely.
Cleaning Your Car's Engine:
Cleaning a car engine is not hard, it involves just a little elbow grease. Just one thing to take care of before start cleaning is to let the engine cool down, don't perform this activity when the engine is hot!
Prepare the Engine for Cleaning:
Try and remove any debris trapped in your grill, hood, or vent openings. All you need is a small hand brush to do the job. Covering certain parts of the engine is part of the preparing the engine to get wet. Therefore, cover sensors, exposed wiring, the distributor, and spark plug openings.
Loosen Accumulated Grease:
Start your car's engine and let it run for 5 to 10 minutes. As the engine gets warmer, the accumulated grease and oil and other stuff stuck on the engine get lessened. In addition, a warm engine works the best with degreaser products.
Apply Engine Degreaser:
You can find it in megastore (i.e. Carrefour). Make sure you buy a water or citrus-based cleaner. Petroleum based products work fast but can ruin the rubber hoses and seals.
Washing Your Car's Engine:
When you are finished with the degreaser, you have to hose it off the engine. It is best not to use a high-pressure nozzle, as it may damage electrical connections even if you covered them. A regular garden hose can give the best results. But remember, as I mentioned earlier the engine doesn't like the water so use it as little as possible.
Drying Your Engine:
The heat from your engine helps it dry quickly. Never let your engine air dry as it spots. Instead, after a few minutes of letting the engine dry itself, wipe it down with a clean towel.
Final Tip – After you dry your engine, spray it with a brand-name engine cleaner. Wipe off any extra protectant and buff to a showroom shine.
We all know that cleaning the engines is the complex activity to perform and this needs some extra care to take. TD Motion Inc, a well-known car services providers, are serving with superior engine cleaning services and is a direct connection for performance DIY Performance packages for Kit Car, Muscle Car and Jeep Enthusiasts in Jupiter, Florida. They have been serving since 2005 and growing continuously. Their staff is experienced in professional cleaning services for all vehicle types. They work efficiently while bringing our customer's fabulous results, believing in 100% satisfaction guaranteed every time!