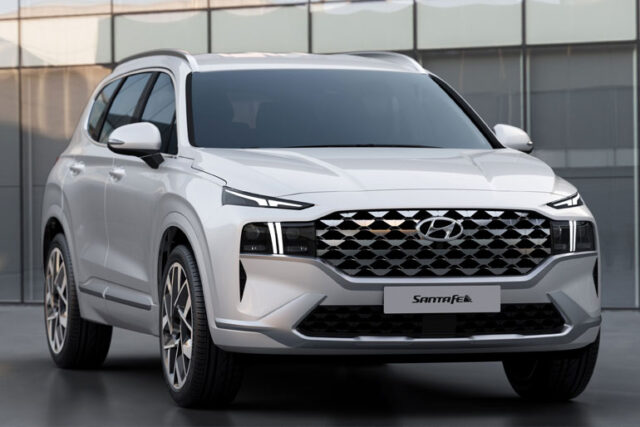 Hyundai is well known for making feature-rich and well-built cars, which appeals to everyone.
Great interiors along with sleek exteriors and an adequate powertrain are what you need in a mid-sized SUV, and the 2021 Hyundai Santa Fe is the best choice for you.
For the 2021 Hyundai Santa Fe, do not expect the same features, the newly designed vehicle is going to surprise you. It is a wholly modified model, ready to compete with refreshed 2021 Honda CR-V, 2021 jeep Compass, and Toyota RAV4.
What Is 2021 Hyundai Santa Fe?
2021 Hyundai Santa Fe is the fourth generation with a fresh redesign appearance both inside and outside.
2021 Hyundai Santa Fe occupies an odd space between compact and the midsize SUV classes. The vehicle lands between both segments in terms of price, size, and feature availability.
It offers a little more space as compared to the most compact crossovers. But Hyundai Santa Fe sits at a price point that makes it a little more palatable than buying the larger SUV. And this gives a strong proposition to the Hyundai Santa Fe.
The standard four-cylinder engines produce power akin to what you will get in a compact crossover. The engine of the Hyundai Santa Fe feels underpowered, pulling the Santa Fe's more robust frame and extra weight.
The up-gradation of the optional turbocharged engine is more beneficial for Santa Fe's mass. Still, the price for a midsize SUV sits slightly lower.
What's New For The 2021 Santa Fe, And How Is It Different From The 2020 Model?
This highly tempting SUV was first introduced in 2000, but it was not much preferred at that time. But over time, Hyundai has made many changes to the exteriors with a touch of modern technology and added crazy interior features.
All of these changes have increased its sales and made it a revolution all over the crossover segment.
Hyundai has made many changes in 2021 Hyundai Santa Fe, and if you say everything has been changed, it would not be wrong.
The exterior has been given a significant overhaul from the front to the back. And similarly, the interior has also changed totally.
The 2021 Hyundai Santa Fe also boasts of having a new centerpiece with larger cub spaces and a new infotainment screen. And it is rumored to have a handful of many new features.
Exterior Redesign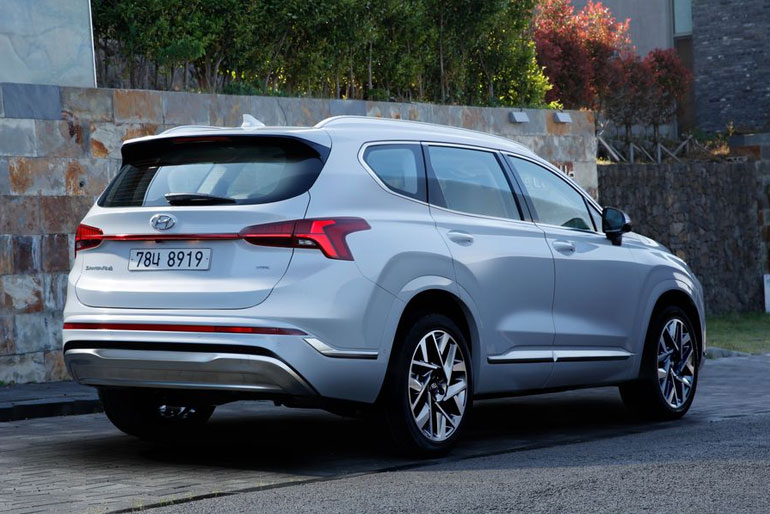 2021 Hyundai Santa Fe comes with noticeable changes, i.e., a new grille, which fully snaps the front of it. With an expanded size, the grille features geometric patterning with headlamps and LED daytime running lights, which integrate into a T shape.
Along both sides, daytime running lights and taillights are connected. Continue in the same pattern, and the taillights are linked by a horizontal rear bar.
Interior Redesign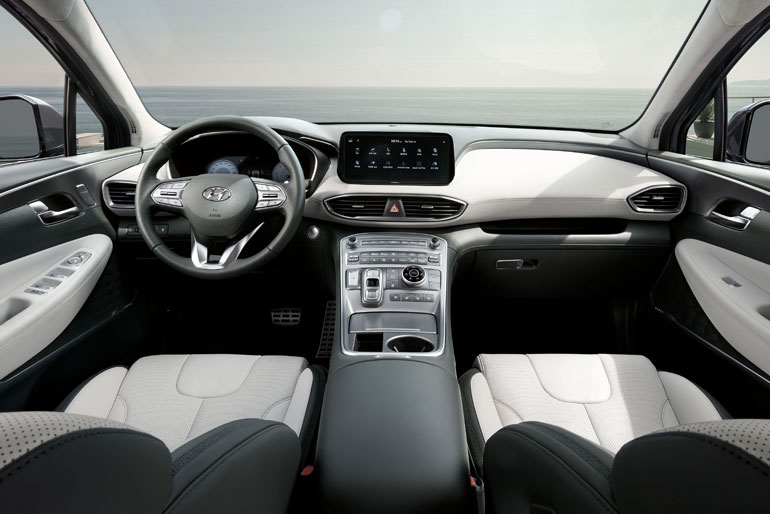 The new interior of Hyundai Santa Fe features a unique soft-to-touch material and a raised central console which gives the cockpit a cozier and more ergonomic feel.
His console holds the gear shift buttons for the new shift-by-wire system of the SUV. And this technology has already been incorporated in 2020 Sonata and Palisade.
The gear shifters are a Terrain Mode selector knob for easy switching among drive modes and HTRAC all-wheel-drive settings. Different environmental factors (like mud, snow, rain, sand), sport, comfort, and smart ways are included.
On the center console, there is a new 10.25-inch touch screen, aided by voice-guided navigation, and a spectrum of other infotainment features.
If you talk about the dashboard, it has been designed so well and gives a more premium feel. The materials look genuine and productive. One of the major surprises which you will have is the addition of the Terrain mode selector.
It allows the driver to pick from a variety of terrain modes like snow, mud, rain, eco, comfort, sport, and sand.
The visibility also seems to be reason enough. All of these features make the 2021 Hyundai Santa Fe be a delightful place to be in.
Are There Any Changes Mechanically?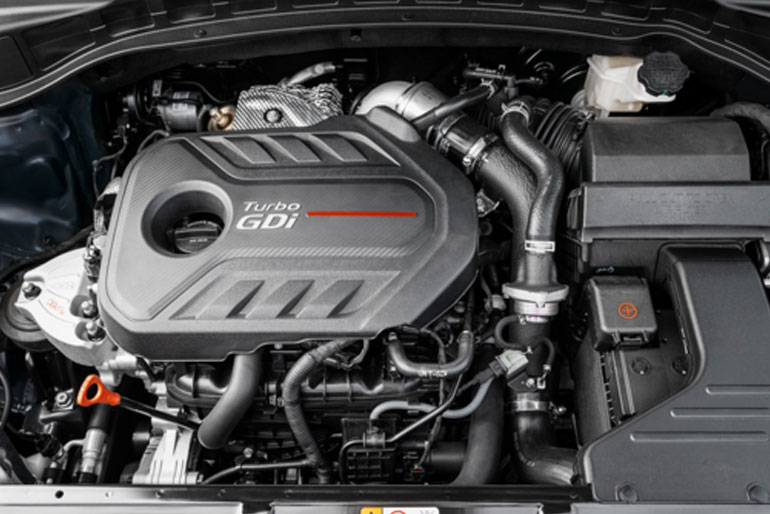 2021 Hyundai Santa Fe is going to be the first seven-seater. The vehicle is capable of providing electric powertrains as well. Hyundai Santa Fe claims to provide improved performance, efficiency, and safety.
In the new vehicles, heavy components moved at the bottom of the chassis for the lower center of gravity. And better insulation equipment has also been added to control sound and vibration.
It is expected the Hyundai Santa Fe will come with the same mills. Currently, it is available with two engines, a 2.4-liter four-cylinder mill, which can make 185 horses and 178-pound feet of torque. The other is a 2.0-liter four-cylinder turbocharged engine that churns out 235 ponies and 260 pound-feet of torque.
They can be sent either to the front wheels or all the wheels through the eight-speed automatic gearbox.
It is likely to receive a hybrid powertrain well in the European markets. It can be the 1.6 liters, T-GDi powertrain from the Kia Sorento, which makes 227 horses and 258 pound-feet of the torque.
The powertrain is powered with a 1.49-kWh lithium-ion polymer battery pack and a 44.2KW electric motor.
Hyundai has also introduced a Terrain mode selector to the Hyundai Santa Fe. It comes with basic modes like Eco, Sport, Comfort, Smart, and terrain modes such as Sand, Snow, and Mud.
Price of the 2021 Hyundai Santa Fe
There are many rumors in the air regarding the price of the 2021 Hyundai Santa Fe. Well, the price has been expected to be around $27,000 ballpark.
This assumption is because it has been heavily revised for the year 2021, with a completely new platform and many changes inside-out. You can expect some significant changes to be revealed in the coming months.
Features of 2021 Hyundai Santa Fe
You will also witness a few changes in the feature of the 2021 Hyundai Santa Fe. For instance, the 8-inch touchscreen has been replaced by a 10.25-inch touchscreen. It is expected that Sana Fe will do not have any changes in the trim levels. However, the new class of hybrid and or plug-ins are about to enter.
The powerhouse will be similar to the older one, i.e., a 2.4L 4-cylinder engine. A 2.0L turbocharged engine is also an option as well.
What MPG Figures Can You Expect From 2021 Hyundai Santa Fe?
The 2021 Hyundai Santa Fe will provide 21 mpg in the city and combined mileage of 28 miles in the gallon. For 2021 Hyundai Santa Fe, this section can be measured up to a certain level of surety as the engine remains the same.
And if the weight changes, it is might possible that the fuel-economy will be enhanced. With a tank consisting of 18.8 gallons, you can reach your destination quite peacefully, with any demand for a further refuel.
What Is The Release Date For The 2021 Hyundai Santa Fe?
The 2021 Hyundai Santa Fe was revealed on the 2nd of June with no indication about its cost. However, it may presumably go on sale later this year across all Hyundai dealerships in the United States.
The car has already won the safety awards. It has plenty of safety features that show the dedication of engineering behind the masterpiece of an SUV.
It is might possible that electric powertrains may come into the mix, with the inclusion of Terrain Mode Selector.
Conclusion
2021 Hyundai Santa Fe gives more space and features compared to traditional compact SUV. It is not much expensive as compared to a midsize crossover.