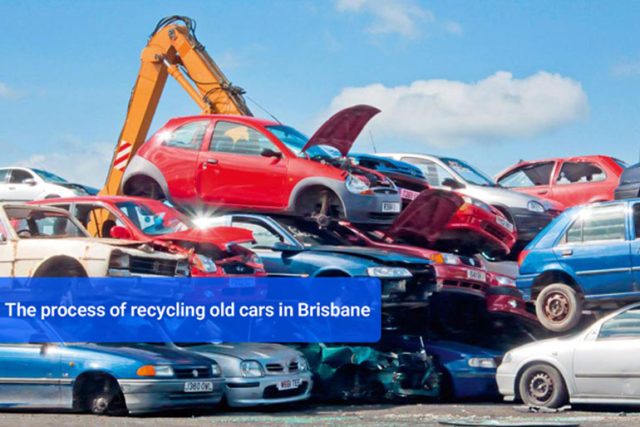 Nowadays, we see that the number of old cars is increasing every year, this stat can be different in different cities and the governments should have a regular plan to get them recycled properly, otherwise, this would be dangerous for the environment seriously.
Well as you may be aware, every car regardless of the model has an approximate lifetime to use and once it's approaching the end, it's better for the car owner to give it away. Because this can cost them more than the usual time…
But as we researched over the web, we found out that there are many old cars out there in Brisbane, and In This article, we want to talk about the process of recycling cars in Brisbane to help you get a better idea of what happens in this process and how it helps you get top cash for cars in Brisbane,
When a vehicle reaches its last days and its useful life is about to end, you can consider car recycling since it's the most environmentally friendly choice. Choosing to recycle your car not only helps the Australian environment but also has industrial and economic benefits. The materials used in cars and the scrap iron from junk cars can be recycled through the steel industry and regain value one more time for other purposes.
Car recycling has different stages such as collecting cars from parking lots, scrapping used vehicles, body cutting, crushing metals, and so on. Each step has specific operations that experts should do to salvage what's left from the vehicle when collecting them. We'll go through these stages one by one to help you get a better idea about the process of car recycling. Are you ready to read? Then let's go!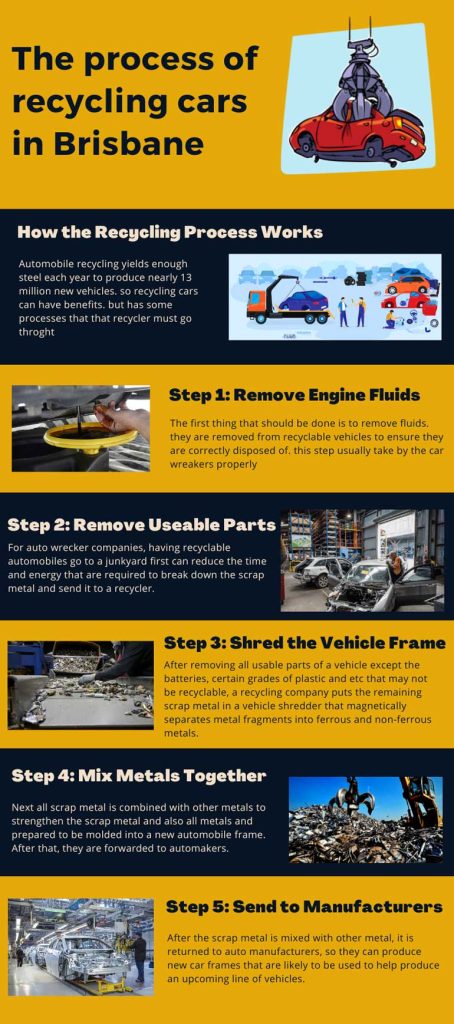 Different Stages of Car Recycling in Brisbane
Car recycling in Brisbane, Caboolture, and Gold Coast has different stages. To put it in a nutshell, we can say Depollution, Dismantlement, and destruction. But to dive deeper into the world of car recycling, we can say that the first stage is collecting and accumulating cars from special places such as parking lots. When cars are bought from the vehicle owners, they are gathered in specific places in order for them to be dealt with later. The next step is scrapping used cars. The vehicles that are gathered will be dismantled. The valuable parts will be separated from the body, and then, after body cutting, the body will be iron-pressed to take less space in order for the metal to be used in the recycling process.
There are valuable elements such as Palladium, Rhodium, and Platinum in the exhaust system of vehicles. These elements are also recycled and reused for other purposes!
Another part of recycling cars in Brisbane is about reusing car tires. When the tires are just partly worn, they can be utilized again for other cars. They can be used for roadbeds on race tracks as well.
Glasses of the vehicle are also important! They can be used over and over due to their arrangement. Glasses recycled from cars can be used as decorations, tiles, or in other industries that are in need of glasses.
The Importance of Car Recycling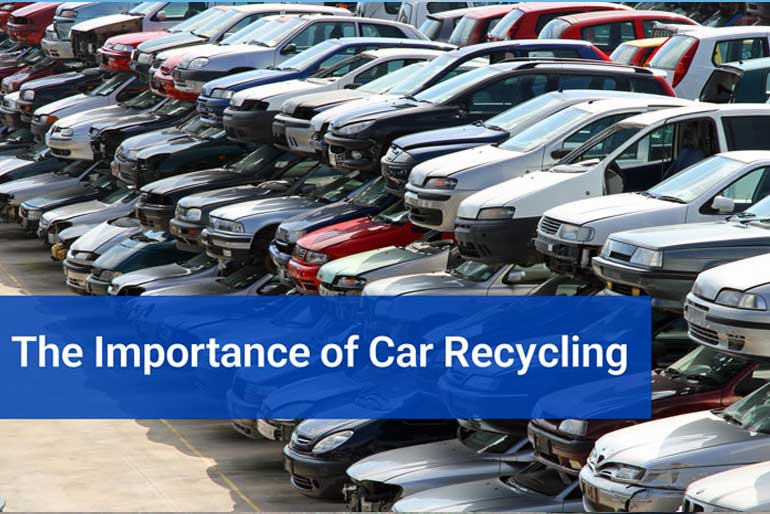 Each year, something about 11 million vehicles are recycled worldwide and up to 40% of the scrap iron goes to the steel industry! One of the most important aspects of car recycling is saving a significant amount of energy as well as cost. When producing modern cars, different metals are used and by recycling them (or using recycled ones in those cars), we can save energy and decrease costs. Due to the production and supply characteristics of these metals, most of them are considered to be very expensive and are hard to find on the market. By recycling them, they can be used in automotive industries together with other industries, for example, home appliances, packaging, and building materials need such metals for their production.
In iron factories that use low-sulfur scrap iron instead of high-sulfur iron ore, air pollution and water pollution are also reduced by up to 86% and 76% according to a recent scientific study!
Car Removal in Brisbane, Caboolture, and Gold Coast
By now, you have learned lots of advantages when it comes to car recycling in Brisbane. If you've chosen to go with this process, a car wrecker in Australia, such as Junk Car Removal, will buy your car and you'll get top cash for cars in Brisbane, Caboolture, and Gold Coast! You can find many car removal companies in Brisbane that are willing to buy cars in order to recycle them and help the Australian environment as well as the future! All you need to do is to make sure that they are working legally and give you the best possible offer for your used vehicle! Keep in mind that your vehicle is still precious, regardless of its condition! So, make sure you know how much each and every part of your vehicle is worth to get a fair deal.
The benefits of car recycling in Brisbane, Caboolture, and Gold Coast are much more than the ones we mentioned above! Some of its benefits are still a mystery to all of us! But we hope that you are convinced enough to consider recycling your vehicle when its time is over, or when you just don't feel like riding it anymore! Car removal companies are always there for you and are ready to give you cash in exchange for your vehicle since they know by heart how valuable those units are and how important it is to recycle the cars that are considered trash in the eyes of others! Search and find the company you can trust and don't forget to look around to find the highest offer for your precious vehicle!
If you are looking for a recycling company to sell your old car and get top cash, please check out the link below: https://junkcarremovals.com.au/how-we-recycle-junk-cars/