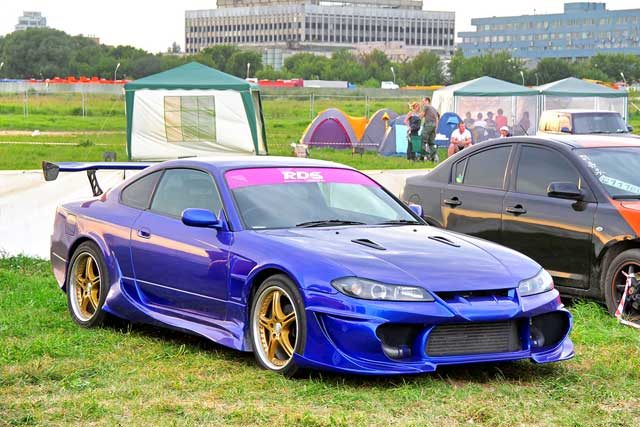 Silvia S15
The Silvia S15 made an explosive debut in the Japanese market due to a number of reasons which included the 250 HP that the SR20DET engine spits out effortlessly which was directly attributed to an upgrade of the ball-bearing turbocharger apart from the enhanced engine management and as for the non-turbo version (The SR20DE) the engine coughed up 165 HP which was more than sufficient for most drift enthusiasts.
Among the factors that made the Silvia S15 as acceptable as it was by the market included the aggressive fashioning both inside the vehicle and outside the vehicle which was reduced in size to suit modern automobile design trends and simultaneously comply with the 'compact class' criterion set by the Japanese Government which had a tremendous negative impact on sales for its predecessor the S14. This time around they came up with two variants of the Silvia which were the Spec S and the Spec R that had optional "Aero" offering that came in the form of various rear wings side skirts.
The Nissan Silvia S15 (both specs) were sold primarily in Japan, New Zealand and Australia, but were made available through unofficial distribution channels otherwise known as grey imports in most other countries also another fact was that the S15 was sold in Australia and New Zealand as the Nissan 200SX. The S15 was the final product from Nissan's S platform as Nissan moved towards downsizing its numerous platforms in order to bring redundancies under control and streamline their R & D faction. Due to this, the S15 was deemed as the last of the Silvia and deemed to be the last car to bear the badge of the Silvia.
The Silvia has left a legacy in the automobile industry that is unique due to the car's immense popularity in the 'drift' realm where the car enjoyed numerous successes. The Silvia won seven Grand Prix championships (D1) with five different drivers and was considered the 'king of the Super GT'. The Silvia even after so many years is still popular among car enthusiasts who appreciate the Silvia's nostalgic value and the uniqueness of the car which was inimitable.
For repair information download the Nissan Silvia S15 Factory Workshop and Service Manual from AllCarManuals.com.