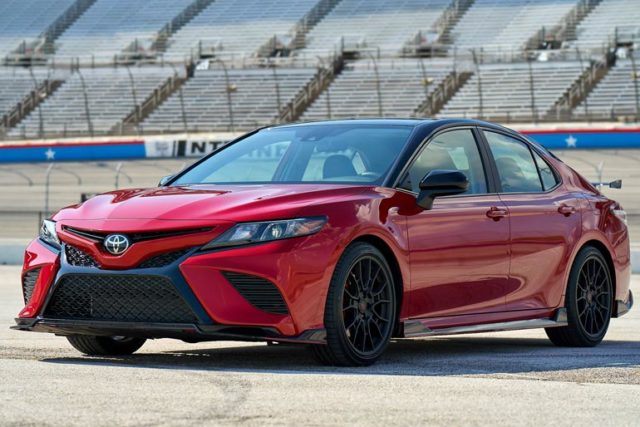 For people who believe buying a car is a long-term investment and desire longevity with continued performance, Toyota is amongst their favorite picks! Do you bet? Toyota has built and preserved that goodwill over the years. Toyota Camry is a versatile mid-sized sedan providing a wide range of trims to choose from. Amongst these trims is the Camry Toyota Racing Development (TRD), a sedan that is also racy! Imagine the benefits of an all-purpose sedan combined with the thrill of a sports car! Adrenaline rush? We feel you!
Moreover, it offers lavishness at an economical price. That's right. Toyota knows what factors you are concerned about! The sports sedan is a leveled up game of Toyota and there is a lot on the list that you can expect from the 2020 Camry TRD!
What is new for 2020?
More excitement! The revamped dynamics, style changes, performance upgrades, and improved multimedia are on the 2020 list.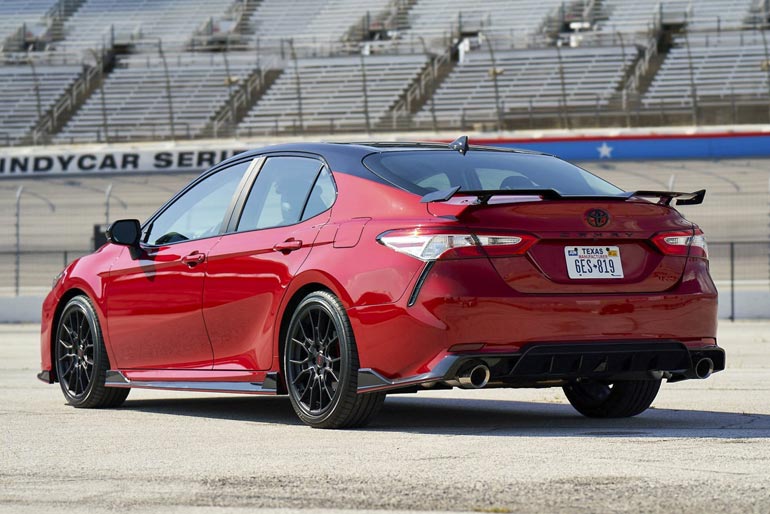 The rear spoilers, wide grille, and other eloquent exterior changes are worth the hype. Then there are other thoughtful additions like new coil springs, special shock absorbers, and a cat-back exhaust system for ensuring that each ride is a quality ride.
It's a sharper Camry this time! Period.
How well does the Toyota Camry TRD perform?
Coming to the 2020 Toyota Camry TRD specs, let us have a look at its performance report card.
The front-wheel-drive Toyota Camry TRD is equipped with a 3.5 liter V-6 and has an 8-speed automatic transmission. The output deliveries stand at 301 horsepower at 6600 rpm, 267 lb-ft of torque at 4700 rpm, and a turning diameter of 38.
Talking of suspension, there is an independent front strut suspension with anti-roll bars and an independent rear multi-link suspension again with anti-roll bars. The anti-roll bars are fat for better handling during over road irregularities and they have made the TRD more responsive. The suspension is stiff, probably owing to justify the demand for a 'sporty' car.
Speeding up next to the acceleration milestones, the TRD covers 0-60mph in 5.8 seconds and a quarter-mile in whopping 14.4 seconds. The top speed achievable is 135 mph.
With a unibody frame and a curb weight of 3572 lbs, this mid-sized sedan is well balanced and enables emergency braking with ease. Stop! That reminds us of the brakes. Well, the front brake rotors are 12.9 inches in diameter, better than similar trims in the group and the braking feels plus performance is more than just satisfactory. Housing the car's brake pads and piston, the brake calipers have been covered in red. That little style detailing, I tell you! There is an adjustable steering wheel and the ride and handling are mostly smooth and comfortable. We said mostly and not always because sometimes it may get edgy but let's consider that all this is because the TRD is supposed to be racy!
This 4-door sedan can accommodate 5 passengers on its bucket seats and has a passenger volume of 100.4 cubic feet. For their 4 medium-sized suitcases, there is an available capacity of 15.1 cubic feet. Not too much right? Cut down on the extras!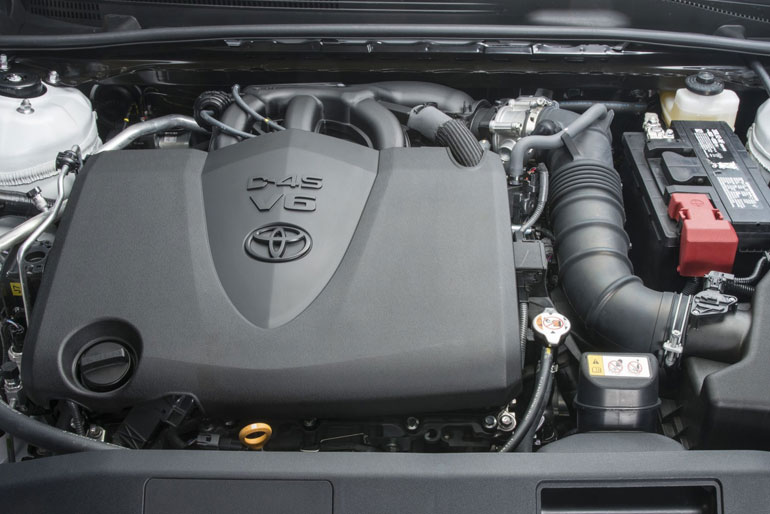 With a 16-gallon fuel tank with gasoline, the MPG figures for city/highway/combined are 22/31 /25 respectively. Those are generally the expected figures from mid-sized sedans.
The sportier sedan flaunts 19-inch wheels with matte finishing, which are lightweight and a racy body kit for all the driving enthusiasts out there. The wheelbase is 111.2 inches and the overall length and width stand at 192.7 inches and 56.3 inches respectively, good for its size.
The 2020 Camry TRD is alert and cares for your safety. It is loaded with all the necessary safety features like Daytime running lights, Blind spot monitor, Electronic Stability Control, Lane keeps assist and departure warning, traction control, and cross-traffic alert.
After going through the 2020 Toyota Camry TRD specs, you know that it has been transfigured for better performance.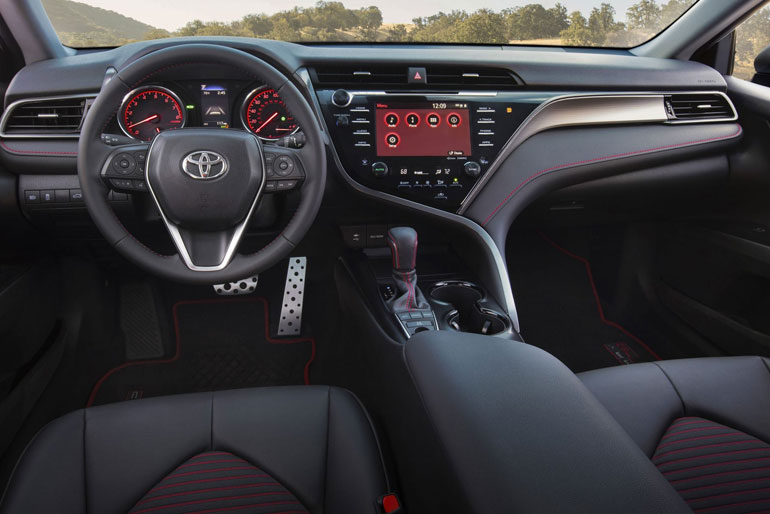 Is it better than Camry's other trims?
Well, Toyota floods you with choices of trims. The 2020 Toyota Camry TRD is a sport-tuned trim and the best it can be compared with is the XSE trim which is again sporty. Both are blessed with the same engine and deliver the same output figures.
However, TRD has a stiffer suspension Also, if we talk about the differences in figures, the wheels for TRD are half-inch wider than those of XSE and 3.1 pounds lighter. Next, there is a difference in front brake rotors which are 12.9 inches for TRD and 12 inches for XSE. The ride height is lowered by 0.6 inches in the TRD. Moreover, TRD is more responsive and is bolder than the XSE trim. In case you forgot, it also has an added advantage of the aerodynamic kit. The best part is the sportiest car Camry offers is priced below XSE at $31170. The XSE has an MSRP of $35,130. Stunningly amazing or amazingly stunning?
Some people compare it with SE trim which is a kind of base trim and has an MSRP of $26,170. But we do not think there is any comparison between the two because SE has a 2.5 liter 4-cylinder and delivers only 203 horsepower. Most importantly it is not sporty! So again, TRD clearly wins here.
Should you go for it?
I mean why not? The TRD has been planned and executed with just the desired correctness. Camry has really worked on it and it shows! It's robust and aggressive character makes it all the more desirable and it makes sure your rides are full of thrill and delight. Moreover, the 2020 Toyota Camry TRD specs give you enough reason to believe, why this car is America's bestselling mid-sized sedan. And at last, considering the price at which this family car is offered, it is a wise choice! Pats on the back!