Bentley is a British car manufacturer, famous for manufacturing of luxurious cars and SUVs from many decades. Bentley is going to celebrate its 100th birth anniversary. On this occasion, Bentley put out the cover from its new model concept. This is the best gift for Bentley lovers ever had in the past.
Concept cars allow car lovers to look in the future. It may hold the flagship of Bentley cars in the future. Bentley EXP 100 GT Concept carries the design from the past. High-quality material is used in interior designing, and fines posh that may never use by any other luxurious cars.
Bentley EXP 100 GT Concept uses round headlights and a massive grill that will provide it an antique look. According to Bentley, copper trim with aluminum is placement from the aircraft engine used in World War 1. This aircraft holds by the founder of Bentley, W.O. Bentley.
The main structure of the car is made with the combination of aluminum and carbon fiber. This car features with the active aero wheels. The feature of this technology is that they can adjust to boost up the efficiency and performance.
Additionally, intelligent tires technology allows the tires to adjust automatically as per the road conditions. However, how these feature works are still unclear.
Bentley plans to start production of the Bentley EXP 100 GT concept in 2035. This will be a luxurious car with zero-emission technology and many advanced features. For example, the driver assistance system and blood pressure monitoring AI.
Engine Power
Bentley EXP 100 GT is not just a plan of luxurious and stylish car. It will come with a powertrain spec of an electric car that left all-electric cars behind. It is known as Next Generation Traction Drive.
All wheels of this car are connected with electric motors with a power range of single wheel is 204hp to 340 hp. It means a total horsepower will fall between the ranges of 816 to 1360hp.
Advance torque vectoring system is responsible for equal output from the wheels. It is also capable of producing a torque of 1500 Nm. Bentley EXP 100 GT will attain the speed from 0 to 100 km in less than 2.5 seconds with a maximum speed limit of 300 km/hr.
This hybrid car covers a distance of 700 km with a single charge. Bentley claims that the powerful charging system charges the batteries from zero to eighty percent in just 15 minutes.
Technology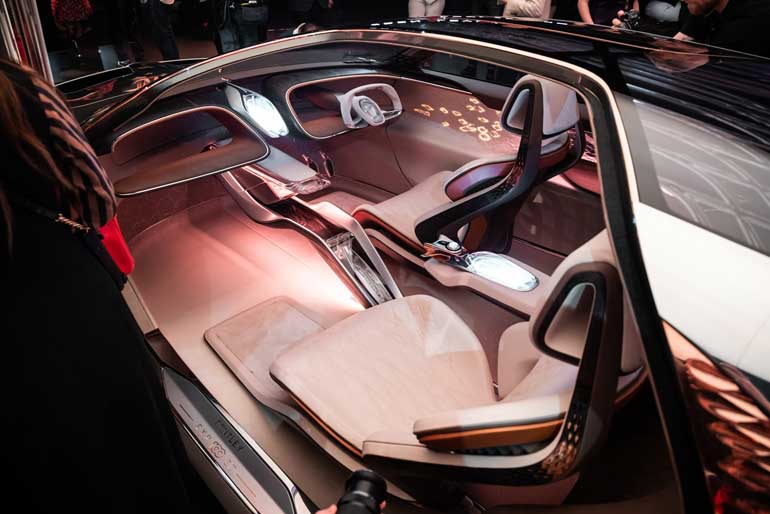 Bentley EXP 100 GT is a two-door car and almost nineteen feet long. It offers many advanced features like auto-adjustment of driving preferences, auto recharge of batteries when needed. It will come with five driving modes that are manually adjustable. These modes include cocoon, re-live, enhance, and customize.
Bentley's personal assistant feature monitors the rider's well-being continuously and capable of adjusting the atmosphere accordingly. This feature also can check blood pressure.
No doubt, the driving experience of Bentley goes beyond the limit. They know your needs well even before you realize that you have them.
Design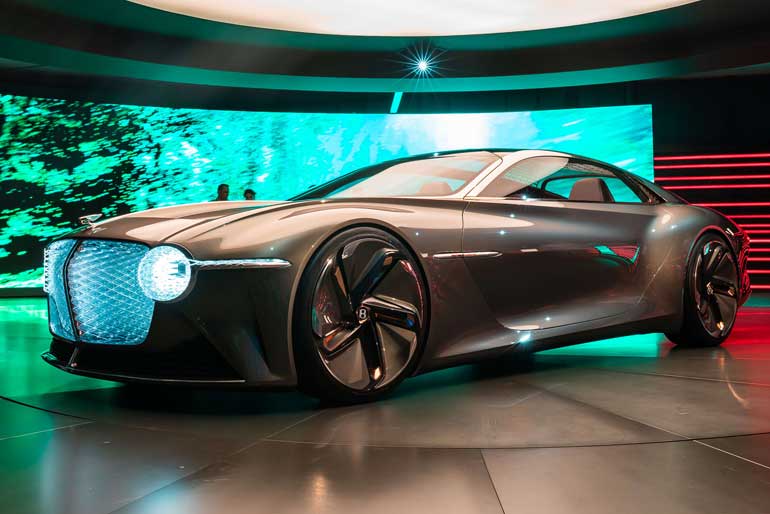 The grill at the front side of EXP 100 GT illuminates as well like some other concept cars, but there is something different. The grill on 100 GT consists of 6,000 LED lights with multi colors and shapes.
Designers and engineers of 100 GT try to make it amazing as much as possible. They use replaces the leather on the interior with Grape pulp and copper-infused inside to make a look similar to 5,000 years old oak. Fine patterned embroidery matches with all surfaces efficiently. It is much amazing.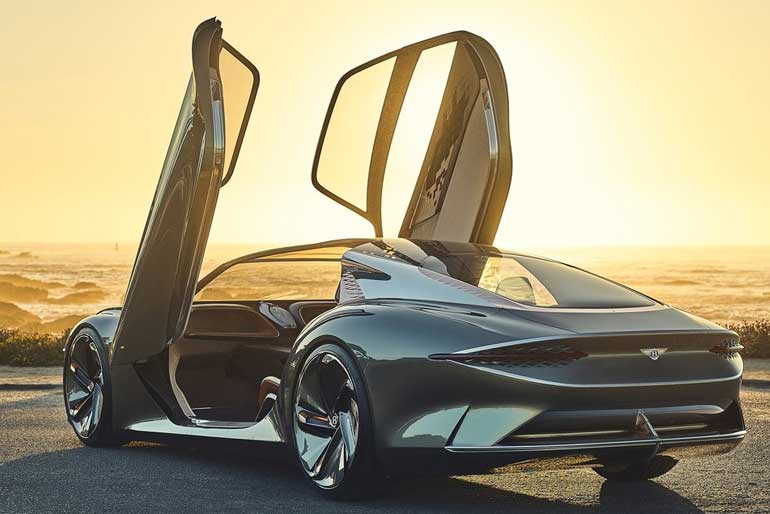 This car comes with many features like adaptable biometric seats, can record the light of sunset, and can replay for you. This can be done with the help of LED lights fitted on the roof. It features the special scent system that can repeat the scent from outside to inside the car.
It is equipped with special Pirelli tires that can adjust automatically as per the road conditions. If you think that all this is too much, then you may be on the right. I am not expecting more than it for any car to enter in the production line on a large scale. It is amazing.