A British sports car manufacturer Lotus introduces its first electric sports car Evija in July 2019. Lotus claims that it is one of the fastest electric sports cars with zero-emission ever made. For the time being, production line of Evija plans to manufacture only 130 units. It is the first model of Lotus after holding the control by Geely, a Chinese automobile company.
The Lotus Evija continues the game-changing and an iconic revolutionary tradition in the road racing cars. A combination of unique and daring innovation with radical thinking takes another step towards the revolution.
It is one of the top expensive cars in the world. A mixture of weight and power makes it fantastic. It needs less than 3 seconds to attain a speed of 100 km/hr. It is equipped with single-piece carbon fiber monocoque chassis. Together with all other components installed in it, it weighs only 1680 kg. It offers great handling experience like other cars of Lotus.
This car indicates the cross between a McLaren and a futuristic car racer. It holds many unique features like racing-style steering fitted with a stark with small dashboard, attractive center console, and touch-sensitive controls.
The exterior of Evija is a perfect balance of fluid forms and crisp lines, designed this model with the inspiration of the aeronautics industry. It seems from a sharp edge but gently curved bonnet, like many other cars of Lotus in the past decades.
Now, have a look at different features like power, design, and technology of this car.
Power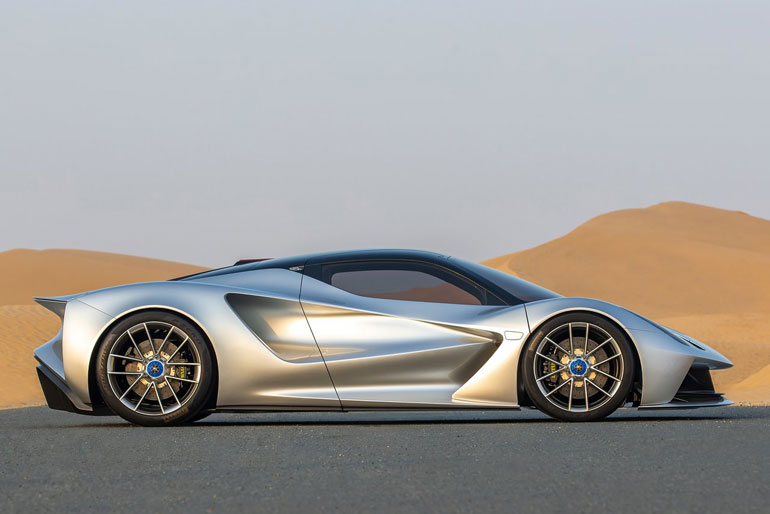 Lotus Evija holds the title of world's first electric hypercar. This model comes with a target to achieve 2000 horsepower and 1700 nm torque. This car attains the speed of 100 km/hr. In less than 3 seconds with a maximum speed limit of 325 km/hr. This car is designed with a target to attain a speed of more than 400 km/hr.
This car is powered with four electric motors, gets power supply from the battery pack located behind the two seats. With a weight of about 1,700 kg, Lotus is claiming it as a lightest pure electric hyperactive car.
This car comes with five driving modes install centrally under the wheel hub, i.e. City, range, sport, tour, and track. This car takes on 12 minutes to charge the batteries from zero to eighty percent and requires only 18 minutes for full charging with 300KW charger. However, with 800KW charger, it took only nine minutes for a full charge.
Technology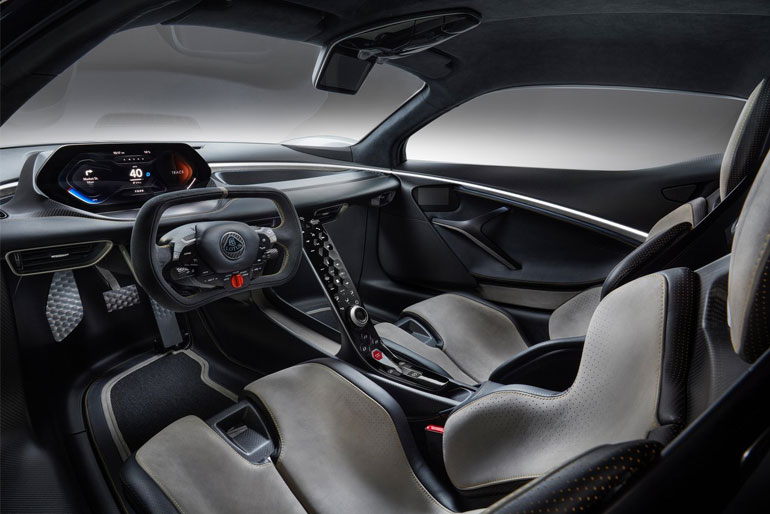 Lotus Evija is something more than a power symbol. Like the other racecars, a single fiber carbon chassis is installed. It offers channels under the body of the car so that it brings the air to the massive rear diffuser. This will enable it to increase downforce. An integrated air diffuser is integrated which extends from below the B-pillars to the tail.
It uses the aeronautic technology in the form of the rear spoiler, which extends from its comfortable position to the upper bodywork. It also includes an F1 style Drag Reduction System, which makes it drive incredible. These both systems are activated automatically in track mode. You can use these features manually with other modes.
Elimination of traditional door mirrors also plays an important role in dropping drag. Cameras are installed in the front wings for side views, and a roof camera provides a central view while driving. Three screens in the car show the images from these cameras.
Design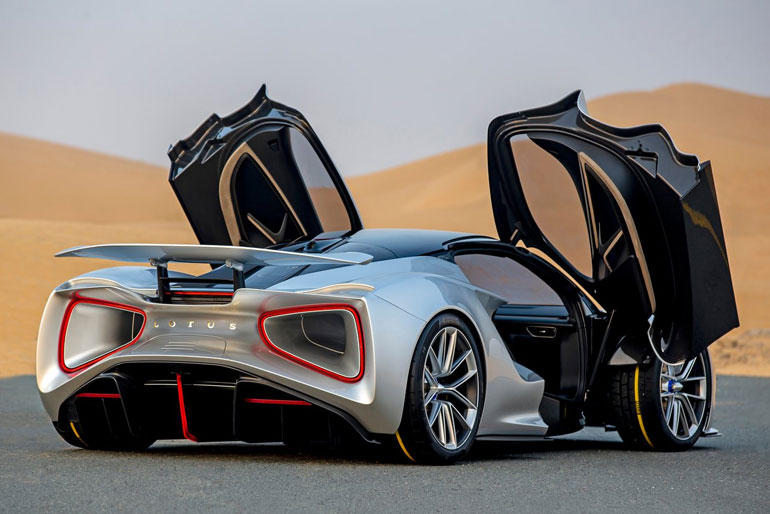 Exterior design is the most attractive feature of Lotus Evija. Full body fiber carbon appears as shrink-wrap over the mechanical modules. It runs on the road with the height of just 105mm up from the road.
When taking a look on the car from the back, all tunnels are consisting of a red LED to create a stunning ribbon-style light signature. Indicators are fitted at the corner side of the ribbon and reversing light illuminates the T of the logo Lotus.
This car design is prepared with motivation from aeronautical technology for airflow. The airflow system is divided into three parts, the vast central part facilitates the mid-mounted battery pack behind the seats with cool air while the two smaller parts are responsible for cooling down the front e-axle.