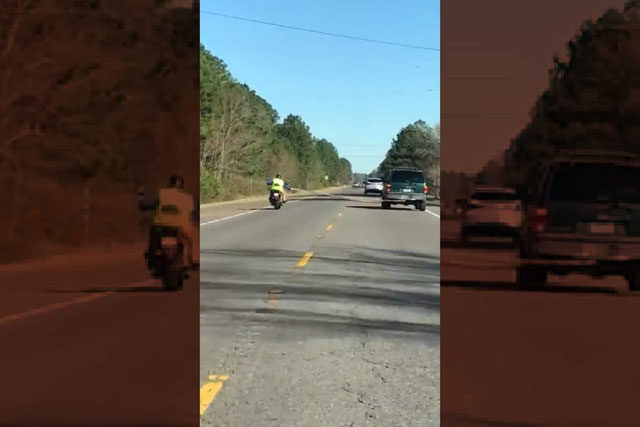 There are many ways to tow a motorcycle. Few of the many reasons to agree with this statement can be as the motorcycle was much heavier vehicles than bicycle; they need proper towing because of their delicate machinery; motorcycles can easily get involved in any road accident while being towed.
The last reason can be fully understood if you have seen the latest viral video of the heavy bike being towed.
It can be clearly seen in the video that an old Ford Explorer is towing a motorcycle along with its rider. At the beginning of the video, a car is seen going past this bike, and as that car went by, the motorcyclist changed its lane and went in the wrong lane to enjoy a free ride.
I am surprised at why the biker changes its lane when the much bigger vehicles such as 18-wheeler or any other car being towed stay in their own lane.
As the video proceeds, we get to watch as the biker realizes that some cars are coming right at him and he tries to go back in to his lane when suddenly he loses the control and the bike slips under him and goes back in the right lane while he stays back in the wrong lane (haha).
I mean was he suffering from any kind of head injury or something. Why would he do something so dangerous? Casually switching the lane on a busy road is like a death warrant. No kidding there.
There are many other ways to tow a bike. Any pickup truck is sufficient enough to transport any broken bike to another place, and I would say this is the safest way to tow a bike.
Please, people, learn from mistakes and avoid getting involved in such happenings as this particular rider was lucky that the oncoming car did not run over him. Don't do such acts as they can always end badly.