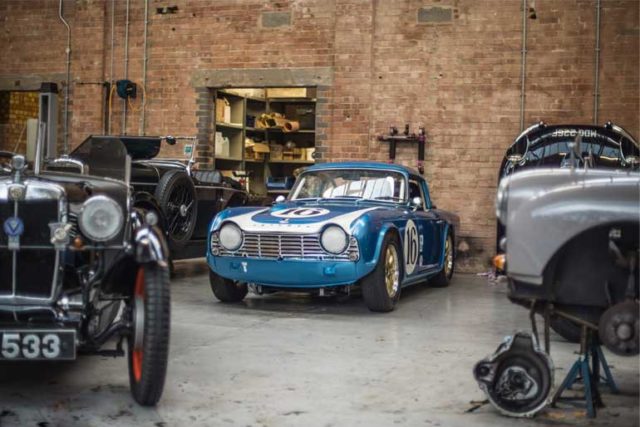 Car enthusiasts are always on the lookout for the classics. While sometimes they may find a car in good condition, most of the time they need to invest in the restoration of the classic. Here's a fact, the business potential for car restoration workshops is growing with the demand for classic cars.
Whether a collector, an exhibitioner, or simply a first-time car buyer, they all head up to the classics for their needs. Perhaps, setting up a classic car restoration workshop is a feasible and scalable business idea.
That being said, thinking about setting up the workshop and making it a reality are two ends of a rope. There is a lot of planning that goes into making the ends meet. Besides, there are several preparations that need to be undertaken to set up a fully functional workshop.
Here are a few tips that can help you get your classic car restoration workshop on track.
Begin With Understanding The Market In Your Community And Around
This might seem like a no brainer, but the fact is, this is the most crucial part that can decide the overall success of your business. Well, you may already know that your market has the potential for classic cars, but what you need to figure out is the scale of this potential. In other words, are there enough buyers to make your business run sustainably? Here are a few quick pointers that can help you figure out the scaling potential for your business.
Identify the key communities around your business location.
Learn about their interests and taste in cars and classics.
Try to measure and establish a range to their disposable income.
Make sure you account for your own expenses when calculating the potential for your business's growth.
In a nutshell, you would need to collect and process a lot of data in order to plan your business goals. Essentially, you would not only be measuring the communities that are interested but also how frequently they spend their money on such projects.
Clearly Define Your Objectives Based On Your Market Analysis
Learning about the market needs is the first step, but it alone cannot promise the success of your workshop business. Market analysis when combined with effective planning act as the founding pillars for any business. And your workshop business also needs to comply with this fundamental practice. Creating a business plan and defining tangible objectives can ensure a better brand image for your business. For example, besides regular restoration tasks, if your workshop can offer detailing services within the same price bracket, you can expect more business. After all, your happy customers would spread out the word for your extraordinary customer services and would bring in referral leads for your business. Therefore, having clearly defined goals, such as how many projects would you take up in a week, the time you would dedicate on a single project, and so on can have a far-reaching impact on your customers. So much so, that clearly defined objectives are a mark of professionalism and dedication towards your work.
Prepare A List Of Essential Equipment You Need Right From The First Day
A lot of people make a severe mistake of buying tools and equipment without thinking through the need for them. The end result is, they either spend their money on equipment that they may never use, or they miss out on the necessary ones. In either case, the consequences are detrimental to the business. You must avoid making any such mistakes. Instead, you must prepare a list of tools and equipment that you would need in all projects, right from the very start. For example, wrenches, pliers, welding machines, drills, and so forth, are some of the common tools that you would need in every restoration project. Apart from this, you would also need to ensure continuous power supply to your workshop. For this purpose, you must invest in a diesel generator. Notably, a standby generator such as https://www.ablesales.com.au/industrial-diesel-generators/7-20kva can ensure that all of your power equipment is supplied with enough energy and that too at an economical expense. After all, you can't be working without electricity. You can't operate the lift, power tools, or even the air pumps without electricity.
Get Your Business License, And Start Operations In Your Workshop
By now, you must have a raw plan, a blueprint for your business with you. But still, the work isn't over yet. You would need to comply with the legal obligations for starting a business. For instance, you may need to get your business registered with the local authorities. Furthermore, you may also need to comply with the necessary documentation for tax purposes. It is always better to consult with a legal attorney who can assist you through the business registration process. Perhaps, they can save you from any troubles in the future. Once you fulfill all the legal obligations for setting up a business, it's time you make the major investments. Choosing a site for your business, however, is an investment that you may require to make before getting your business license. The rest of the investments including purchasing inventory, marketing, and promotions for your business, and installing the design elements to your workshop can be done after you get your license.
Starting a classic car restoration workshop is a lot easier said than done. But with the right knowledge, and of course, guidance the problems and hurdles can be overcome easily. No businessman ever wishes to invest in a plan that could not guarantee returns. The evaluation of returns is only after the business starts its operations. In other words, starting up a workshop surely has the potential for returns on investment. But the size of the returns can only be decided after the workshop starts its operations. So, once you start working on restoration projects, you must also start planning for scaling up your business, and expanding its reach to newer markets.
Summing it up, a classic restoration business is surely a promising investment.