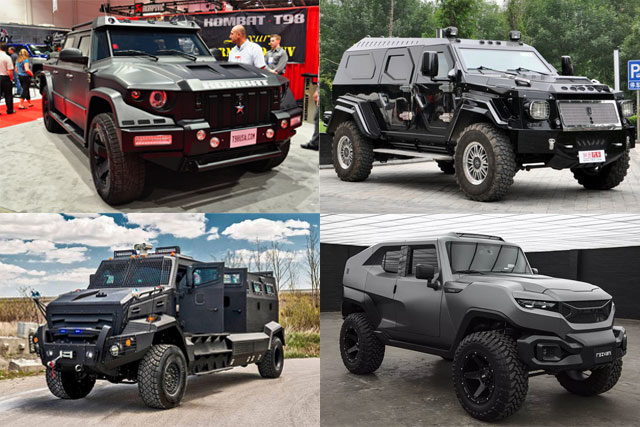 Most Expensive Armored Cars in the World
It would be quite idealistic and, at the same time, naïve to believe that only heads of countries and CEOs of multi-billion dollar conglomerates may be the only people in need for an expensive armored car in the world. Sadly, this is not necessarily true. Keep in mind that assassinations, accidents, and abductions take place on a daily basis and happen all over the world, which means that people who don't put much value on their own life may be in danger. Naturally, it goes without saying that most people, even those who consider themselves wealthy, can't really afford getting a high-end civilian armored vehicle. On the other hand, if money was not the issue, here are top several armored cars that you would want to consider.
1) Lexus LS 460 L: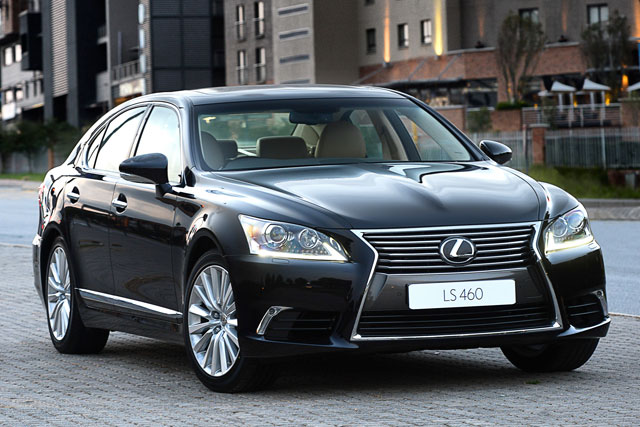 The first massive advantage of this Lexus is the fact that it doesn't really look like an armored vehicle. Fortunately, it has numerous armored elements, which make it completely resistant to small arms fire, which can come in quite handy for a number of reasons. A word of caution, small arms are not to be mixed up with light weapons, which are somewhat more potent. Truth be told, this is more of a crossover between a luxury car and an armored car, making it perfect for those who don't want to forsake elegance and speed for the sake of safety. Does it go without saying that the latter is a top priority but why should you choose if you don't really have to? The cost of this vehicle is somewhere in the $300,000 range, depending on various other features and factors.
As for the optional equipment and accessories, which is a feature that has the potential to make a difference, there are several things to consider. First of all, you need to take a look at the light-weight armoring package, in order to get the most pragmatic protection out there. Second, you might want to consider a siren and an intercom system, which can be crucial in the moment of crisis. Lastly, equipping the vehicle with a reliable fire suppression system is yet another great idea worth considering. All of this combined will make you much safer, yet, it will also substantially add to the price.
2) Huron APC: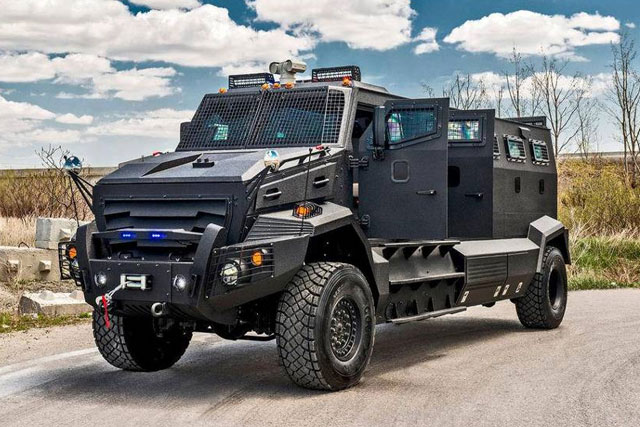 Previously, we discussed a vehicle that does its best to at least appear as a civilian vehicle and now, it's time that we proceed with something completely opposite. Huron APC is the type of vehicle that you would most likely expect to encounter somewhere in the war zone. Keep in mind, nonetheless, that this can be a good thing, in a scenario where you have a legitimate reason to fear for your life. Just think about it, the very presence of this vehicle will act as a strong deterrent for your attackers. After all, prevention is the best kind of protection.
What you can't see at a first glance is the fact that Huron is surprisingly fast and light, especially for the vehicle of its stature. This too can sometimes be a key to your survival. Those who are willing to get some more work done on this vehicle can get some armor for its other mechanical components and even invest in a multi-layer ballistic glass. Naturally, engine bay armoring is one of the most sought optional equipment that people are interested in.
3) BMW 750 Li Sedan: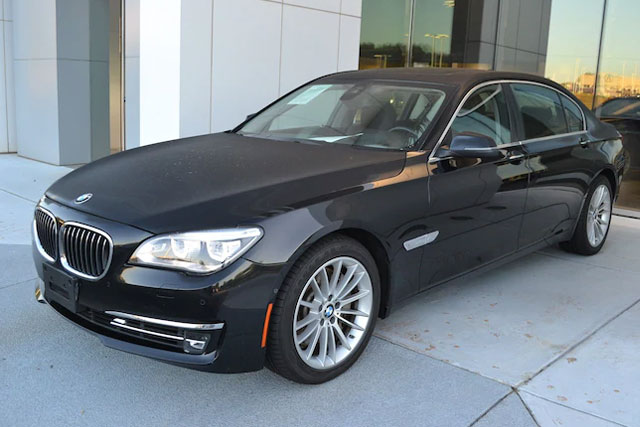 Due to the fact that BMW is one of the most popular luxury vehicle brands in the world, it was inevitable to encounter at least one high-end armored vehicle on this list. Speaking of which, the amazing BMW 750 Li Sedan both looks the part and protects its passengers. Moreover, at $340,000 starting price, it's only slightly more expensive than the Lexus we've discussed above, while being a superior vehicle in most aspects.
While it may not look that special from the outside (well, more than any other BMW for that matter), this particular vehicle has its entire compartment protected. We're talking even about the tailpipe, the fuel tank, and the front fenders. Most importantly, it's specifically designed for all-terrain driving, which means that you'll have an easy escape route no matter what happens. Nonetheless, this also means that repairs may be somewhat more complex, which is why you need to have someone able to provide expert mechanical services on luxury vehicles.
4) Audi A8 Security: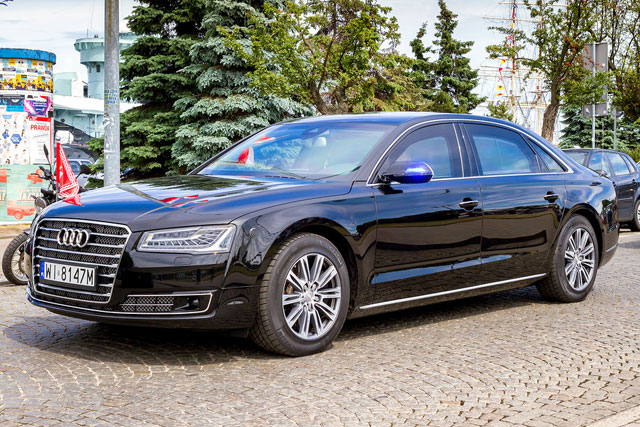 The above-discussed Lexus may have appeared as an expensive armored vehicle, yet, this was before you could make the comparison with the $700.000 Audi A8 Security. This vehicle is incredibly sleek and it does an outstanding job of protecting your life while keeping its security features completely obscure to the general public. Also, unlike the Lexus LS 460 L, it's resistant to high-powered gunfire and not only small arms fire. Moreover, the above-listed feature is thoroughly tested and, during the process, it was required to pass Audi standards, which are highly valued and respected in the automotive industry.
The simplest way to describe this vehicle and all that it represents is to say that it's incredibly alike 2015 Audi A8 L, only with parts made from materials that are commonly used for military vehicles. As for the interior and the engine, things are the same as with the Audi A8 L. While comparing this particular vehicle to some others from this list may seem as comparing apples to oranges, it's important to mention that the Audi itself believes this to be the most secure model that they have ever built. This alone is supposed to carry a lot of weight.
5) Cadillac Escalade ESV: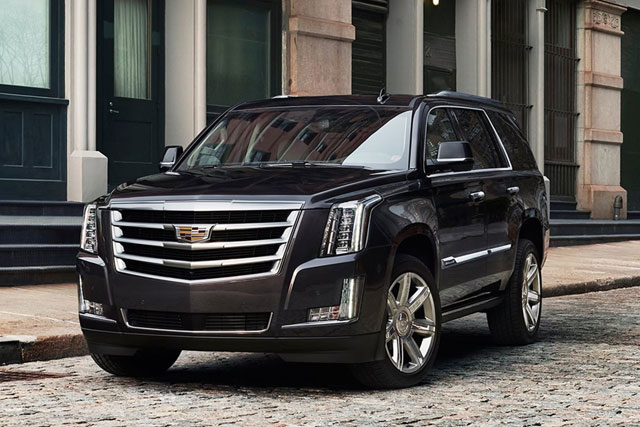 One observing this vehicle from the interior would easily make a conclusion that a person purchasing this car puts luxury first and safety second. The best thing about this vehicle, nonetheless, is the fact that this is not really a choice that they would have to make, seeing as how they can have it all at the same time. This is due to the ingenuity of engineers making it, who used an extra strong chassis in order to make an interior-centric vehicle design. Moreover, the 40 mm glass is able to both protect the passenger from a direct gunfire and provide them with the ultimate privacy.
The vehicle itself costs around $350,000, which makes it fairly affordable, considering some other entries on this list. Additionally, with the idea of building your own vehicle (in terms of choosing features) and even the possibility of buying used Cadillac Escalade ESV, you can reduce these costs even further. On the other hand, if the price is not an issue (which is the hypothesis we took as our starting point), then a brand new 2019 Cadillac Escalade ESV would be the most obvious choice.
6) Mercedes-Benz G63 AMG: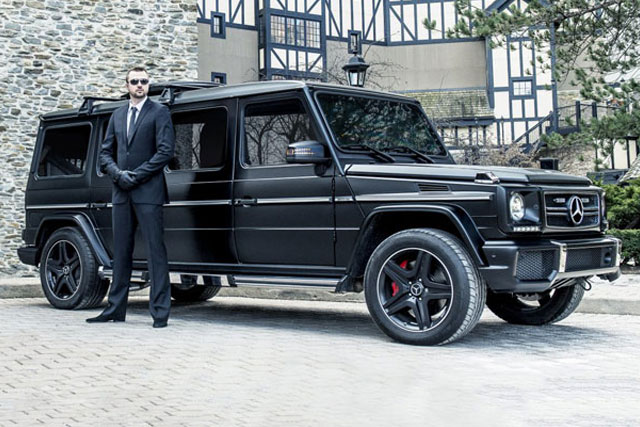 The Mercedes-Benz G63 AMG is purportedly outstanding amongst other prepared shielded limousines accessible. Produced by INKAS, the G63 AMG accompanies numerous upgrades to both the outside and inside of the vehicle, taking security and extravagance to another level. All-dark matte cowhide inside, altered lights, impenetrable glass, surveillance cameras and more are altogether included. The proprietor of this million-dollar vehicle can sit back and relax knowing they are completely secure. The G63 AMG incorporates ballistic covers, bullet catchers, a back bulkhead, fuel tank security, and an assortment of extra features, which is reflected in its price of $1,000,000. The perimeter of the passenger is totally ensured and protected. The armored floor is also fully protected or in other words, it can withstand blasts and shrapnel.
7) KOMBAT T98: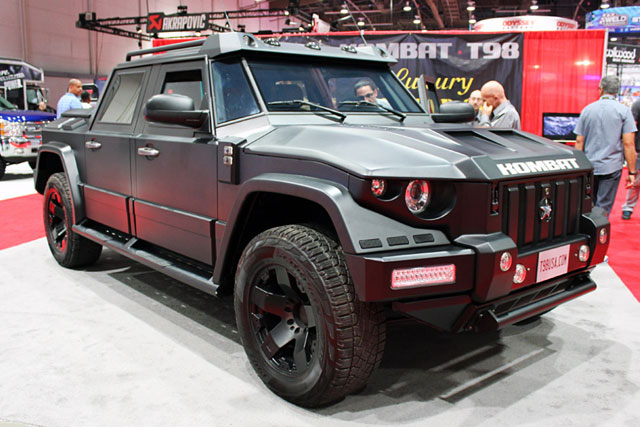 The Russian maker, Dartz, has released the $1.5 million Kombat T98, as the most costly armored vehicle on this rundown. Notwithstanding, numerous individuals may know it now as the Prombron. This defensively covered SUV is luxurious to the point that the entire interior is upholstered with 100% whale-penis hide. Whale-penis leather is super soft. As indicated by its site, the T98 is prevalent among the political figures of Russia and the Princes of Europe. However, there's nothing preventing the filthy rich men from making it a basic vehicle of their own convoy in spite of their affiliations. The T98 highlights precious gold-covered window trimming and diamond-encrusted gauges of white gold. It comes straight from the sequential construction system finish with bulletproof protection and blasts safe reinforcement that secures the 8.1 liter V8 motor and, obviously, the valuable travelers inside.
8) Bentley Mulliner Division with Armor from Mulsanne: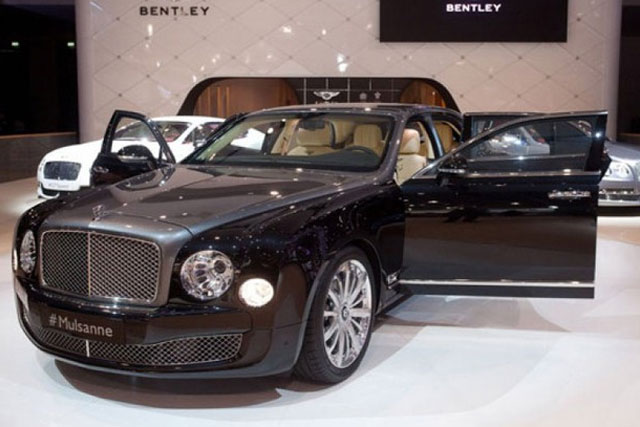 The Bentley Mulliner Division auto is another sumptuous model that spikes its sticker price to $400,000 when combined with top of the line armor from Mulsanne. This specific model can withstand powerful gunshots, synthetic dangers and explosive assaults from all four sides. The speed of this car can accelerate from zero to 60 kilometers for each hour in only 5 seconds with the most extreme speed of 184 miles for each hour because of its Twin Turbocharged 6.7-liter 505-torque fuel motor.
9) Maybach 62S with Armor from Rijck:
Maybach vehicles are as of now costly as it may be. In any case, when the popular Swiss armoring organization Rijck incorporates its contributions to the Maybach, anticipate that it will be exceptionally costly. Rijck has made an intensely armored Maybach 62S that can prevent a powerful expert rifleman's rifle shot from 10 meters away. The engineers and architects could achieve this accomplishment without changing the delightful interior and exterior structure of the Maybach. It has a built-in AMG V12 Biturbo 5980cc 620-strength gas motor. The sticker price for this Maybach-Rijck collaborative work-piece is $352,000.
10) Knight XV: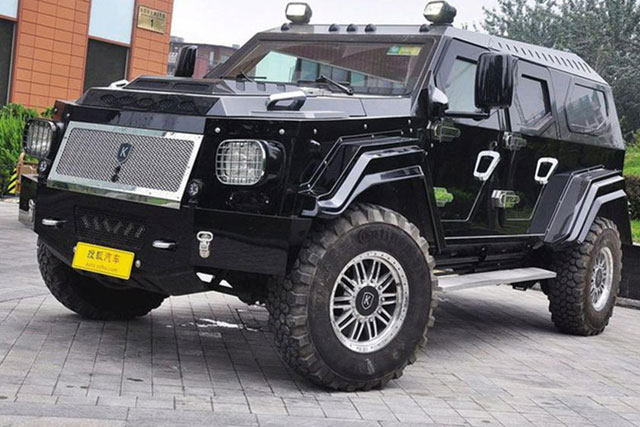 As the highest point of-the-line vehicle from one of the world's driving heavily clad vehicle producer Conquest Vehicles, the Knight XV is completely an uncommon find. Due to its rarity, just a hundred vehicles of its sorts were produced. Every car incorporates V10 motors, military-review structures, and high-quality opaque or transparent armor protecting the windshields, metal composites and ballistic aluminum. Other than its armor highlights, the vehicle is essentially a lavish lodging room on wheels, with the inside outfitted with a bar, satellite TV, warmed seats, cooler, media center and a black box, to keep your fatigue off amid your movement. No wonder, $629,000 is worth the features.
In conclusion
As you can see, different vehicles offer different features, often even taking a different approach to the same situation. While some vehicles and car manufacturers aim to make the most secure vehicle possible, others tend to do so, while concealing this feature altogether. It's not really that hard to see the reasoning behind both of these ideas. Even vehicles that aren't as safe as some others on this list usually end up costing less, which means that they're available to those who wouldn't be able to purchase them, to begin with. In other words, it all comes down to your preference.