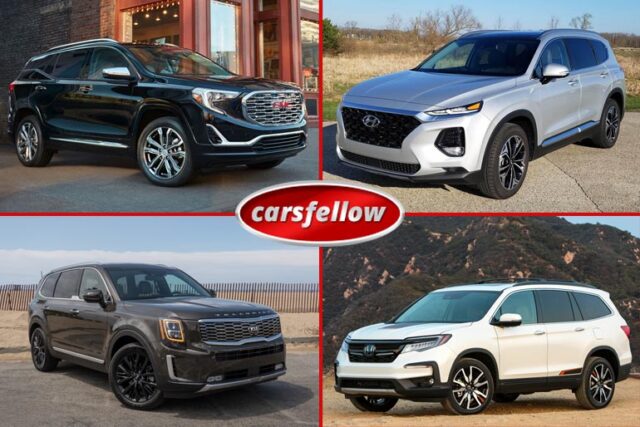 Buying a car that's affordable, safe, and meets the needs of your family is easier than ever with this year's vehicle line up. If your family is looking to upgrade your ride and get something that works better with your lifestyle, there are plenty of family style vehicles that come with a reasonable sticker price.
According to RobertinoAltieri, founder of TCB The Car Buyer, "At TCB The Car Buyer we buy cars in Los Angeles and have seen a large increase in Honda and Toyota leads. We believe this increase in these types of middle-tier level vehicles are due to an increase in the production quality recently from 2018-2020. As we continue to progress as a culture, industries will only get more competitive, fighting towards the same goal of producing the best possible product they can produce."
Today's vehicles are giving families more features and more technology to help improve their drive and protect their loved ones during the journey. Here are the most affordable family-style cars going into 2020.
Honda CRV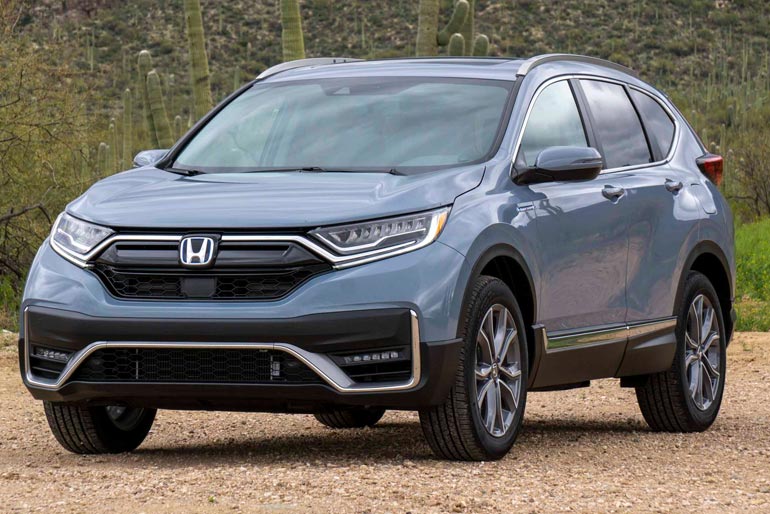 One of the top brands that combine safety, reliability, and affordable price is Honda. For families, a top pick is the Honda CRV. The CRV is a small SUV that offers great value and plenty of features to drivers and their families. The base model of the CRV starts at an MSRP of $25,050 and seats up to five people.
The compact SUV gets up to 34 miles per gallon in the standard configuration or up to 40 miles per gallon with the hybrid model. The best selling vehicle has standard safety features that will give families peace of mind, such as driver-assistive technology, a collision detecting braking system, and a road departure sensing system. The CRV is also offered in four different trim packages – the LX, EX, EX-L, and Touring.
Almost all of the trims except for the base model LX feature a moon roof, integrated smartphone technology, blind-spot monitoring, touchscreen display, push-button start, dual-zone climate control, heated front seats, privacy glass, a security system, heated mirrors, and LED lights. The Honda CRV is also one of the top-performing vehicles on The Insurance Institute for Highway Safety crash ratings.
Kia Telluride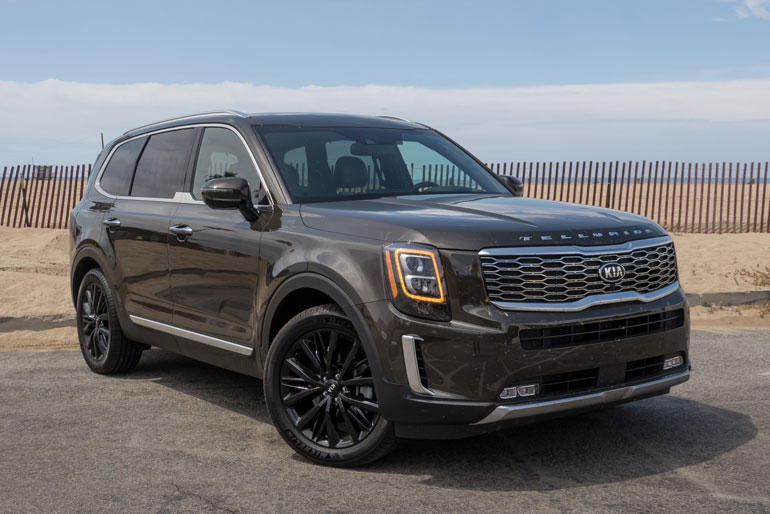 For something a little larger, families can choose the sporty Kia Telluride SUV model. Starting at an MSRP of $31,890, this vehicle has the capacity to seat up to eight people in three rows of seating. This impressive family car was awarded Motor Trend's SUV of the Year Award for 2020. The Telluride comes in four styles – the LX, S, EX, and SX.
The features that make this car the best bet for families include standard compatibility with Apple or Android phones, Bluetooth capability, push-button start, five or six USB charging ports, front-wheel drive, and on-demand all-wheel drive. Safety is a high priority for this vehicle with blind-spot collision avoidance, pedestrian collision avoidance, rear camera, cornering control, and a rear occupant alert. Kia owners also get a standard 10-year warranty that lasts for up to 100,000 miles.
GMC Terrain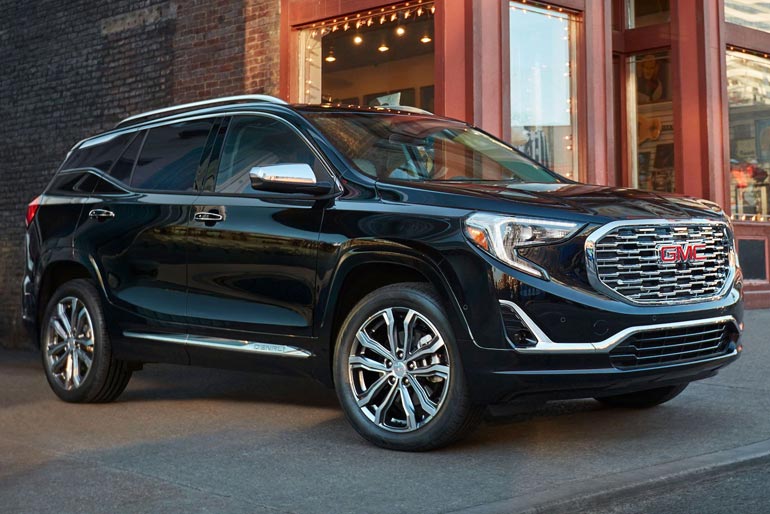 The GMC is another compact SUV model that comes in at an attractive price. The base model is priced at an MSRP of $25,000. This vehicle features four different trim styles – SL, SLE, SLT, and Denali. It seats five people and has ample space for cargo.
The Terrain is known for a comfortable seating configuration in the back, with plenty of legroom. It is also equipped with lots of standard safety features, such as automatic emergency braking, lane assist, following indicator, and collision warning systems. Additionally, the GMC Terrain has a Teen Driver mode that allows parents to set driving and speed limit configurations for their child when going behind the wheel. It also features a monitoring application for your teen's driving performance.
Toyota RAV4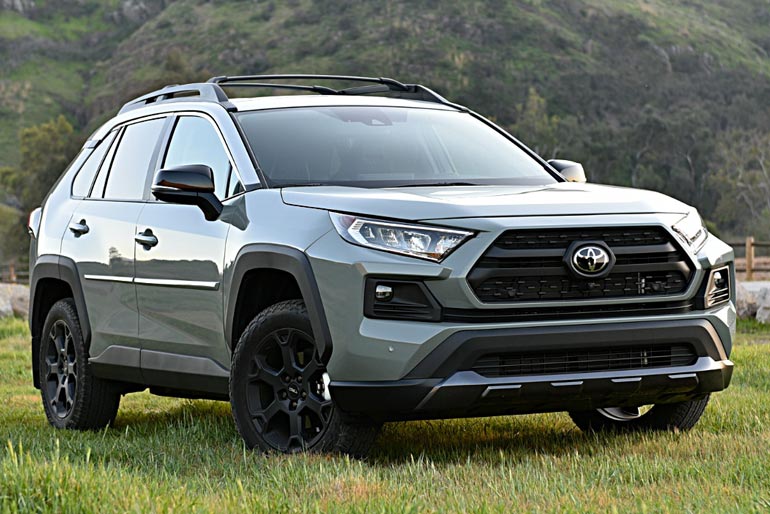 With a starting price of $25,950, the Toyota RAV4 is a great value for families or new drivers. It's a small SUV that can seat up to five people in three distinct trims – the LE, the LE Hybrid, and the XLE. The hybrid version of this car is the best value for gas, getting up to 40 miles per gallon. The other trim styles of the RAV4 also feature fuel efficiency, getting up to 30 miles per gallon during highway driving.
New Toyotas come standard with two years of roadside assistance and a free maintenance plan, saving thousands of dollars in costs to families. The RAV4 also features privacy glass, a backup camera, reclining seats that fold down, keyless entry, eight cup holders, a touchscreen display, child locks, and the LATCH system for easy car seat installation.
Nissan Rogue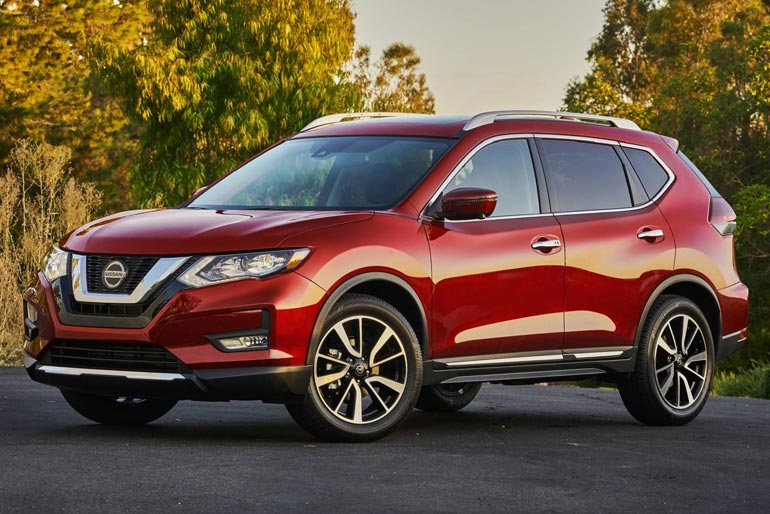 Families can also get a good value and driving experience out of the Nissan Rogue, another entry in the compact SUV category. This SUV is priced at an MSRP of $25,300 and seats five. It comes in three styles – the S, SV, or SL. Customers can also opt for either front-wheel drive or all-wheel drive.
The Rogue is equipped for the driver's and passenger's comfort and convenience. It has a filter within its air conditioning system for better air quality, mood lighting, an advanced digital display, integrated compatibility for Apple and Android phones, hands-free texting capability, Bluetooth features, a subscription to satellite radio, and a vehicle security system. For safety, the SUV includes a comprehensive airbag system, LATCH, and a construction that makes collisions much safer for passengers and the driver.
Subaru Outback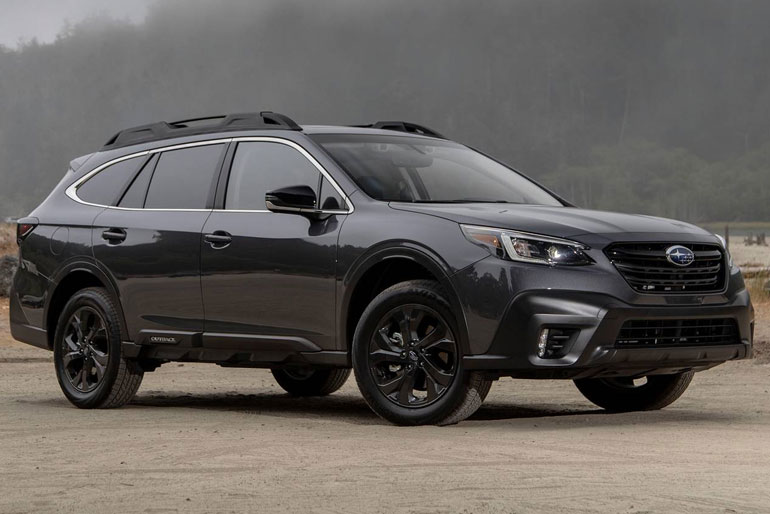 The Subaru Outback is a classic crossover vehicle that has been popular in the family car market for years. It starts at a reasonable MSRP of $26,645 and comfortably seats up to five people. It's built more like a wagon but has convenient SUV features. One of the best things about the Outback is that it comes standard with all-wheel drive for maximum traction and road handling in tough weather conditions.
There are many styles of the Outback – the standard base model, the Premium, the Limited, the Touring, the Onyx Edition XT, the Limited XT, and the Touring XT. All models of the Outback include a rearview camera for safety and audio hookups for integration with Apple and Android phones. They also include road assist driving features and a roof rack for storage. This rugged vehicle is known for reliability and a passionate customer base who keeps coming back to purchase newer editions.
Ford Edge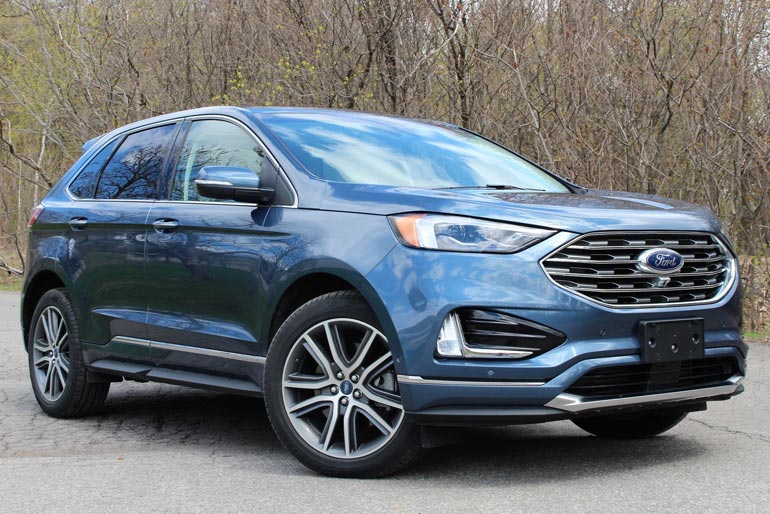 The Ford Edge is a mid-sized SUV that has earned rave reviews from drivers. Families can seat up to five people with this car, and it's priced reasonably at an MSRP of $31,100. It comes in several different trims and configurations to customize your driving experiences, such as the SE, SEL, Titanium, and ST.
Customers have the option to upgrade their vehicle to an all-wheel drive. Front-wheel drive is standard on all but the highest-end model of the Edge. The 2020 edition of this vehicle has a standard dual system climate control capability for the vehicle.
Drivers who own this car love the roomy seats and peppy engine that makes it fun to drive. The car was a finalist for 2020 Best Cars for the Money from U.S. News. There are a lot of standard features on this car, which gives it a lot of value. The standard model includes automatic high-beam headlights, a rearview camera, anti-collision technology, and emergency braking technology for safety.
Toyota Sienna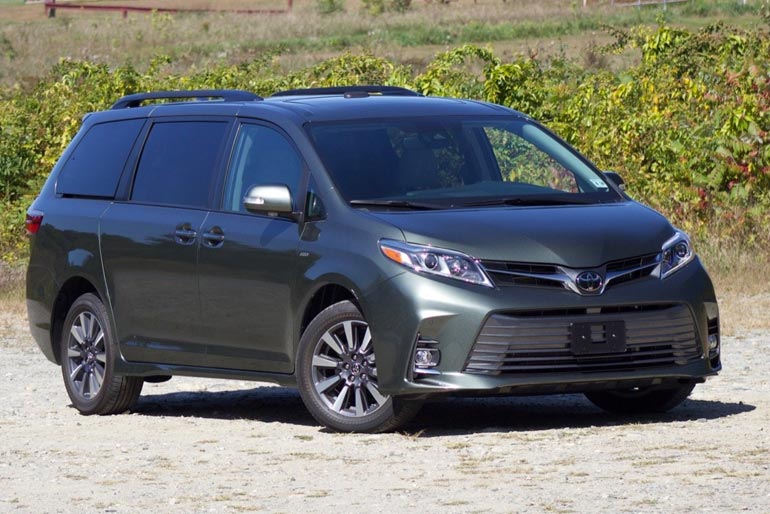 In the minivan sector of vehicles, one of the top choices for families is the Toyota Sienna. The Sienna gives large families plenty of seating, up to eight in some configurations. The Sienna has a starting MSRP of $31,640. There are five different trim styles – L, SE, LE, XLE, and Limited. Toyota offers a variety of premium trim options to make the minivan driving experience more exciting for customers.
Some minivan owners report traction trouble in snowy or rainy weather. The Sienna combats this with all-wheel drive, the only minivan equipped with this in its class. It also features a peppy V6 engine that helps families tackle carpooling, road trips, and the drop-offs at school each day. There is also the capability to connect to Apple phones, Android phones, and Amazon's Alexa.
Kia Sedona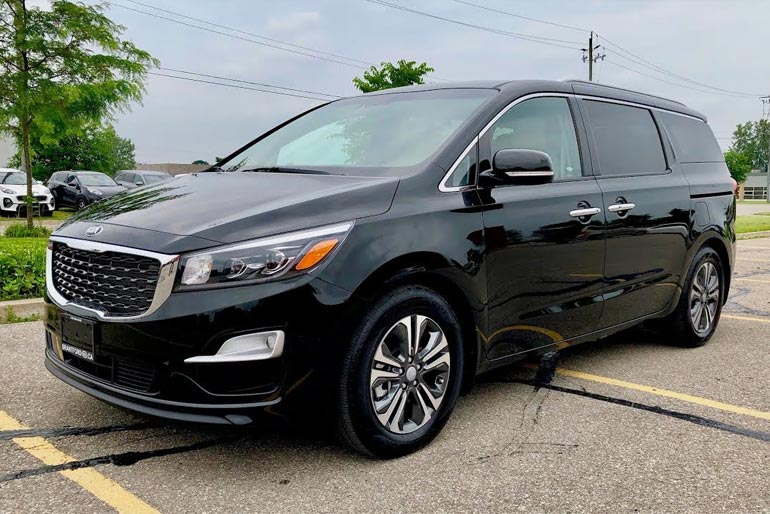 For a minivan that is more affordably priced, families can opt for the Kia Sedona. This comfortable minivan seats up to eight people and starts at an MSRP of $27,600. The Sedona is configured in four different trim styles – the L, LX, EX, and SX. The Sedona comes standard with front-wheel drive and a cloth interior. All styles have a touchscreen display and an entertainment system that seamlessly hooks up to Apple and Android devices.
Safety is a priority for the designers of the Sedona, with a range of essential features that protect families. The minivan has curtain airbags along the sides and front driver and passenger airbags as well. The standard version also features an anti-theft system to protect this investment.
Honda Pilot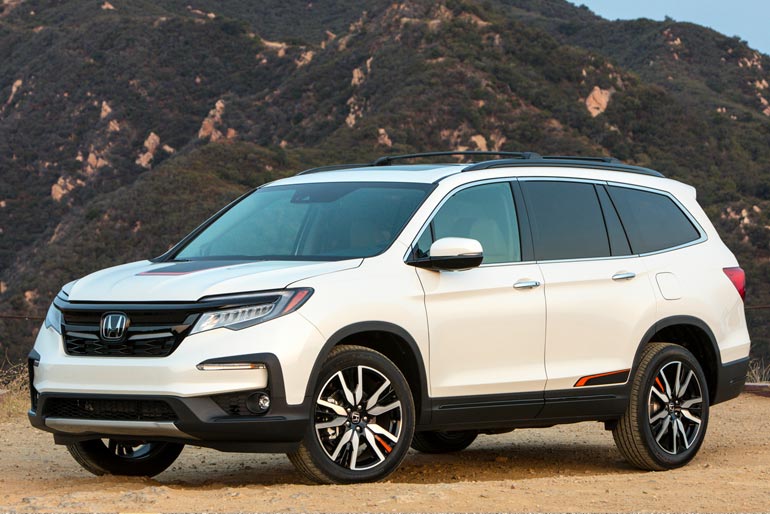 Families who need a larger SUV can look to the Honda Pilot to meet their needs for space and performance. This SUV features three rows of seating of up to eight people. It has a starting MSRP of $31,650 and includes plenty of extras that consumers want in safety and technology. The standard models are LX, EX, EX-L, Touring, Elite, and Black Edition.
The Pilot can be equipped with either front-wheel or all-wheel drive, depending on the driver's preferences and typical road conditions. Honda has put top safety features on this vehicle, including driver-assistive technology, blind-spot and cross-traffic monitoring on some models, and a rearview camera.
Hyundai Santa Fe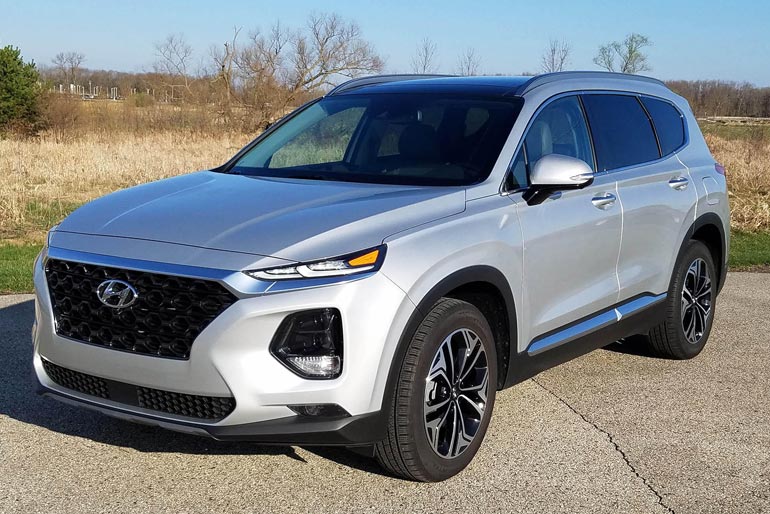 The Hyundai Santa Fe continues to be a popular family car or entry-level SUV for a single individual. This car was a top pick from Kelly Blue Book's Best Buy Awards for 2020. The compact SUV starts at an MSRP of $26,125 and seats up to five. For families, there are loads of attractive features that put safety and comfort first. There are three styles – the SE, SEL, and Limited.
One of the best values when buying a Hyundai is getting the company's included free maintenance for three years or 36,000 miles of ownership. It has a traction control system, vehicle stability control, rear occupant alerts, driver attentiveness warnings, front collision alerts, and a security system. It also is engineered with safety in mind with top ratings in crash tests.
Chrysler Pacifica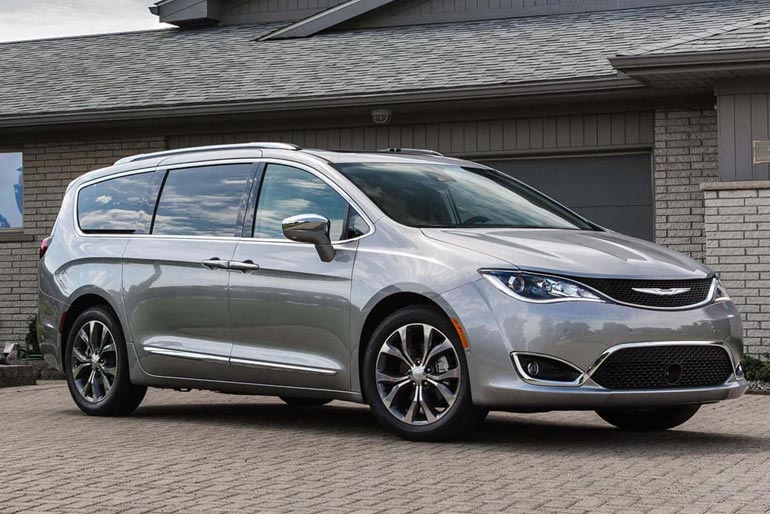 The final recommended family car is a popular minivan option, the Chrysler Pacifica. With a starting MSRP of $27,235, this is an affordable vehicle for most family budgets. It has the capacity to seat up to eight passengers and features a stowing system in the floors that allows for plenty of storage. It comes in trims such as Touring, Limited, and special anniversary editions.
The base model of the vehicle comes with front-wheel drive, but all-wheel drive is an option, too. It features a powerful V6 engine that can get families where they need to go. It has keyless entry, a full-view rear backup camera, seat belt alerts, collision warning systems, and a tracking system.
There are many different types of cars to choose from when looking for a family car that won't break the bank. Today's family vehicles are affordably priced and equipped with many new technological and safety features such as driver assistive capabilities, full LCD display monitors, cameras for better visibility, and a complete system of protective airbags. These vehicles will continue to get better and families will get even greater values for them in the future.