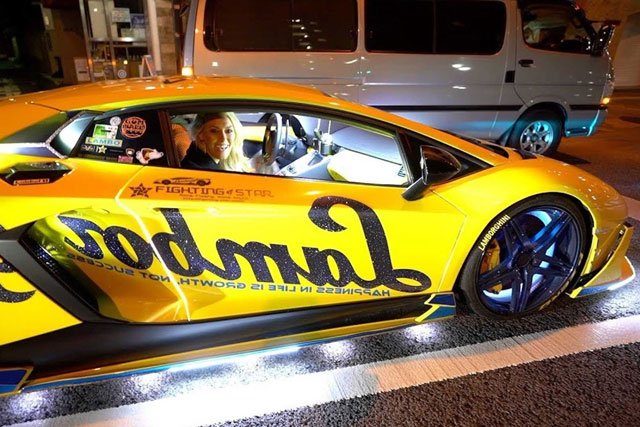 We all know how the Japanese are crazy when it comes to their cars. They try to highlight them as much as possible. With their crazy car racing fantasies and their love for putting their cars up for the show is just unimaginable. Which bring us today with a new quick video of how one particular and amazing car is converted into more amazed and fun-filled elements.
Who is not familiar with this brand, Lamborghini? And if I tell you that someone actually customized it into something we were not expecting. Well yes, this happened. In a video which features supercar blondie, a big-time supercar blogger who meets with one of the biggest car customizers of Japan Morohoshi-san of Fighting stars.
He is famous for bringing unexpected changes in supercars which bring them not only fame and attention but also some problems with local police.
The most prominent and biggest change you will see in the Aventador is the addition of Swarovski diamonds on the front and the sides of the car. Now let me tell you that this is not the first time that any supercar has been covered in Swarovski diamonds. Earlier Huracan was seen covered in 1.3 million worth of expensive crystal, in France.
In this latest customization of Lamborghini Aventador, you can see that LED lights are added giving the car a luxury looks and literally lit it up. Mode modifications were made to different types of horns. An interesting little ornament of Pikachu is placed near the bumper. Morohoshi-san says that kids love this cartoon character and he loves to drive them happy.
With such modification made to the Aventador Anniversary addition, it only proves that these Japanese are crazy people when it comes to their cars and their love for their car can clearly be seen from how they treat and decorate and highlight their cars.
Source: Supercar Blondie via Youtube