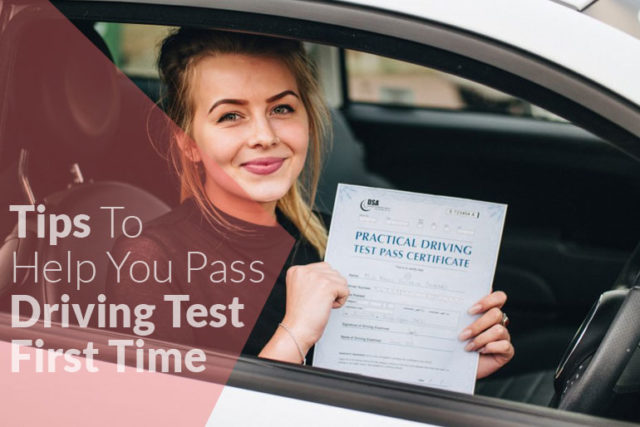 According to the rules and regulations, everyone needs to pass a driving test to drive their vehicles anywhere they want. We know how terrifying those tests would be to not pass out on the first time, right?
But here we are with our expert driving test tips by which you will find a great help to pass your first-time driving test very easily.
However, nerves are absolutely normal, especially at the time of such tests, but what you can do is just prepare you as possible as you can. That's why we have come up with these top 10 tips to help you pass the driving test first time.
Powerful tips to Pass the Driving Test for your First Attempt
Here we will show you the top 10 amazing tips by which you will prepare yourself in a way to win the race at your first attempt for sure. Just check out these tips below and make yourself ready to enjoy your first driving attempt test.
Be Punctual
It's an obvious fact to start with your new journey of driving. You really need to get up as early as possible, prepare yourself, make your breakfast properly, and then try to reach your destination before half an hour of actual time.
However, if you are going to arrive late, you may be going through many risks and especially your first impression to the instructor.
If you reach the place before the time, then you will get plenty of moments to cover things and prepare yourself perfectly.
Check you have Everything you Need
Of course, this is the most important tip for you to remember to take your required items while going for a driving test. Do you know? thousands of candidates fail due to their lack of seriousness, and they actually turn up to forget their needed items on that big day.
That's why always make sure to come up the place with all your required documents and as well as other items.
Check your car as well, is it properly equipped or not, you need to double-check all the things.
Take your Instructor with You
Well, this is not as strict as you think. If you are confident enough with your practices, then there would be no need to carry someone with you.
But of course, if you take your instructor with you, there will be a lot more chances by which you will easiness and comfortable during the drive.
During the time of drive, your instructor will provide you a good help in the form of another pair of eyes that may look straight towards the road.
Use your Instructor's Car
When you have your instructor car or that car in which you have done with all your practices will provide you a lot more comfortable experience.
However, when the situation comes to the section of newly-changed 'Show Me Tell Me' of the driving test, you may then actually know perfectly when and how to activate different controls like the fog light or maybe the air-con.
Choose where you Want to take your Test
It's absolutely natural that driving tests mainly located at the centers in congested areas along with loads of complex roundabouts, which may further reduce the test rates as compared to those in rural areas.
Although, in such rural areas, you may find nothing but some of those tractors or maybe stray livestock.
So, you can choose your own place to give your drive test where you may know your routes, controls, roads structure, and much more.
Don't Assume you've Failed
Don't ever try to assume failure or negative marks just in case you make a mistake. Always remember that you're even allowed to make minor mistakes for up to 15 at the time of your test.
So, stay calm and try every possibility not to dwell on them. Whereas, keep reminding yourself that you are going well, and you will definitely pass the test.
Get to Know your Test Routes
Well, there are very low chances to find out exactly where you are going to give a test on that day or even though you may never find out what type of traffic or such hazards you can face during the driving in that way.
However, once you have got your test center, it is a must for you to find out the area and as well as all your test routes beforehand. Although, always make sure to get further done all the practice on a variety of roads.
Learn to Drive in Different Conditions
You need to start practicing in different areas plus in different weather conditions. Go for practice in dry plus sunny weather, and of course, don't forget to practice your driving with your instructor during the weather of both rain and shine.
This may provide you with extra energy and confident to drive on any terrains and as well as in any weather conditions.
Exaggerate those Mirror Checks
Do you know? most of the candidates fail due to their lack of observation of mirror checking. That's why you need to train yourself in a way where you can check the car's mirror frequently.
However, during the time of your practicing, check your mirrors regularly, most particularly, at the time when setting off, approaching dangers, switching road position, and as well as changing gears.
Be Patient
And, at the end of the day, be patient! your patientness may describe you very well at the time of driving. Everything will work smoothly when you show lots of patience.
That's why, make sure to keep your mind fresh, active, and confident enough to pass out every battle in your way. You need to make sure to stay relax and calm during your driving test, no matter what the situation would be.
Prepare your mind and body in a way to pass out every test you can without even worrying about the outcomes.