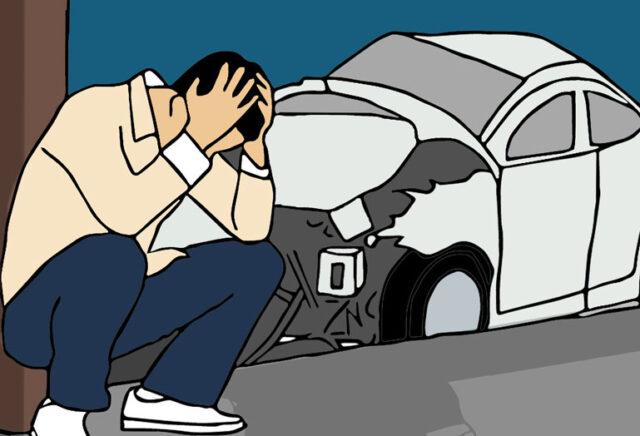 Car crashes happen every day, some minor, some more serious, and some fatal. As a driver, you already know this; it's why you follow the rules of the road and pay for car insurance. But you may not know how often accidents occur without another party involved. In fact, single-car accidents account for nearly one in five crashes each year.
A single-car accident can cause serious personal injury and extensive damages to your vehicle. Naturally, the question arises: does your auto insurance cover single-car accidents?
Why Single-Car Accidents Happen
Many single-car accidents occur because of driver error. Too often, drivers speed, text while driving, or simply misjudge time and distances, leading to accidents. Also, driving while intoxicated or falling asleep at the wheel often result in single-car accidents.
Regardless of or in combination with human error, poor weather conditions also cause many single-car incidents. Snow, rain, fog, and wind can all create dangerous circumstances that even the best drivers can't handle.
Examples of Single-Car Accidents
Run-Off-Road Accidents– Run-off-road collisions account for many severe injuries and fatalities that occur on the road each year. A run-off-road accident is when a car leaves the lane toward the median, shoulder, or entirely off the road then hits a guardrail, tree, or another object.
Your Car Rolls– How can a car flip without coming into contact with another vehicle? It happens more often than you'd think. In most cases, a shift in the angle between the pavement and the tire or a shift in the car's center of gravity causes the accident. When a vehicle drifts, hitting the dirt or rumble strips on the shoulder, returning to the road too quickly can force the left tire to strike the pavement's edge. Also, taking a sharp turn or curve can shift the center of gravity to one side, altering the car's balance.
You Hit a Stationary Object– Most drivers have at one point, or another hit a stationary object such as a guardrail, fence, curb, pole, or mailbox.
You Hit an Animal– Depending on where you live, you may encounter deer regularly. If you do, then you know how these animals can hide in the trees then quickly dart across the road without warning. Hitting a deer or other animal with a vehicle can cause anything from a dent or perforated radiator to a totaled car and fatalities.
Insurance for Single-Car Accidents
Single-car accidents can cause quite a bit of damage to your car, yourself, and your passengers. Having the right kind of insurance coverage can alleviate some of the stress and out-of-pocket expenses should you ever get into any of the accident types described above.
Collision Insurance – Collision insurance covers repair or replacement costs after hitting another vehicle or object. This form of insurance may provide coverage if you hit an object, such as a tree or mailbox, or roll your car. Most states do not require collision insurance, but lenders typically require it for financed or leased vehicles.
Comprehensive Insurance – Comprehensive insurance provides coverage for damage caused by something other than a direct collision with another vehicle. These accidents can include weather-related damage, a run-in with an animal, vandalism, or break-ins. Most states make this form of insurance optional.
Personal Injury Protection – Personal injury protection (PIP) covers medical expenses associated with accidents that injure the policyholder or their passengers. These costs can include medical bills and other expenses not covered by health insurance. PIP coverage is required in some states and optional in others.
What Happens if a Pedestrian is Involved?
Accidents involving pedestrians can cause serious injury. Liability insurance covers the costs of injured individuals on the road, but the compensation they receive depends on various factors, such as the insurance policy held by both parties, the extent of the injuries, and the pedestrian's level of "fault" for the accident.
Every state requires specific liability limits to drive legally. This insurance form will cover certain expenses for the injured pedestrian, including medical bills, lost wages, and other damages such as pain and suffering.
However, just because a pedestrian is hit by a car, doesn't mean they can't be found at-fault. The law expects everyone to use the road to do so responsibly and to practice due care. For instance, the court may find a pedestrian at fault for an accident if they were walking at night in dark clothing, jaywalking, walking where pedestrians are prohibited, or entering a crosswalk against the signal.
Coverage is a Financial Safety Net
Sometimes, even the most experienced and careful drivers get into one-car accidents. No one wants to plan for this, but having proper insurance will do just that. Having the right forms of insurance coverage can alleviate some of the financial burdens of a single-car accident. When you buy or renew your insurance policy, you may want to consider the optional forms of car insurance that can cover you in these situations.