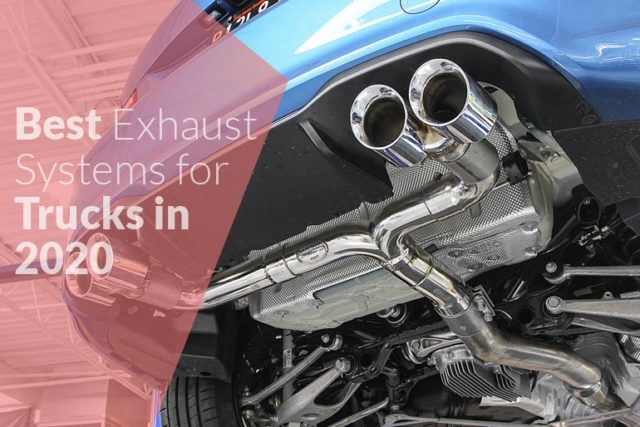 Give your truck the tune-up it deserves with the best aftermarket exhaust systems. If you're looking for the best Ford F-150 exhaust systems for 2020, it's time to shop for an aftermarket system. Discover the advantages of an aftermarket exhaust, how to select the best muffler and where to go to get great deals on your new exhaust system for your F-150.
The Aftermarket Advantage
While your F-150 may still be tearing up the trails and pulling heavy loads without a performance exhaust, these high-end aftermarket options can still give you some key advantages. Compare your stock exhaust with the latest alternatives to find out why you should make the switch. Here are just a few distinct advantages that come with most aftermarket options.
An aftermarket exhaust typically includes mandrel bent tubing. This improves the flow rate and velocity of your exhaust, which in turn means greater efficiency. Unlike an OEM exhaust, an aftermarket option prevents backpressure from reducing your sound and horsepower.
Whether you're looking for power or a hearty roar, the leading aftermarket exhaust systems can offer distinct advantages over your OEM system. Pick up a straight-pipe muffler for increased volume or a sleek, chambered option for reduced noise.
Just like any other premium investment, be sure you have a quality warranty for your aftermarket exhaust. The best systems come with a lifetime warranty, so you can confidently replace a brand-new OEM exhaust and still experience years of high-performance exhaust and improved fuel efficiency.
How Much of Your System Should You Upgrade?
Some parts are far more performance-driven than others. If you're looking for a budget-friendly way to amp up the power and noise of your F-150 pickup, shop for the best performance catalytic converter options that are compatible with your current setup. A high-performance muffler is also a good option.
For more serious muscle and noise, replace your entire exhaust system. Your F-150 deserves the best, so price out a complete exhaust swap to ensure a uniform fit that takes full advantage of the best features of your new catalytic converter and muffler.
The Best Mufflers
An aftermarket muffler uses slightly different materials and designs to increase the efficiency of your exhaust. Many performance options have less internal chambers and a more open flow. While this increases the overall noise level of your exhaust, it also encourages better flow rates.
Choose from aluminized steel or stainless steel for a more corrosion-resistant alternative to your OEM muffler. A high-quality material and high-performance design allow you to increase both the fuel economy and horsepower of your F-150.
As with all aftermarket options, be sure your new muffler matches your current exhaust or your replacement system. By shopping online, you can easily choose a performance part that matches the exact specifications of your make, model and year of truck.
Improve Your Tone and Performance Today
Upgrade your exhaust system to discover a whole new sound and performance level for your truck. Whether you're driving a brand-new F-150 for an older truck, search for cost-effective exhaust systems today. Grab an F-150 or 2019 Ram 1500 performance exhaust today and enjoy an easy swap for incredible performance.