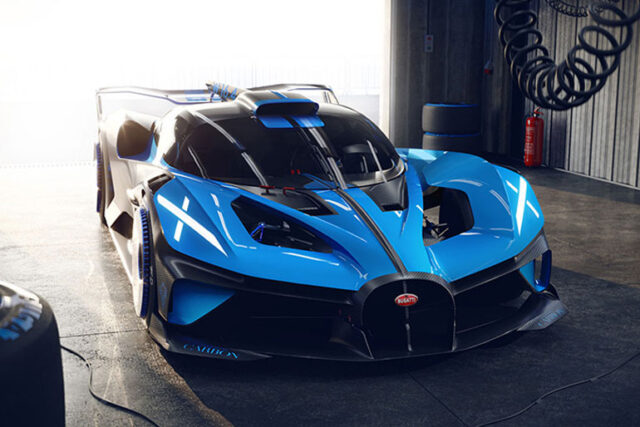 The Bugatti Bolide is a coupe having a skeletal-look. It has a massive rear wing with the body style of the Formula 1 racer. The Bugatti Chiron, like its sibling, incorporates a W16 engine with four-wheel drive and is accounted for in hypercars.
Bugatti has announced that Bolide is its uncompromising, extreme, lightest, and fastest vehicle concept. It weighs just 2733 pounds that is almost half of a Chiron with 1824 horsepower. It means Bugatti Bolide has 200 hp more than a Chiron supersport car.
The only large engine of Bolide does not make it an extra fast vehicle. Besides, its lightweight design also makes a difference. Bugatti has said that Bolide features 60% more carbon-fiber compared with previous models.
Let us have a detailed discussion on the Bugatti Bolide in this article.
Difference Among Sports Cars, Supercars, And Hypercars
In the world of automotive, performance cars are classified into three main streams. There are no common and finite parameters of each stream. They are classified by the professionals on the basis of their subjectivity.
However, most of the main drivers of the industry have agreed on a few guidelines. These guidelines are the basis to find the difference between sports cars, supercars, and hyper-cars. Everything centers on performance, price, rarity, and design.
This is said driver's car in everyday life. Sports cars are agile, fun, and inexpensive compared to the other two categories. These cars have great potential and are able to reach maximum limit speed on a good track. The sports cars are built to offer unique fun in the drive.
This category generally starts with Mazda MX-5. These engines can be power all wheels or only rear wheels. Usually, sports cars come in manual transmission, however continuously emerging technology is changing the scenario at a progressive rate, especially in the European landscape.
Supercars becomes a level of prestige prominently above the level of sports cars. These cars are a little harder to handle. And have an output of more than 500 horsepower. Almost every supercar has a mid-engine and uses paddle shifters or DSG to enhance performance.
They get 100km/h in likely four seconds. Some cars can confuse you whether to classify those as supercars or hypercars. For example, it is very difficult for a new person to categorize McLaren 720S in either of the categories.
In this situation, the car's feel helps to determine the category rather than any tangible measurement. Supercar is also another acceptable category of cars. We do not know exactly how it has emerged from sports cars, but we better roll with it.
Hypercars are completely beyond the imagination. They extend the limits of physics as the entire pinnacle of automobiles engineering. Everything regarding hypercars should be loud (both literally and metaphysically).
These cars give their observers and drivers an apprehensive feeling. When you get out of a hypercar after a drive, you are happy to be alive. These cars are not for everyone to drive. They are a blend of extreme technologies.
These cars are so powerful and incorporate advanced technology that only a professional can drive these cars. Their speeds are uncontrollable, so they cannot be driven on public roads. Hence a professional needs a gentle and trained touch for these cars.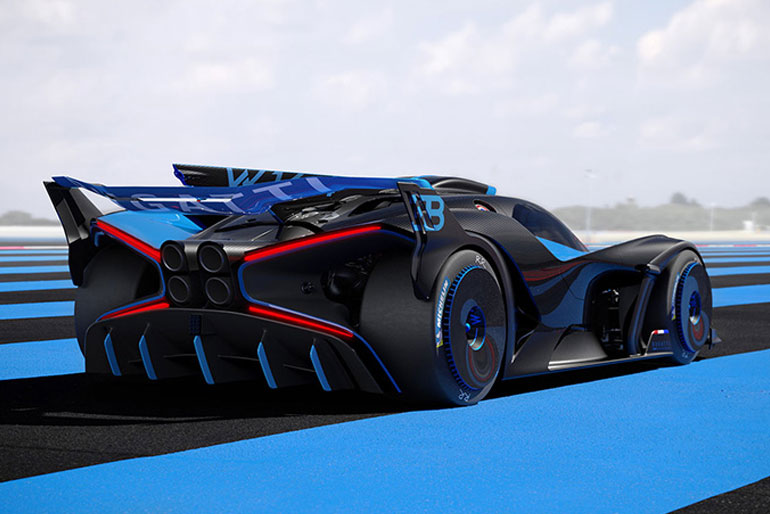 Innovative Pedigree of Bugatti Bolide
Irrespective of its future, Bugatti Bolide would incorporate plenty of Bugatti signature touches. Like the Veyron and Chiron that preceded it, the Bugatti Bolide features two exterior paint colors: black and blue
Its trivial, horseshoe grille on the front resembles the standard grill, which has Bugatti's mark, just like Type 35 race cars of the 1920s. The car also has massive outlets to channel air along the sides and top of its body. It features a big white X mark where the headlights would be.
It has 400mm tires on the rear axle that are 45mm more than Chiron. These tires are wrapped around black, big wheels that hide racing brakes with ceramic coatings and disks. Four tailpipes fixed in a square at the center of end lights also cross in a big X.
The doors are attached in front at an accurate angle so that they can fold up when opened. The steering wheel is open from the top, just like video game handles. The interior comes with two seats that are lined in blue and carbon fiber.
Bugatti has announced that Bolide has a fabricated outer skin for air intake scoop on its roof. If it is driven at a normal speed, the scooping surface remains smooth. However, a field of bubbles emerges on it when the car attains a fast speed. This helps the car to stay grounded at high speeds.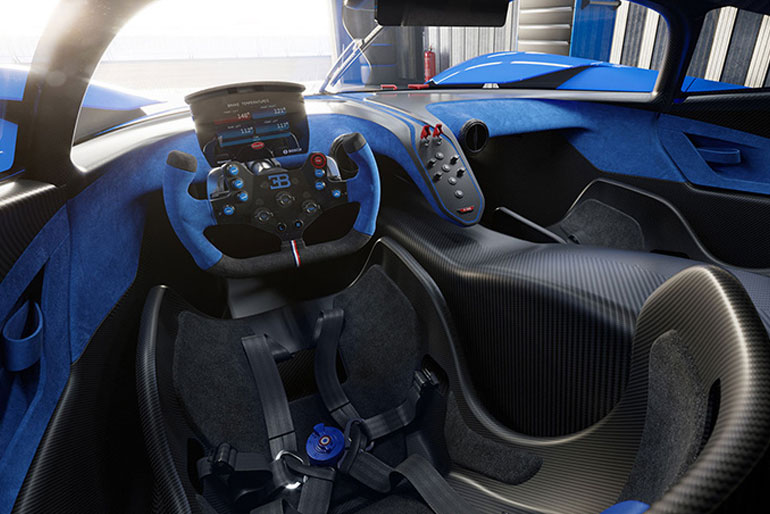 No Production Plan Yet
Bugatti Bolide is just an experimental study yet. And it is explained by images generated through computer applications. The name is pronounced as "beau-lid, "Which is a French slang term that can roughly be translated as "It is a fast car."
In an interview, a company executive has explained Bugatti' Bolide production plan. According to him, they have not yet made a decision about whether the Bolide will be produced or not.
They are just presenting their interpretation of the Bugatti track car for the modern ages. Winkelmann announced in a press statement that they are showing what a W16 engine is really capable of for the first time.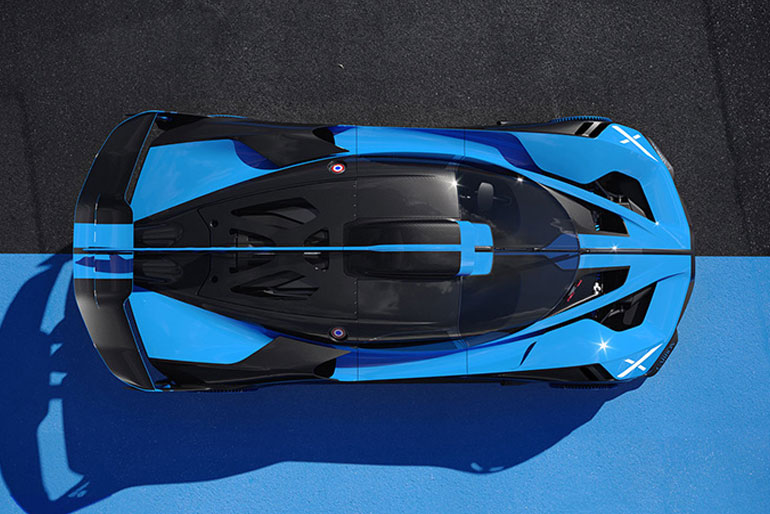 Conclusion
The Bugatti Bolide is an unrivaled technological concept of Bugatti track-focused hypercar. Since it had put a match from the Veyron in 2016, the Chiron has experienced every type of variant. Every article is wilder than the previous one.
Chiron has proved how it is versatile from its sports car series to the ultra-exclusive Dive, the Chiron. And now Bugatti has announced its Bolide. Bugatti is preparing to take off the reigns from all.