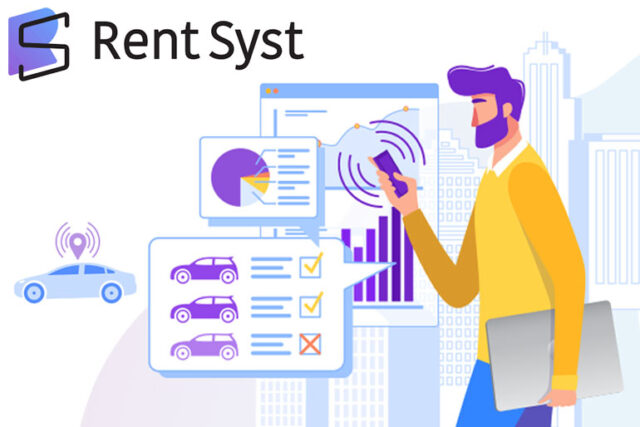 What do you need to successfully run your car rental business? We've surfed the web and found quite a bunch of recommendations, starting from improving online presence and ending with building a brand. Well, we don't mind improving and building, but will it really help if your business workflow leaves a lot to be desired? You can spend a fortune on creating a super-cool website and have specially trained people glued to social media, but what use is it if you cannot assign your vehicles correctly because of the mess in your Excel sheets? Yes, we are open to going online and even all for digitalization, yet arranging things from inside seems more important than glossing them from outside.
That said, we've delved into the world of car rental software that serves to automate and streamline business processes and spotted something interesting to share with readers. Using the example of RentSyst, one of the cloud-based solutions targeted at the car rental industry, we want to illustrate the benefits of shifting to advanced digital tools.
What Is RentSyst and Why Did We Choose It?
It's a SaaS product launched just a few years ago, in 2018. Being a new entrant to the quite crowded market of similar solutions, it has been showing rather impressive results, for example, by getting five-star reviews on reputable resources like Capterra or Software world. And judging by news posted on the official website, it keeps working on polishing and updating its system in close collaboration with the existing customers. Surely, frequent updates to make a product more helpful and convenient for users is a telling sign.
Besides, RentSyst offers a nice set of tools, which cover everything from quotes to billing, for an attractive price. Its closest competitor on Capterra charges three times the amount even for the cheapest plan. We do believe that RentSyst's developers work with the needs of small businesses in mind, although their Expert plan is designed for over 100 vehicles. By the way, the developers went beyond regular sedans, SUVs, and minivans and made their system applicable for recreational vehicles, boats, and scooters. Training is in place as well, available online, and via webinars. And this solution has an extensive 30-day trial for business owners to figure out whether they like the product or want something else.
How Does the Car Rental Software Help?
Well, let's get to the point and explore some opportunities provided by CRM software for rental car services. Here is what we liked most about the RentSyst product.
Connecting to RentSyst implies using GPS trackers and special sensors installed on cars and linked to their on-board computers. While the first device type is kind of predictable, the second part is more interesting. It allows reading off certain parameters and even controlling the vehicles remotely.
The GPS trackers show each car connected to the system in real-time. So, if it's somehow lost (you cannot reach out to an attendant or customer, a client cannot find where the vehicle parked, and so on), you just need to click on Current Location in the car's card for spotting the poor missing thing on a map. Someone took your car without permission or reservation? Busted! You will see this in real-time or the vehicle's movement history. A client breached rental conditions by driving your car outside of a permitted area? You won't miss it! And yes, you can configure those zones, for example, to keep your entire fleet within easy reach of tech support.
But things get more exciting when it comes to remote control via the sensors connected to on-board computers. A customer has to fuel the car before leaving it in a pre-agreed place? Check the fuel level right from where you are without even seeing the vehicle. Your policy doesn't allow overspeeding and aggressive driving? Set up corresponding alerts since the sensors read current speed. There is no chance that someone will be able to hide any accident that damaged the vehicle – you will receive a notification as soon as it happens. Moreover, you can start, stop, or block the engine remotely as well as manipulate the headlights and doors. Isn't it lovely?
Jokes aside, a business owner has a nice opportunity to cut costs on repairs, fuel, and fines while preventing vehicle misuse and other violations. On the other hand, managers will be able to timely respond to changing circumstances for smoother business operation. As for customers, they will be glad to receive notifications about a car delivered to their place or earn some bonuses for a responsible attitude to the rented vehicle, not to mention contactless service – there is plenty of room for improving customer experience.
The system allows creating, deleting, and canceling reservations by following a strict step sequence. It shows the current status of all the vehicles along with schedules, rental stores, information on payments, additional equipment, and other details attached to each car.
Tracking is great, but a rental fleet is supposed to be …rented, of course. And managers need to have efficient tools to process reservations. RentSyst has them conveniently gathered in one place to avoid missing out on any little detail. We won't dwell on its intuitive interface yet mention multiple dropdown lists and filters as these features serve to facilitate the reservation process greatly. Need to quickly find which vehicles are available at one of your stores? Just click the filter button and see what you can offer to your client. If the renter wants to pick up the car somewhere in the city, just mark it on the map without leaving the reservation form. If it's your existing customer, enter the first letters of his or her name to skip on filling personal details. Invoices and agreements are also included, with necessary information added to them automatically.
Actually, there are more features to avail of, but even the functionality covered shows that a business owner can reduce mistakes and time of order processing thanks to the smart reservation system. And it is a great recipe for getting more happy customers and a stable (or even increased) income.