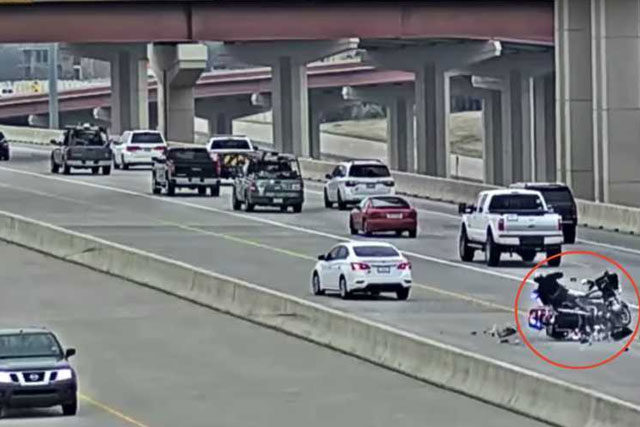 On Tuesday morning, two Texas police officers were going on with routines pulling work of pulling over of faulty drivers on highway 183 when they crashed into each other.
Such scenes are infrequent to be witnessed but due to the weird nature of the incident and it being captured on the camera; it is making some quick rotations of the internet.
If you watch the video closely, you will see that the two police officers of Irving department were at halt maybe because they had just let off some drivers who they had pulled earlier, but this is not in the video.
It is just my opinion. Anyway, when they tried to get back on the road, they were pointing out some car to pull over and in the midst of all this, the second bike crashed into the first one, and they had a severe crash.
It looks like that the officer who took off first, saw a car and was busy in pointing it out while the other officer, who was behind, was busy n looking over cars himself.
He didn't realise that the first officer had slowed down, and he went directly into him. Both of them were forcefully thrown over on the road and bikes got severely damaged.
It looks like that the highway was having its full, busy time and in such time, it was not clever to slow your drives or to enter in a bus lane.
Such precautions are pretty normal; don't know why these police officers did not consider them before slowing down.
But the real cause is still unknown. Police are still looking for answers, and they are interviewing more witnesses to get the old of the real answer.
Earlier that day, before the truth, was known; news had it that two police officers were involved in a hit and run accident.
When the video from the camera came forward only when the truth was known that these biker police officers were not hit by any car. Many cars, in fact, stopped to help the shocked police officers. No injuries were reported.
It is lucky that they are safe. On a busy highway, it is prevalent for any car to hit the other if the first one stops abruptly or slows down without any notice or reason.