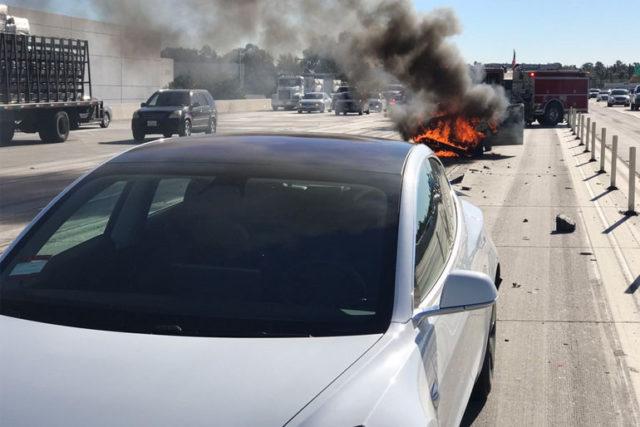 NHTSA of the United States has determined that the Tesla Model 3 is now the safest car in the market in case of an accident. Including electric, combustion and hybrid cars.
The Tesla Model 3 not only gets a 5-star rating; it also has the least chance of injury in the event of an accident.
Due to its electrical nature, the internal structure of the car is different from the one we have in one of the combustion. By not having an engine (and everything that comes with it) in the front of the vehicle Tesla engineers and designers have had greater flexibility to create areas of deformation and impact.
These zones and elements that compose them are responsible for receiving the energy of an impact and prevent it from reaching the passengers with such force.
This was all slightly less believable until a few days ago when an unfortunate accident happened between a Tesla model 3 and Nissan Sentra. There is a general public notion that electric cars are less safe than the gas one.
It's always unfortunate to see car accident. But you can't deny that Tesla Model 3 has ⭐️⭐️⭐️⭐️⭐️ Safety Rating. And cut all the BS about ICEs are more safe.

I am buying Tesla not only for myself, it's because I care about my family.

Thanks Tesla$TSLA #Tesla #Model3 pic.twitter.com/SmSKCtfuRG

— Vincent (@vincent13031925) March 27, 2019
So according to this criterion, Tesla should be one to get more harmed then the Nissan but in reality, after the collision of both these cars, Nissan burst into flames while Tesla endured just a few injuries, the passengers in the Tesla were also safe and sound.
This unfortunate event has the power to change public opinion about electric cars in general. So, the people who were initially reluctant to purchase electric cars can now buy them without any fear of safety.
The owner of this Tesla model 3 took the Instagram to share his opinion that he is glad he owned the Tesla which kept him safe and he would buy it for his family as well, as nothing is important than the safety of the passengers.