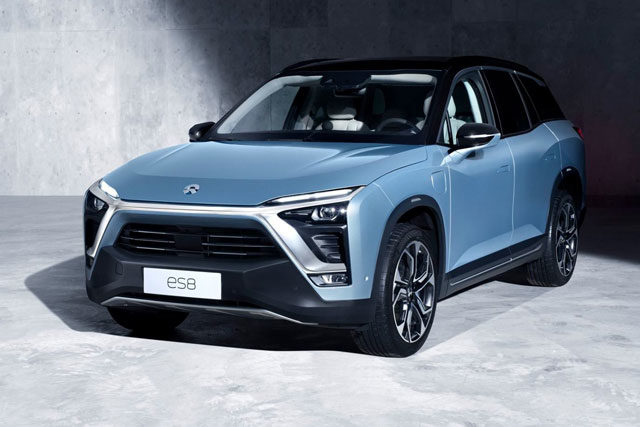 NIO ES8 Launches In China
Chinese company NIO launched in China its all-electric, seven-seat SUV – ES8, which seems set to become one of the best selling high-end BEVs next year in China.
The NIO ES8 is equipped with a 70 kWh battery (from CATL) for more than 355 km (220 miles) of NEDC range or 500 km (310 miles) at 60 km/h (37 mph). We expect that the real world range of car of this size and weight (2,460 kg) will be more like 180 miles. The battery is liquid cooled.
The specs are solid:
0-50 km/h (31 mph) in 2.2 seconds
0-100 km/h (62 mph) in 4.4 seconds
Using two 240 kW motors (480 kW total) for all-wheel drive, top speed stands at 180 km/h.
Braking 100-0 km/h can be done in just 33.8 m.
Interesting is that besides slow and fast charging capability (in one hour), NIO intends to offer 3-minute battery swap stations (at least 1,100 stations are to be built by 2020 in China) and mobile charging vans (+100 km/62 miles in 10 minutes).
NIO packed the ES8 with a lot of features and equipment, including autonomous driving features and NOMI mate assistant.
Pricing starts at 448,000 yuan (nearly $68,000), but there is battery lease offers available and access to battery swap stations. For comparison, Tesla Model X starts at 836,000 yuan after import taxes.
Production of ES8 will be conducted by Jianghuai Automotive Corporation (JAC) as NIO doesn't yet have its own factory.