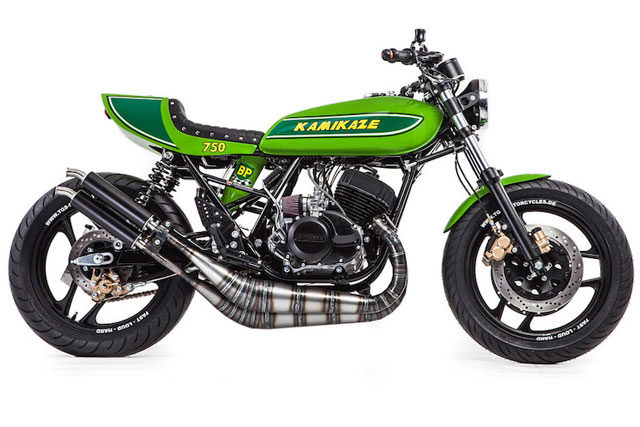 Customizing a beloved classic motorcycle can be a bit of a minefield. While there's a big difference between modifying an original Vincent and a Kawasaki, it's still hard not to wince at the thought of someone hacking up one of Team Green's 1970s triples. That said, some projects are much more tasteful than others, and one customized classic that I'm happy to embrace is Tobias Guckel's H2-powered "'Kamikaze".
Guckel is a seasoned builder and the driving force behind TGS Motorcycles, a small but reputable shop based in the small Bavarian town of Rappenhof. TGS does everything from vintage restorations to cafe racers to elaborate cruiser builds entered into the AMD World Championship of Custom Bike Building. Long story short, Guckel knows what he's doing, a fact that's made abundantly clear when looking at his work.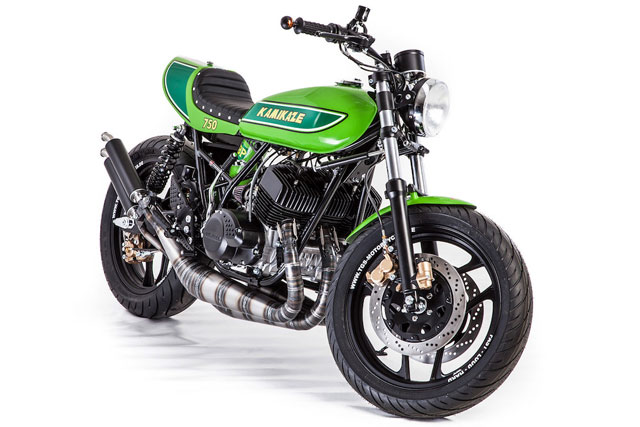 The Kamikaze takes your average cafe build and turns it up a few notches. Starting with the ridiculously potent mill from an early-'70s Kawasaki H2 (Mach IV), Guckel aimed to squeeze more out of the 74 horsepower, air-cooled, oil-injected, three-quarter-liter, a two-stroke triple by squeezing it into a 1970's Kawasaki H1 chassis (which I'm sure will have absolutely no problem handling the H2's power). The H1 frame was modified to better tolerate the engine that gave the H2 its unofficial "Widow Maker" moniker.
In addition to being fitted with a new set of Mikuni VM34 carbs, Guckel also opted to lace the 750 up with a gorgeous new three-into-three exhaust courtesy of the chaps at Italy's Jolly Moto—easily one of my favorite features of the build. The new pipes consist of beautifully lobster welded wedges, feeding into dual mufflers on the bike's right side, and a single unit on the left a la the original H2's exhaust.
While the H2 was a groundbreaking bike for its time, the reality is the triple's frame, suspension, and brakes weren't quite up to the task generated by the 750's immense pull. Therefore Guck's choice for swapping in some upgraded components was a very natural one. The fork and swingarm were both sourced from a Suzuki GSX-R1100 (as were the brakes), though the front-end's triple trees are one-off units. The Kawasaki's stock spoked rims were also jettisoned in favor of a pair of cast wheels which have since been wrapped in modern Michelin Pilot 2 tires.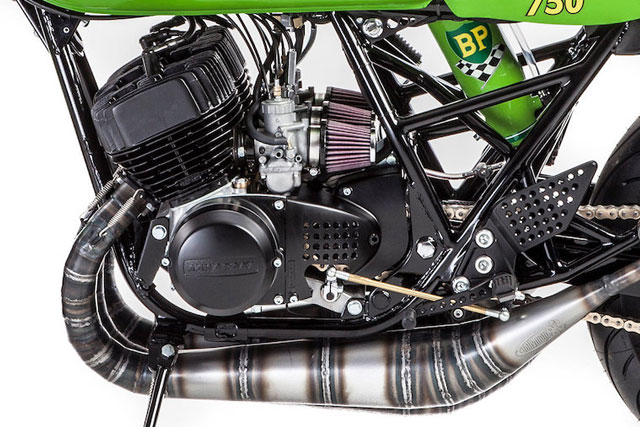 Cosmetically not a ton was done on this project. The build retains its stock fuel-cell, though it has been adorned in a bespoke livery, proudly wearing the Japanese marque's trademark "Kawa Green". The neon green hue wonderfully contrasts the bike's blacked-out bits—which is pretty much everything south of the tank. A custom tail-section and seat were created, taking some inspiration from the H2's stock tail while also drawing from the visual DNA of Kawasaki's legendary KR750 racer. A single round tail light sits flush in the build's upswept tail section, keeping the triple street-legal.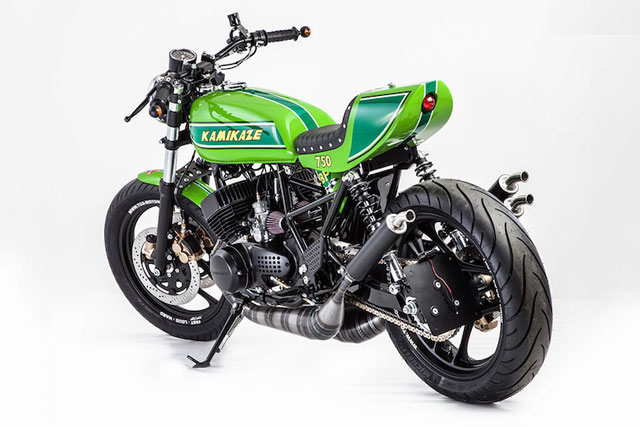 Other small knickknacks on the Kamikaze include what appear to be aftermarket rear-sets and foot controls, bespoke engine covers, a modern front fender, bar-end indicators, an off-set license plate frame, steering damper, aftermarket reservoir, custom instrumentation, and new levers and grips. It would have been cool to see a mono-shock conversion, however, I can appreciate retaining the original dual-shock set up in the back, as a monoshock would admittedly alter the machine's retro-flavor a bit too much.