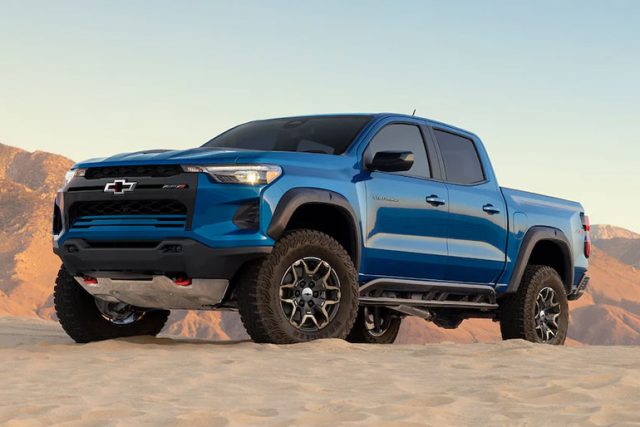 Chevy's Colorado is a favorite among midsize pickup trucks. And for the last seven years, Colorado hasn't changed very much. But as the 2023 model is rolling out, the beloved pickup is coming into its third generation with a redesigned body and a whole lot more. You can expect a lot of great upgrades as we head into the future of this model. With all of its updates, it is sure to hold the advantage over other midsize pickups.
Engine and Performance
Any Chevy Colorado for sale Utah is going to surprise you with its beefy 2.7-liter inline-four engine. Depending on the trim you choose, Colorado will give you between 237 horsepower with 259 pound-feet of torque at 5600 rpm and 310 horsepower with 430 pound-feet of torque at 5600 rpm. These are the same specs as Chevy's Silverado 1500, which is why MotorTrend has crowned it the most powerful midsize pickup. It still employs an independent front suspension, however, the ZR2 boasts DSSV dampers and power-locking front and rear diffs for a better off-roading experience. There are also five drive modes to choose from so you can be sure to get optimal performance given the conditions.
Fuel Economy and Towing Capacity
Look forward to being able to tow up to 7700 pounds with the high-end trims, and up to 3500 pounds with the base trims. Colorado's towing capacity does a little more than rival that of its peers, including the Ford Ranger and Toyota Tacoma. Everyone is waiting with gleaming eyes for the EPA to deliver their estimated fuel economy report for this new engine, so you'll have to stay tuned for that juicy spec.
Interior and Exterior
The interior has gotten a complete makeover. What was once a fairly uninspired interior is now sleek and even a little Camaro-esque. The full-width dashboard panel with rounded outboard air vents is downright sexy and the new tombstone-style touchscreen sits neatly in the center of the dash. Higher trim levels will offer more of a luxurious feel to the dash and console with padded panels and contrasting stitching. The exterior of Colorado has also undergone some big changes. By moving the front axle forward about three inches, the 2023 Colorado looks longer and more assertive, and it is only being offered as a four-door crew cab with a five-foot bed. This new blocky look gives Colorado a whole new feel.
Connectivity
The large 11.3-inch touchscreen comes as standard equipment in this model year as does Android Auto and Apple Carplay. Another nice feature is its ability to wirelessly charge compatible devices without eliminating USB ports. It can also be equipped with Google Built-In with a subscription. The all-new 2023 Chevy Colorado is sure to excite and turn heads. You can look forward to a lot of changes to this model year, including an optional sunroof. For a midsize pickup, this truck packs quite a punch for less than $50,000.