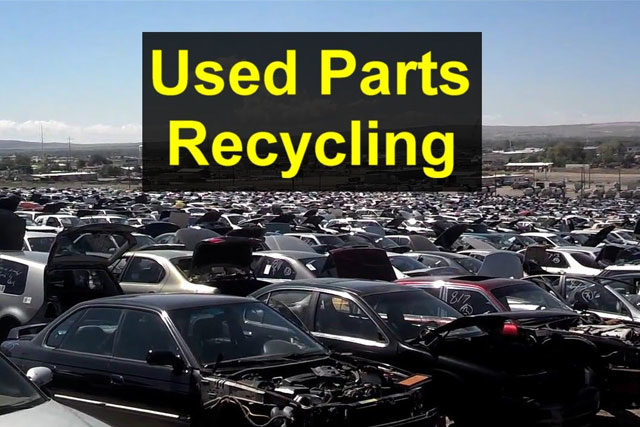 Used Auto Parts
Purchasing used auto parts is a very inexpensive way to get a vehicle repaired and you will help keep trash out of landfills all over the world. Vehicles are wrecked and junked every single day, but there are still salvageable parts that can be pulled off of them and resold. They more than likely are the original parts, panels, or hardware that was provided from the original automotive manufacturer.
Why Car Owners Prefer Used Auto Parts:
In today's world, there are a lot of car buyers and users who prefer to do work themselves to save money. Most know that because used auto parts cost significantly less than your OEM replacement parts, used auto parts have been a trend we see increasing among car owners all over the United States. Years ago, society would look at junkyard parts as a "second hand" selection, but now its the preferred method of obtaining quality used parts to repair their vehicles. Even mechanics are suggesting a trip to the junkyard compared to purchasing a new part, because of the incredible savings. Not all used parts are the same, and only ones in good quality A grade condition can be comparable to a new part. Remember, these vehicles ended up in the junkyard or salvage yard for a reason.
Benefits of Buying Used Car Parts:
You will find lots of sources of used car parts. There was a time when buying used auto parts were thought to be quite daunting and challenging job. It was very exhausting, as one has to make rounds & move from stores to various shops only to buy the best truck & car parts along with the most competitive costs. But, today with the appearance of online shops things have significantly changed. Purchasing used car parts through an online venue can give you some of the benefits like:
You Get Real Information About your Used Auto Part Supplier:
It's very easy to get scammed on the internet. However, with new platforms appearing every day, you can read reviews, and other user experiences before you make a purchase with an online junkyard or used auto part vendor online. You want to make sure the seller is experienced and equipped with the right systems and policies to guarantee you an amazing used auto part purchasing experience. Check for customer feedback, testimonials, and any complaints that may or may not have been filed against the used auto part vendor. You can also check with the ARA (Automotive Recyclers Association) to see if they are a member because this organization requires perfect customer service, and screen all of their junkyard members every single year, just like UsedPart.us.
You Have Options:
You will find that there are thousands of vendors and junkyards all over the country, thanks to UsedPart.us junkyard inventory system. This will allow you to complete a form, that is sent to all the junkyards, scrap yards, salvage yards, and vendors in their database. When you start to receive multiple offers you will start to see that you not only found that impossible part you had been looking for, but you also will get a great price when you have more than one vendor or junkyard competing for your business. Its a win-win for everyone.
You Have 24 X 7 Hours Access:
One of the greatest parts of purchasing used car and truck parts online is you do not have to wait until the store is open like you would with your typical brick and mortar stores. You can shop online any time of the day, reviewing estimates and quotes given, and do hard research to insure you are going to make the right purchase. It also helps those who work different time schedules who maybe can not get out and visit typical auto part stores.
Conclusion:
The final line is that the growth & efficiently availability of online stores have made it very easy for vendors and junkyards to sell used auto parts online. very successful. With everyone trending towards purchasing things online now, you can rest assured, that UsedPart.us will be there every single time you are in need of a used auto and truck part to fix you're broken down vehicle.