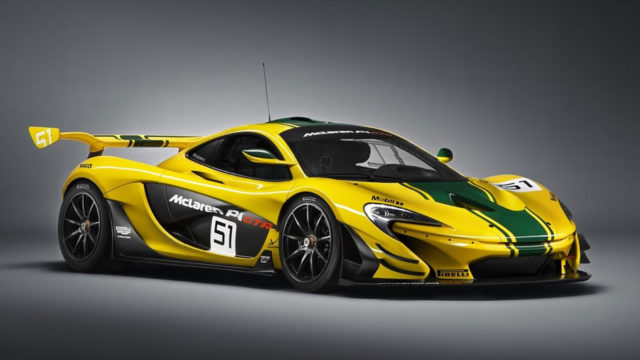 McLaren P1 GTR
The track-dedicated 1000PS McLaren P1™ GTR will debut at the 2015 Geneva Motor Show in limited production form with only minor modifications to the Design Concept presented just six months ago. The most noticeable change is the livery that the Geneva show car will be sporting. It is one which will be available to the fortunate few who will be joining the McLaren P1™ GTR Driver Programme that kicks off at the Circuit de Catalunya in Spain in 2015. The design is an homage to the yellow and green McLaren F1 GTR, chassis #06R, which has claimed its own place in history as one of the five F1 GTRs that dominated the 24 Hours of Le Mans in the historic debut by McLaren 20 years ago.
From design concept to the track:
The McLaren P1™ GTR has completed an extensive and intense testing schedule across the world following the unveil of the Design Concept at the Pebble Beach Concours d'Elegance last summer. This has produced enhancements to the original design to optimize aerodynamic performance and cooling.
The front track is 80mm wider than the road-going McLaren P1™ and with its aggressively profiled front splitter, the also car sits 50mm lower to the ground on centre-locking 19-inch motorsport alloy wheels shod with Pirelli slick tires. The lower bodywork is trimmed with a sleek aerodynamic blade as previewed on the design concept, which cleans the flow of air along the car's flanks.