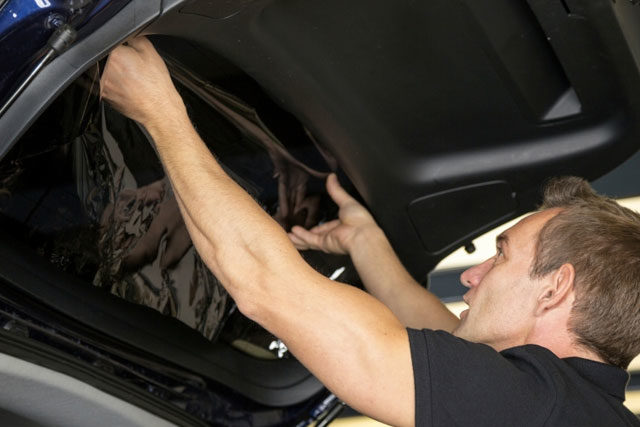 You went shopping today and while parking, you spot a car with tinted windows. Now, upon your way home you were thinking: "Damn man, it was so cool to look at". Now you must be thinking about tinting your car windows. Is it just because of that sleek look? Will, it cost more than a week's worth of groceries? There are so many people who opt for car window tinting, even commercial airplanes opt for a certain amount of tint to reap the benefits of a film application. We are here to tell you that tinting car windows hold benefits that go far beyond just a luxurious look.
1) Ever thought about saving fuel?
How could you save fuel if you are driving the same amount back and forth from work every day? The answer lies in a successful tint application. By keeping UV rays at bay, it helps to consume less energy via air conditioner. Now there is less pressure on the consumption of more fuel. Isn't it great to save a few more bucks on fuel and later drive on towards your favorite picnic point outside the city with your new tinted car windows? We bet you would love it.
2 Slathering another layer of sunscreen? Not today
Dermatologist, Cosmetologist, and Scientists continue to bombard us with evidence about skin cancer and how harmful these rays could be. It is especially after an increase in climate change that more people are suffering from UV rays. Twenty years ago you would not have spotted more varieties of sunscreen as of today. There are articles on the internet which tell you to wear a hat if you are going out or to wear sunglasses. Some even suggest applying a second layer of sunscreen and reapplying it after every few hours. Window tinting will block some harmful UV rays and will make sure that the temperature inside your car stays cool.
3 Increase in Safety? Why not
If you live in an area with a high criminal record, it is highly suggested to get your car tinted. Thieves are more likely to break into your car if they could see what's inside. With tinted windows, you are more likely to feel safe going out or if your car is parallel parked with a suspicious van outside the shopping center.
4 Reduced Risk While Driving
In addition to seat belt and not using your phone, add another one: tint your car windows. Tinting your car would make windows less likely to break if you happen to be in an accident, which means you will suffer from fewer injuries, which is really good news. Insure a tinted healthy body today.
In addition to the above-listed pros, tinting reduces glare and increases privacy. As a parent, you really know how important privacy is if you are travelling with children. In addition to this, even if you are just about to sell your car, tinting could increase its value and therefore help you earn a really good deal. So just check the laws of your state regarding tinting and if it is allowed. Tint it right away with EFX Elite for the best auto tint service in Houston.