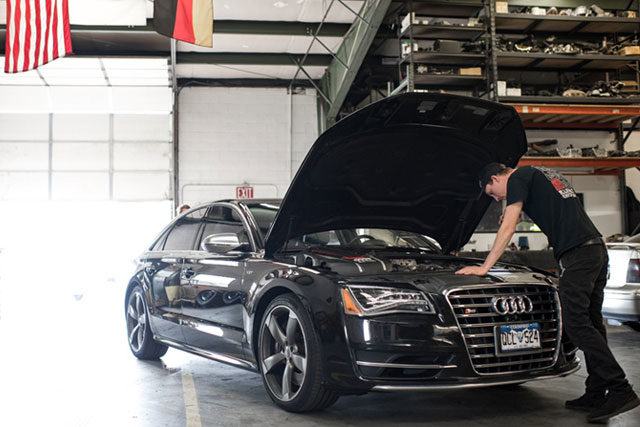 Audi Services
As an Audi vehicle owner, it is mandatory for you to carry out regular maintenance of your vehicle to get optimum performance. Without a proper maintenance plan, you may face some crucial issues with your vehicle in the future which may lead to heavy expenses. We all know that regular maintenance is necessary to keep our vehicles running smoothly and efficiently. In order to service your Audi, it needs global standard facilities and professional staff, therefore, an Audi service center will take care of your vehicle cautiously and perform excellent maintenance.
By performing regular maintenance on your Audi vehicle will improve the driving quality of the vehicle. Many owners fail to perform routine maintenance of their vehicle and then face serious issues later. You should check your Audi service record book to check your date and schedule of service so that you can avoid future damages. Car maintenance is not a typical task. Even a driver with little knowledge can perform tasks such as checking or changing the oil, checking the air pressure in the tire. But still, there are plenty of maintenance tasks which a driver will not be able to perform. However, in an Audi service center, you'll get an expert's assistance in maintaining of your Audi. Whether you ride A4, A8 or R8, these persons are able to perform a proper maintenance of your car with pure quality and proficiency.
Why is it Necessary to Service Your Audi?
Audi itself shows the class of the owner thus, it is important for the owner to keep it running smooth and untarnished. It is necessary to look for Audi service center to maintain your vehicle routinely. These service centers have computerized diagnostic car analyzer from which they can check wheel balance. As mentioned above, avoiding or ignoring regular maintenance may result in critical problems in your vehicle. Hence, below are the some of the risk associated with avoidance of servicing Audi:
Replacement of Transmission: Transmission is the main system of the car, without it the power cannot be transferred from engine to shaft. Avoiding regular maintenance can cause problems in transmission and your car will not be able to move. It may lead to the replacement of transmission assembly which will cost at least 5 times of the maintenance cost.
Replacement of Spark Plugs: Due to failure in maintaining your spark plugs and cylinder, it may lead to failure of the engine. Misfiring in your Audi's engine may unnecessarily lead cylinders to heat up. This will cause the damage to the cylinder and may fail after a certain period. Replacement of both cylinder head and spark plugs will cost you up to $3500.
Replacement of Camshaft: Due to failure in regularly changing of oil or cleaning of the valves may lead to failure of the camshaft. If regular maintenance is not performed, the dust and grime building up in the valve may lead to camshaft failure. This might end up costing you $2000.
Replacement of Clutch Plates: Clutch plates may end up failing if proper maintenance of clutch is not carried out. The excess amount of heat is produced due to the pressure and friction between the clutch disc, pressure plates, and a flywheel. This heat if not cooled down properly then it may lead to failure in clutch plates. This will cost your Audi vehicle a $1500 part.
In an approved Audi service center, professional mechanics will inspect your Audi and perform various maintenance tasks such as changing of air filter, changing of engine oil, inspecting various cables and wires, dent recovering, cleaning of valves, changing of disc brakes and repairing another significant failure in your vehicle. Thus, it is safer and wiser to seek proper servicing for your Audi at a certified Audi service center to keep it running in peak condition.