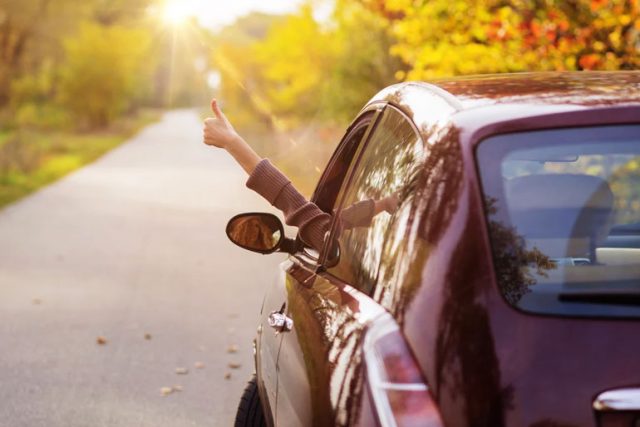 Road trips can be pretty fun but the fun quickly goes away when you face unexpected situations like a flat tyre or a dying battery. There are some essential procedures you should complete before using your vehicle for any kind of long journey.
Given below are the tips to prepare your vehicle for a long road trip.
1. Inspect Your Tyres
There are a couple of things you should inspect when it comes to your vehicle's tyres. Checking the tread depth is an important step you shouldn't miss. Your tyres need to have a good tread depth so that there is sufficient traction to grip the road.
You also need to check the tyre pressure. This can be done using a tyre pressure gauge. If the measured pressure is not at par with your vehicle's recommended inflation pressure, you need to inflate your tyres more. Finally, you should make sure your tyres are not worn out or damaged.
2. Check All The Oil And Fluid Levels
The oil in your car needs to be periodically changed especially before a road trip. It is essential to ensure the proper functioning of the car engine and other important parts.
Make sure you change your oil if there are visible signs like a loud, rumbling engine or a strong gas-like odor. You also need to check other important fluids like the coolant, brake fluid, power steering fluid, and even your windshield washer fluid.
3. Carry Some Essential Tools
There are some essential tools you should carry on every road trip in case of emergencies. Some of these include life hammers, jumper cables, tow straps, wheel clamps, and tyre inflators. A life hammer is useful in situations where you need to break the glass or cut your seat belt when you are trapped.
A tow strap can help you push the vehicle in case of unexpected breakdowns. This is useful especially in the case of large road trip vans like a Mercedes Benz Sprinter or a Volkswagen camper van. Jumper cables will help you start your vehicle in case of a weak battery. If you want a van that offers sufficient storage space for extra tools you can check out the cargo vans on Truck1 International.
4. Replace The Battery If It Is Damaged
A weak battery in the middle of the road can be dangerous since it compromises the control of your vehicle. To make sure this doesn't happen, always check your car battery before you hit the road.
If your engine takes longer than usual to start it is usually the indicator of a weak battery. You should also clean your battery and inspect the battery fluid level.
5. Inspect The Drive Belt For Any Visible Damage
Your car's drive belt has important functions like running the alternator, air pump, water pump, and other power steering pumps. If the drive belt breaks down your car will most probably have to be towed.
Thus it is necessary to inspect the drive belt for any visible damage before you go on a long road trip. If the drive belt appears to be worn out or shows cracks, it should be replaced immediately.
6. Carry A Travel Emergency Kit
There is a possibility your road trip will not end up being as smooth as you think. In such situations, it is always good to have a travel emergency kit. This kit can include flashlights, extra phones, and phone chargers, medicines, first aid, maps, water bottles, carry bags, and other items you deem necessary.
7. Make Sure You Have All The Necessary Documents
There are some documents every driver needs to have in his car. This includes your driver's license, insurance certificate, entry permits, and any other necessary permits.
8. Perform A General Inspection
After checking everything in detail, make sure you perform a thorough general inspection of your vehicle. Check your tyres and make sure your brakes work properly.
Test all the lights including headlights, signal lights, reverse lights, and other lights. If your car is dirty give it a thorough wash.
Conclusion
It is always better to put in a little effort to prepare your vehicle beforehand than pay for some expensive repairs later on. Make sure you undertake the basic safety procedures and perform a thorough inspection of your vehicle.