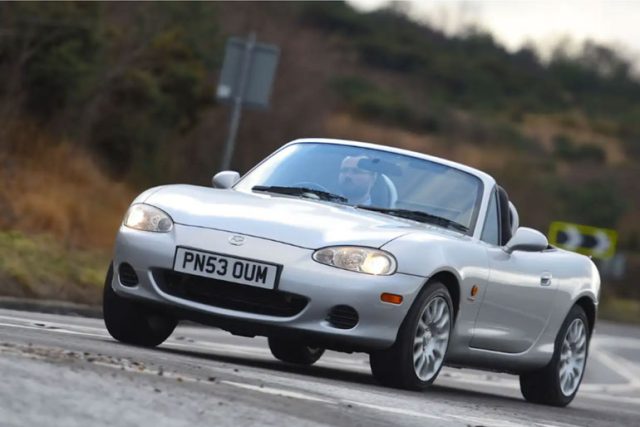 Mazda filled the void left by disappearing two-seater roadsters with the introduction of the MX-5 in 1989. Output figures weren't anything to write home about, but the 116 horses in the 1.6 litres in the first NA variant and the beefed up 1.8 in models that followed was the right recipe for propelling all of the car's 960 kilos to decent speeds. Sub-10-second acceleration to 100km/h added to the fun. As interest and demand grew, Mazda quickly followed up with revised engine designs, culminating in the current 2-litre powerplant that places the car squarely in hot hatch territory.
The appeal of the Miata, as the car is endearingly known among Mazda fans, is owed to the balanced chassis, weight, and power delivery. The crisp handling provided by the front-engine and rear-drive layout means this is a driver's car, and the solid foundations have proven fertile ground for modifications.
While most Miata owners have opted for adding a little more push with upgraded engine parts, other areas also deserve more attention. This was among the first two-seater compacts to feature discs all around, encouraged by efficient ABS. And at a time when carburettors were still a thing. While discs and callipers were minuscule by today's standards, having to fit around 14-inch wheels, they handled the weight and speed of the car admirably.
However, times have changed, and there are now bespoke upgrade kits available for improved braking performance. Redesigned parts with larger dimensions, better designs, and better materials result in increased stopping power, shorter braking distances, and more reliable braking in harsh situations. Owners can find uprated brake system parts for the NA Miata and MX-5 NB brake upgrade parts to bring the first two versions of the car in line with the previous-gen NC and current ND cars.
More on the Stock Setup in Early Miatas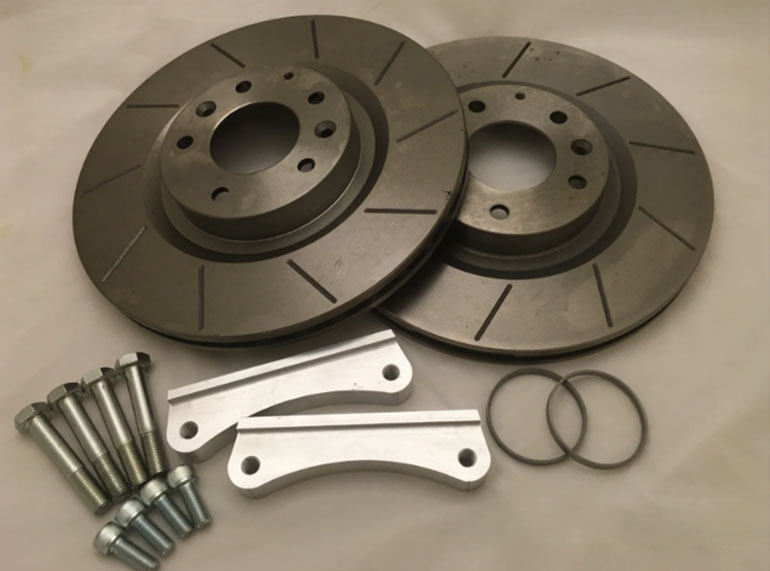 The original brake systems were crude, but they served their purpose. NA models with the 1.6 came with 235mm front discs and 231mm rear discs aided by single-piston callipers. As mentioned, the use of 14-inch alloys restricted the whole assembly. The 1.8 litres put out 20 or so more horses, so the discs grew to 255mm at the front and 251mm at the back. Both were of the solid type.
From 2005 onwards, larger and ventilated discs that handled heat much better first appeared in the NC models. These not only made light work of the added weight but also significantly shortened braking distances.
There were also the Sport and Non-Sport editions of the Miata, which also had different brakes. The sports versions naturally came with larger rotors, multi-piston callipers, and grippier pads. Mazda addressed buyers' needs for improved braking. The aftermarket also pitched in, offering customised big brake kits.
The increased disc radius, bigger and more callipers, and the increased friction between pads and rotors (with improved pad materials) made all this possible. Changes were also brought about with the use of braided brake lines, as this improved the braking feel.
What Can Be Changed Now?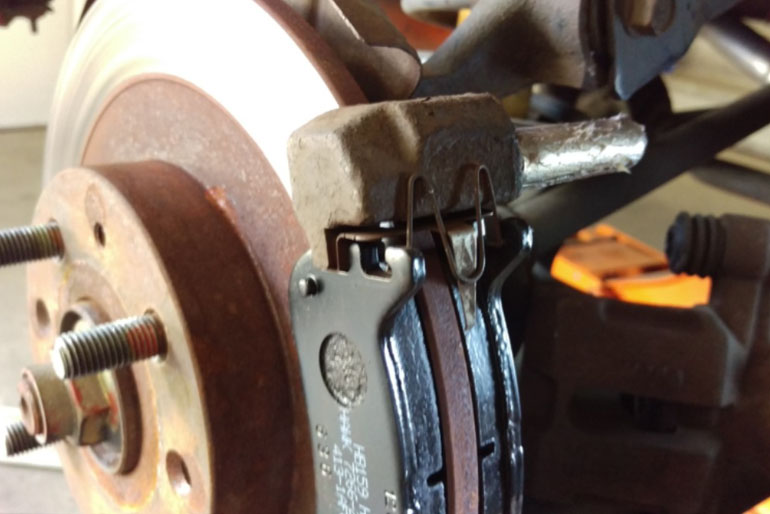 Discs
Changing out the wheels leaves more leeway for larger brake rotors. Increased diameters and widths mean more contact area for the pads. Solid discs can also be swapped out for ventilated versions, as these help with cooling and reducing the possibility of brake fade. This is a standard setup for newer cars at the front axle.
Also, consider slotted or drilled rotors to better remove gases, and dust particles from the pads. A similar job is done by disc dust covers which additionally reduce part wear and exposure to moisture and resulting corrosion. Better materials and 2-piece rotors warrant a longer lifespan and better stability at higher temperatures.
Opting for larger discs in vented or slotted designs should be your first consideration. Most aftermarket rotors specially designed for NA and NB Miatas consider stock wheel sizes, meaning they'll fit 15-inch wheels offered as standard in the NB cars or bigger.
Callipers
Early Miatas came with single-piston floating callipers. Improving these means the use of new slider pins for better pad engagement. Stock callipers can also be swapped out for fixed variants with multiple pistons for more bite without having to touch the stock master cylinder. Besides increased brake force (and the option of bigger pads), there's also better modulation meaning more precision and faster response times.
Also, take into account calliper piston materials. Steel pistons may be a good option for daily driving, but phenolic pistons don't transfer heat and won't corrode, meaning consistent performance, Miata owners can find stock replacements or callipers tuned to work with big brake kits.
Pads
Pads are the cheapest MX-5 NB brake upgrade and one that rewards drivers the most. The few decades that the MX-5 has been in production have seen the move to more resilient materials offering increased friction with the rotors, improved heat management, higher resistance to wear, and lower impact of moisture. Bigger and better pads also produce less noise and dust when braking hard.
Buyers can go for OEM semi-metallic replacement pads offered in the original car, or move on to aftermarket sets consisting of synthetic fibres and composite materials for an increased braking bite. Like callipers, pads are offered for both standard and big brake kits. The material composition will be geared either to everyday street use or pad sets meant for the track and more spirited driving.
Brake Lines and Brake Fluid
Brake lines supply the hydraulic brake fluid acting on the calliper pistons and pads. Supplementing stock rubber hoses for stainless steel braided lines means no issues with swelling and more pressure delivered to the discs. This in effect impacts feel, so no soft or spongy brakes hindering lap times.
Early Miatas fitted with ABS will need DOT 5.1 glycol-based brake fluid to supply the right amount of hydraulic pressure and resist excessive heat levels and deterioration from contaminants.